After consolidating February and March into one big post, I'm back with a quick overview of some of my favorite wines from the month of April. I actually sampled and bough some other great bottles, but I'll save those for later when I open them up for a dinner. I'd love to hear about your recent favorites too!
plenty of good wine to try in April!
2011 Chambolle-Musigny La Pousse d'Or It was hard to pick favorites out of the lineup of Burgundies we had at a recent wine club gathering. But I'm going to go ahead and do it anyway! This bottle is a great expression of Burgundy grown Pinot Noir, refined elegance in a glass. If you're looking for a splurge wine, you might give this a try!
2012 Macrostie Sonoma Coast Chardonnay
–A bit of that California chard butteriness, but not so much that it overshadows the fruit. I get a bit of kiwi tasting this one. My sense is the proximity to the coast produces a chard a bit more subtle than some for the state.
2007 Tenuta San Pietro Viper We did a fun little vertical tasting this one along with the 2010 of this Super Tuscan, which I'd tried previously. The '07 was a big hit, things had softened and integrated nicely. The distributor is more focused on the 2010 now, so Pairings was able to get the '07 for under $20, a great buy. If you're in the area stop by and see if they have any left! This is a blend of 80% Sangiovese, 15% Merlot and 5% Syrah.
2010 Chateau Mourgues du Gres Terre d'Argence "A real pretty syrah-based wine from Costieres de Nimes" I tweeted upon tasting it. Was a nice pairing for the Lamb Tagine with Green Olives and Lemon we had.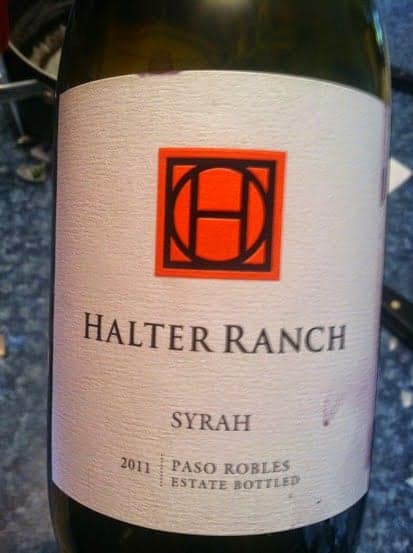 2011 Halter Ranch Syrah If the Syrah I just mentioned about finesse, this 100% Syrah from Paso Robles is about power. A nice big red to stand up to Grilled Steak with Garlic Cumin Rub! Glad to include a Paso wine this month, seeing as it was my Paso wine friend Matt's posts on the Hoot N Annie Blog that got me going on my own monthly roundups!