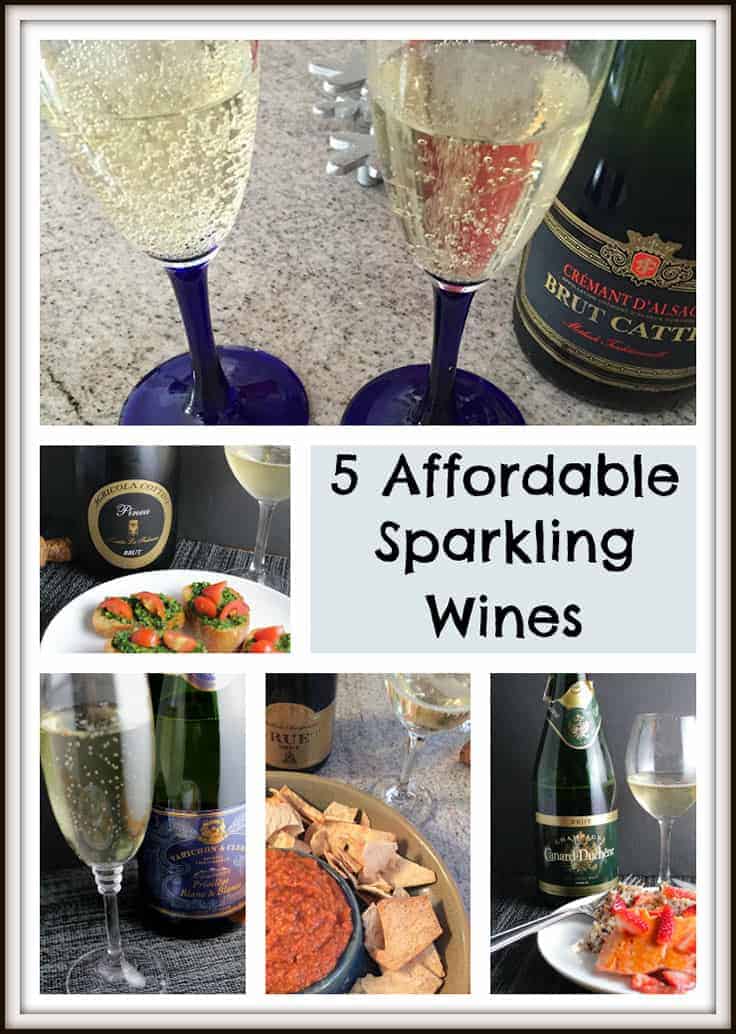 Almost time to ring in another year! And of course, that means it is also time to pick up some Champagne or other sparkling wine. Champagne sounds expensive, and it can surely set you back a good bit. But there is plenty of high quality, affordable sparkling wine available. Today I bring you 5 Affordable Sparkling Wine Picks from my sampling over the past few months. We start with an authentic Champagne, well-priced for the category, then share four picks all well under $20.
I purchased all five of these affordable sparkling wines at Pairings Wine & Food in Winchester, MA. So if you are in the area, definitely consider stopping by there to get one or more of these sparkling wines.
While we're on the topic of sparkling wine and getting ready for New Year's, you should also check out my Buzzfeed roundup, "15 Best Foods To Eat With Your Bubbly".
I prefer sparkling wine that is crisp and on the dry side, if you are looking for sparkling wine with more sweetness, these picks are probably not for you.
Canard-Duchêne Authentic Brut Champagne ($30, 12% ABV) I'm going to lead off with the most expensive bottle on the list. Some folks use the term "champagne" loosely to refer to any sparkling wine, but the term Champagne is properly only applied to sparkling wine from the French region of the same name, adhering to strict standards. This bottle from Canard-Duchêne is the "real deal" and is affordably priced for a Champagne. I got yeast on the nose, and taste of butterscotch and a nice creaminess. I really enjoyed this one, and if you want to celebrate with true Champagne, this is a nice option. This Champagne paired perfect with our creative and flavorful Quinoa with Salmon and Strawberries recipe.
Agricola Cottini Tenuta La Falcona Pinea Brut Sparkling Wine ($16, 12% ABV) This is a wonderful sparkling wine from Italy's Valpolicella region. This could well be the best value in the lineup here. Made from 50% Pinot Bianco and 50% Chardonnay. Subtle nose of soapstone. I taste lemon, and like the soft refined bubbles and a clean finish. Definitely made for a good pairing for Kale Pesto Crostini, with the bubbles and crisp lemon fruit cleansing out the palate for the pesto. This pesto recipe has some good kick from the garlic and red pepper, by the way, so the way the bubbles refresh the palate is definitely appreciated in this pairing.
Varichon & Clerc Privilege Blanc de Blancs ($15), made from Chardonnay, Chenin Blanc, Ugni Blanc and Columbard grapes. Made with a method similar to that used in the Champagne region, but is priced substantially less. This affordable sparking wine hails from the area between Lyon and Geneva. I've grabbed this bottle a number of time. This bubbly pairs nicely with our Bacon and Greens Dip recipe.
Gruet Brut Methode Champenoise ($17, 12% ABV) This affordable sparkling wine from New Mexico is an affordable alternative to Champagne. This one is quite dry. We had this with appetizers on Thanksgiving. It worked fairly well with the Muhammara dip shown below, but was best with the sharp cheddar and Gruyere cheese. When checking some info on this I noticed it was available on Amazon, so will provide my affiliate link for Gruet Brut.
Crémant D'Alsace Brut Cattin ($17, 12% ABV) This affordable sparkling wine has a nice clean, crisp taste. I brought this to our Christmas brunch, initially with plans to make mimosas, but decided it was too good to mix with OJ!
Save those bubble! I know, leftover bubbly is not typically a huge problem. But when it does, it's nice to be able to save some of those bubbles. This little gadget
 preserves the bubbles quite nicely for a day or two. With this at the ready, it's nice to be able to open some bubbly to have a glass before dinner, and have the rest ready for another day. The links to this gadget and the Gruet are my Amazon affiliate links, meaning I would receive a small commission if you choose to make a purchase using those links.