This shop has been compensated by Collective Bias, Inc. and its advertiser. All opinions are mine alone. #KingOfFlavor #CollectiveBias The following content is intended for readers who are 21 or older. Read on and get ready to make your own Spicy Pulled Pork Sliders for the next big game! And there's more, sports fans: El Yucateco® is giving entrants the chance to win one-of-a-kind tailgating and homegating packages and MORE!
Well, the holidays have passed and we've got a couple of cold winter months to contend with here in New England. But we do have something to look forward to in the coming weeks — gathering with family and friends to cheer on our hometown team as they make another playoff run!
We are more the homegating types. When those temperatures drop well below freezing, I'd prefer to be ensconced in a warm family room watching the game with ready access to our some tasty food options. Today's Spicy Pulled Pork Sliders featuring El Yucateco® hot sauce are a perfect addition to a football watching party!
There are usually a few things to nibble on as we watch the first half of the football game, but by halftime, we are ready for something more substantial. The meat for the Spicy Pulled Pork Sliders can be kept warm in the slow cooker, ready to make a quick sandwich during halftime. You don't want to have a lot of prep to do during that halftime break lest you miss the third quarter opening drive!
El Yucateco® hot sauces
We are featuring El Yucateco® hot sauce to provide rich flavor for our Spicy Pulled Pork Sliders recipe. Sure, El Yucateco® hot sauces make a great condiment, but they also provide a super flavor boost to all kinds of recipes.  Their sauces are made from hand picked habaneros, carefully crafted to deliver just the right amount of flavor. Before talking more about the sauces and recipe, let's get you more info on the awesome giveaway El Yucateco® is doing!
#KingOfFlavorSweepstakes (Super Bowl)
There are a lot of great El Yucateco® hot sauces. I used their Red Habanero Hot Sauce for the Spicy Pulled Pork Sliders. This sauce is made with fresh red habanero peppers, tomato, and select spices and seasonings. I was pleased with the rich pepper flavor this El Yucateco® hot sauce added to the dish.
I also picked up a bottle of El Yucateco®  XXXtra Hot Sauce (Kutbilik) while shopping at Target. This sauce has an interesting story–the recipe was rescued from a Mayan vault! Though the Spicy Pulled Pork Sliders had plenty of flavor, I was curious to try some of the XXXtra hot sauce, so I added some to my slider. Definitely liked the complex flavor this sauce added! For more details on all these great sauces, visit the El Yucateco® website. 
Making Spicy Pulled Pork Tacos
For pulled pork, you want to get pork shoulder or pork butt. These cuts of pork have some flavorful fat content, and do well with long, slow cooking. The savory meat also goes great with El Yucateco® hot sauces!
I like to start this dish by marinating the pork overnight. So this does require some advance planning. If the game is a late afternoon or evening kickoff, marinate the pork overnight and get it going in the slow cooker in the morning when you get up. If it's an early kickoff, I would say get the pork going in the slow cooker overnight. Have dreams of some tasty food and wake up to some great smells!
The marinade ingredients are intended to tenderize the meat and add a bit of flavor. But the real flavor comes when you add that hot sauce in Phase 1 and Phase 2.
What's with these "phases" in the instructions? Basically, Phase 1 are your initial steps to get the pork going in the slow cooker. You brown the pork with some onions in a skillet (see photo below), then add the pork and onions to the slow cooker.
Next you add some good El Yucateco® hot sauce along with a few other ingredients, including a cup of chicken stock that provides some liquid for the slow cooking process.
Once you have those Phase 1 ingredients in the slow cooker, set it on low to slow cook for 8 hours and forget about it! If you want to speed up the cooking time a bit, you can start with 90 minutes on high followed by 5 hours on low.
After the Phase 1 cooking time is done, take the pork out of the slow cooker to cool on a platter. Once it is cool enough to work with, use a fork to shred the pork into bite sized pieces.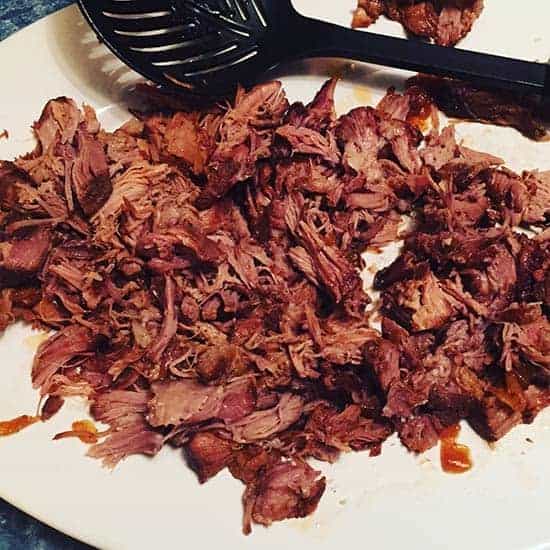 Transfer the shredded pork, and add another tablespoon of El Yucateco® hot sauce, and the other phase 2 ingredients. Give it another 30 minutes of slow cooking to absorb the hot sauce flavor.
During the Phase 2 cooking time, make the slaw and get the slider buns and any other sides you want to offer ready. We liked it serve with some good pickles and tortilla chips. When the Phase 2 cooking is done, use a slotted spoon to scoop the pork into the slider buns, top with the slaw and you are ready to enjoy the sliders and the 2nd half! Don't forget to offer extra hot sauce!
Note my recipe calls for a total of 2 tablespoons of hot sauce, with extra offered at the table. This provided good flavor, yet was still OK for our 11 year old's palate. If your crowd likes big, robust flavors, I'd say add an extra tablespoon of the El Yucateco® hot sauce during Phase 2.
As I mentioned before, I used the Red Habanero Hot Sauce for this recipe, but definitely experiment with other El Yucateco® hot sauces that sound good to you!
Pairings for Spicy Pulled Pork Sliders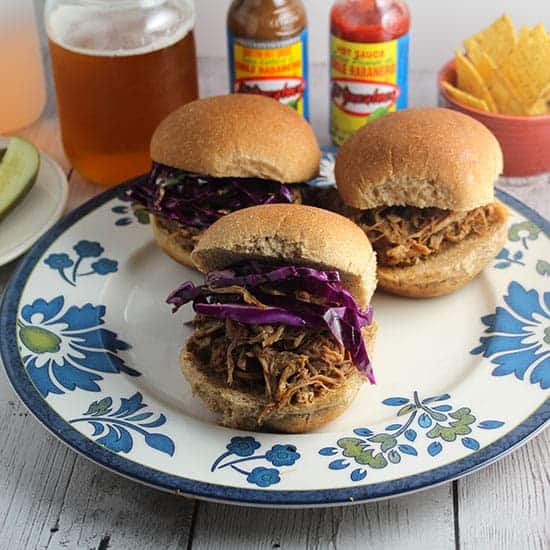 If you've visited Cooking Chat before, you probably know I'm first and foremost a wine guy with my food. I did sample a Riesling with the spicy pork, and it was OK. But as I suspected, a good IPA style beer was the better pairing for our Spicy Pulled Pork Sliders. Hoppy IPA beers tend to pair well with spicy food. With good breweries all over the country now, you can show your loyalties with a local IPA as you cheer on your team, and enjoy these delicious Spicy Pulled Pork Sliders featuringEl Yucateco® hot sauce!
Print
Spicy Pulled Pork Sliders
Spicy Pulled Pork Sliders get rich flavor from El Yucateco® Hot Sauce, for a savory sandwich perfect for watching a big game with family and friends.
Author:
Prep Time:

15 mins

Cook Time:

8 hours 30 mins

Total Time:

8 hours 45 mins

Yield:

8 servings

Category:

Main

Cuisine:

Tex Mex
Ingredients
PORK MARINADE
4 lbs pork shoulder or pork butt, trimmed of an large pieces of fat on the outside of the meat
⅓ cup soy sauce
3 tbsp olive oil
3 tbsp orange juice
2 tbsp cider vinegar
1 tsp garlic powder
1 tsp cumin
pinch cinnamon
1/2 tsp salt
PHASE 1 INGREDIENTS
1 tbsp olive oil
1 onion, chopped
1 tbsp El Yucateco® Hot Sauce
1 tsp coriander
1 tsp garlic powder
1 tbsp maple syrup
8 ozs chicken broth
reserved marinade
PHASE 2 INGREDIENTS
1 tbsp El Yucateco® Hot Sauce
1 tsp maple syrup
1 tsp soy sauce
1/2 tsp coriander
SLAW & OTHER SLIDER INGREDIENTS
2 tbsp extra virgin olive oil
2 tbsp maple syrup
1 tbsp apple cider vinegar
Salt and pepper to taste
4 cups red cabbage, chopped into thin slices
2 tbsp fine diced yellow or red peppers
8 slider buns
pickles to serve on the side
extra El Yucateco® hot sauce
Instructions
MAKE THE MARINADE: In a bowl, combine the pork marinade ingredients from the soy sauce through 1/2 teaspoon of salt.
Rinse and pat dry the pork, then place it in a large sealable plastic bag. Pour in the marinade, seal, and toss the pork gently a few times to make sure all the meat is well coated with the marinade. Place in the refrigerator to marinate overnight or at least 8 hours.
PREPARE FOR SLOW COOKING (PHASE 1): Have your slow cooker at the ready. Heat a tablespoon of olive oil in a large skillet. Add the onions, and cook on medium for 5 minutes. Take the pork out of the marinade, reserving the marinade. Add the pork to the skillet, and cook for 5 to 10 minutes, turning the meat occasionally to brown it on all sides.
Transfer the pork and onions to the slow cooker. Add the remaining Phase 1 ingredients to the slow cooker: tablespoon of El Yucateco® hot sauce, teaspoon coriander and garlic powder, tablespoon of maple syrup, chicken broth and reserved marinade.
Cover the slow cooker. Set the slow cooker to low, and cook for 8 hours.
After the 8 hours of slow cooking, the meat will be fall apart tender. Remove the meat to a platter, and give it a few minutes to cool. Then use two forks to shred the pork, breaking it into bite sized pieces.
Return the shredded pork to the slow cooker along with the Phase 2 ingredients: another tablespoon of El Yucateco® hot sauce, teaspoon of maple syrup, soy sauce and a 1/2 teaspoon of coriander.
Cook on low another 30 to 60 minutes. The longer cook time will allow for more of the liquid to be absorbed by the pork and for the meat to absorb more of the rich flavor of the El Yucateco® hot sauce.
SLAW: Make the slaw after getting the Phase 2 cooking started. Combine the 2 tablespoons of olive oil and maple syrup with 1 tablespoon of cider vinegar, add salt and pepper to taste. Place the chopped cabbage in a large bowl, then toss the cabbage with 3 tablespoons of the oil/syrup mixture. Set the slaw aside to absorb the dressing flavors.
PREP TO MAKE SLIDERS: Place the slider buns on a large platter. When the pork has finished the phase 2 cooking, use a slotted spoon to scoop out a serving of the pork, letting excess liquid drain back into the slow cooker.
Place the serving of pulled pork on a slider bun, then top with about a tablespoon of the slaw to complete making the slider. Repeat for the remaining sliders.
Serve the sliders on a large platter with pickles, chips and of course extra El Yucateco® hot sauce for those who want additional flavor on their slider. Enjoy the sliders and the game!
Recipe Card powered by