I grill swordfish quite often, so it was a matter of time before I tried some swordfish topped with kale pesto. Often I'll make a double batch of pesto, and wind up with extra after the first night we have it. Recently there was swordfish on sale and I'd already make some kale pesto; the result was this tasty and healthy Grilled Swordfish with Kale Pesto. In addition to the great recipe, there's also an exciting giveaway, so be sure to keep reading for the details.
Kale pesto is a great way to warm up to kale if you haven't come to enjoy it yet. If you are already a kale fan, you might have figured out that it makes a nice, healthy pesto. Either way, give this kale pesto a try with some swordfish, and I think you'll be pleased with the results! Another delicious meal that can be on your table in under 30 minutes. For more recipes featuring kale and other greens, be sure to check out my Collards & Kale Cookbook.
I plated the pesto alongside the swordfish, giving my fellow diners a chance to add the desired amount of pesto. I think it presented nicely, but as you can see it wasn't long before we dug in and got that fish well covered in the pesto. By the way, for this kale pesto, I used a bag of kale salad that also had little bits of carrot, which is why you see some orange mixed in with the green kale pesto. I'm sure this grilled swordfish would be good with traditional basil pesto, too, if you have some on hand you'd like to use.
Wine pairing: It's been a little while since I made this dish, and don't have my wine notes for it. But I know the Italian white wine Arneis worked well with the kale pesto tortellini, and I suspect it could do nicely here. I would also think a Gruner Veltliner or a rosé could work well here.
Today there's a bonus feature along with the tasty recipe…you have a chance to win a $280 gift card to William Sonoma? What would you add to your kitchen if you win? Enter our Rafflecopter giveaway today and start planning, in case you are the lucky winner! I've teamed up with a great group of fellow bloggers from Food Blogger Pro  to offer this giveaway. Simply click this Rafflecopter giveaway link and get an entry into the giveaway for each time you comment on one of our blogs; follow us on Twitter or visit us on Facebook. Good luck!  Enter by July 1 for your chance to win! 

Print
Grilled Swordfish with Kale Pesto
Grilled swordfish topped with healthy kale pesto for an easy and tasty meal.
Author:
Prep Time:

10 mins

Cook Time:

15 mins

Total Time:

25 mins

Yield:

4 servings

Category:

Main

Cuisine:

Italian
Ingredients
1 lb swordfish
4 cups tightly packed kale leaves, stems removed
3 garlic cloves
2 tbsp pine nuts
generous pinch red pepper flakes
salt and pepper to taste
½ cup (or a tad more) grated pecorino romano cheese
⅔ cup extra virgin olive oil
Instructions
Preheat a grill to medium high.
Add the kale and garlic to a food processor, coarsely chopping to create enough room for the other ingredients.
Add the remaining kale pesto ingredients, from the pine nuts through the olive oil, and puree until it comes to a nice smooth consistency.
Start grilling the swordfish. Grill the swordfish with the grill covered for 6 minutes. Flip the fish to the other side, and brush the side now facing up with the orange juice. Grill another 6 minutes, and check for doneness. You want the fish to be just cooked through (all white) but still moist. This typically takes 12 to 15 minutes of total grilling time depending on the thickness of the fish. When the swordfish is done remove it to a platter.
Cut the swordfish into serving size portions and plate along with a generous dollop of kale pesto. People can add the amount of swordfish they like to top their swordfish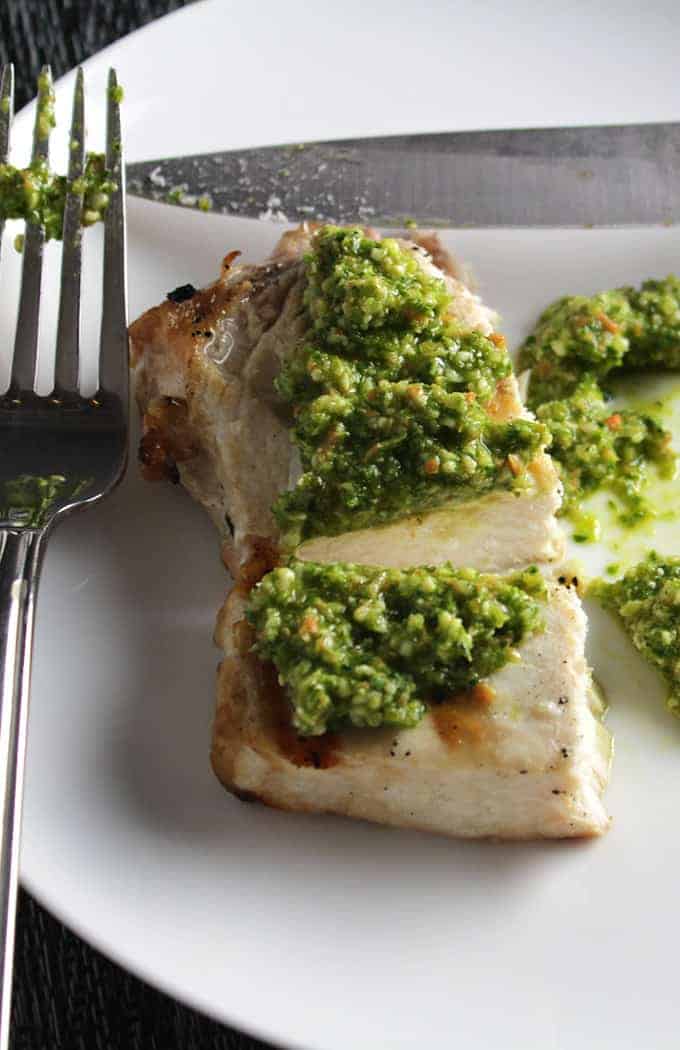 Be sure to visit all the great food blogs participating in this giveaway!
Beth from Food Fashion and Fun
Lexi from Lexibites
Rachelle from Beer Girl Cooks
Nicky from Kitchen Sanctuary
Sally from Oven Struck
Renee from Joy in Every Season
David from Cooking Chat
Erin from Platings and Pairing
Heather from Majorly Delicious
Elysia from Haute & Healthy Living
Patti from Cooks Recipe Collection
Savanna from Gluten Free Vegan Pantry
Regina from Leelalicious.com
Marissa from OMGFood