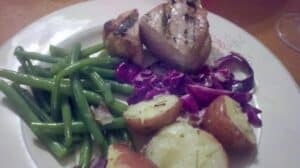 Some nights I make a very conscious effort to prepare with as much local food as possible. As virtuous as that might be, I think tonight's serendipitous local meal is even better. I still had green beans and cabbage on hand from last week's CSA pickup, and was simply looking for a way to use these items. We're in an unusually warm stretch for late September, so grilling seemed like the thing to do.
I decided to grill the pork I had frozen, along with some of the local potatoes I have in great abundance. It so happens that the pork is locally produced, from Whole Foods (they are now carrying quite a bit of local pork and grass fed beef). So both of the items on the grill were local, as were the sides of green beans and red cabbage. The beans I just steamed. I chopped the cabbage and tossed with this great Maple-Mustard Vinaigrette, and it turned out to be a great combination. I topped the pork with Curried Mango Grille Sauce from Stonewall Kitchen–an hour away from us in York, Maine. OK, so the mangoes they used are probably not from New England but at least the company is! I suppose I could have topped this off with a local New England wine, but had none on hand…that was a Malbec all the way from Argentina.
I was pretty pleased that I've built up such a good supply of local foods at our home that such a meal would come together without even focusing intentionally on a local theme tonight!