Last Updated on
The other day I heard a talk show host on the radio suggest that a bottle of wine is a Christmas gift that doesn't require much thought or effort. Au contraire, says this oenophile! Picking out a special bottle of wine that someone on your list will like can definitely reflect thoughtfulness, finding something that you think will be deemed special by the receiver. But lest you get too daunted by the task, I have put together a list of gift-worthy wines for the holidays.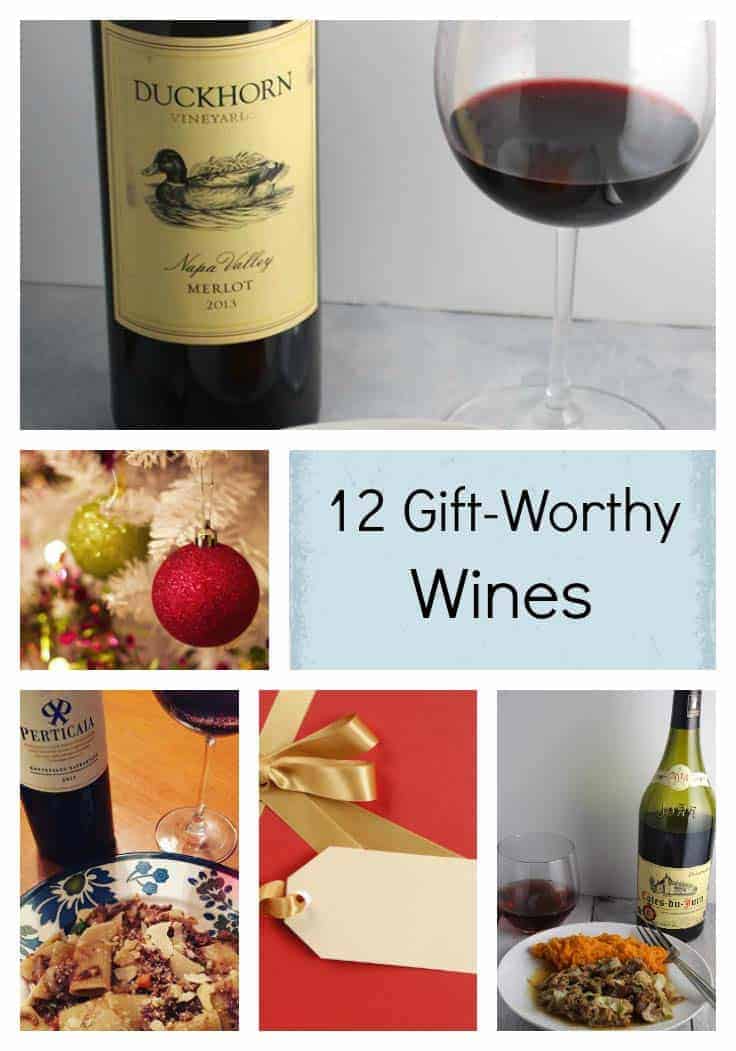 When giving wine for Christmas, I like to find interesting bottles the receiver is not likely to have tried, but will nonetheless appreciate. So my list of gift-worthy wines includes some less common grape varietals like Sagrantino and Trousseau. I do include some of the more basic grapes, but was sure to pick out some very good versions of Chardonnay, Cab, etc.
I start with wines that I found at the local shop I frequent, followed by ones that I had sent to me by various wineries. Any of these bottles will please the wine lover on your list!
Gift-Worthy Wines from Pairings
I get the majority of my wine from the local-to-me wine ship Pairings Wine & Food, in Winchester, MA. Owners Ray & Lori Schaefer travel extensively to find high quality wine producers that make interesting wine that might fly under the radar. They also share my interest in finding great food and wine pairings! Here are some of the gift-worthy wines I have tried from Pairings. If you are in the area, stopping by to pick up some of these wines is a great way to check off gifts for the wine lovers on your list!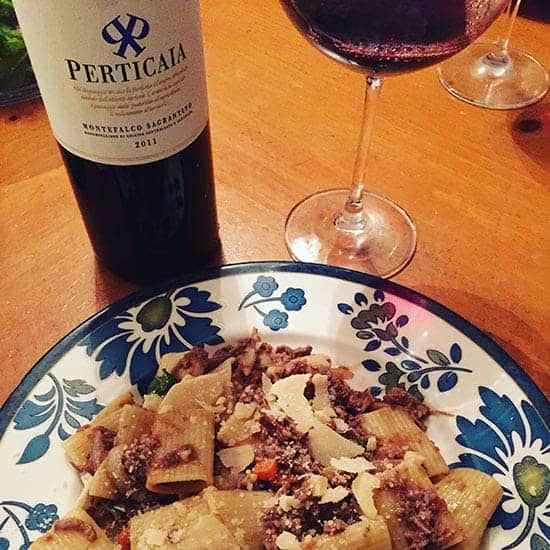 2011 Perticaia Montefalco Sagrantino ($45, 14.5 % ABV) I'm going to lead off with the most recent bottle of wine we opened. Rich red wine from Umbria, with blackberry fruit and notes of charcoal. Don't worry, you still have been good if you taste this charcoal! If you haven't tried wine made from the Italian grape Sagrantino, this is a great place to start! This was excellent with our leftover lamb Bolognese sauce.
2010 Pibarnon Bandol Rouge 100% Mourvedre from Southern France. The tasting notes refer to the "richness and depth" and "notes of Provencal herbs" and those are definitely apt descriptions. I sampled this at the same tasting as the Sagrantino, and was debating about which bottle to treat myself too. The Sagrantino got the nod mostly because it fit into my cooking plans for the week. But this Bandol definitely earns its spot on our gift-worthy wines list.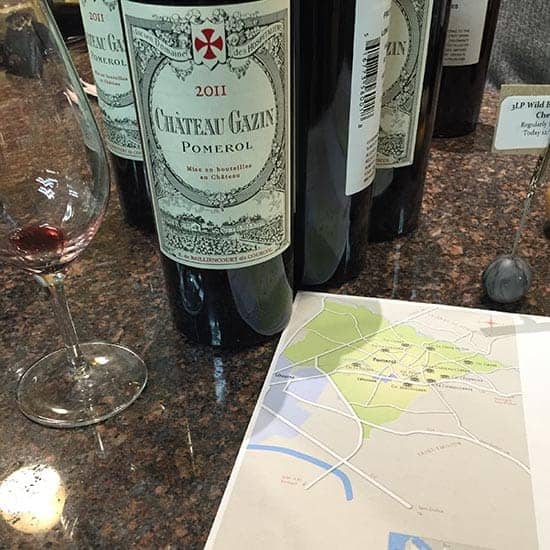 2011 Chateau Gazin Pomerol ($90) This Merlot based Bordeaux blend may seem pricy, but not when you compare it with some of its neighbors! A bottle of Petrus will set you back north of $2,500, so the Chateau Gazin is a relative "bargain". Tasting notes from the winery jive with my recollection of sampling this wine last week: "quite primal, with fleshy plum skin, warm raspberry confiture and dark roasted woodspice notes; structured and chewy with strong tannins."
2015 Vinatigo Gual (appx. $22, 13% ABV) An interesting and delicious wine from the Canary Islands. Steely on the nose, grapefruit and peach fruit. Stones and hazelnut on the finish.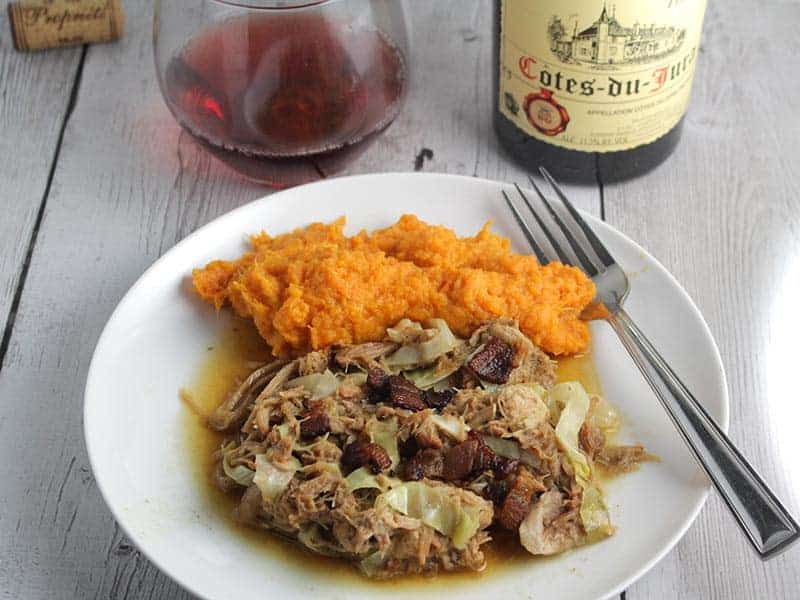 2014 Chateau L'Etoile Cotes-Du-Jura ($17, 11.5% ABV) Continuing the theme of off the beaten path wines, this wine is made from 100% Trousseau, a red wine grape that originated in Eastern France. The wine is very light red in the glass. I got anise on the nose, with a tart cherry taste. Light acidity. We served this wine with our Pulled Pork and Cabbage with Bacon. This easygoing wine was a good match for the flavorful pulled pork with cabbage, and also worked with the Sweet Potatoes with Cumin Sage Butter we had on our plates.
2015 Champalou Vouvray ($18, 12.5% ABV) This was my favorite white wine in the lineup of potential Thanksgiving wines I sampled the other day at Pairings. I plan to bring this as my white wine pick for Thanksgiving. This 100% Chenin Blanc has a freshness and delicate fruit that I think should go with a variety of dishes on the table. It is a Kermit Lynch selection, always a good sign.
2013 Marimar Estate Mas Cavalls Pinot Noir ($44, 14.2% ABV) Another Pinot pick from the Sonoma Coast. This was one of my favorites at the semi-annual grand pairing event at Pairings, which meant it stood out from about 25 wines I sampled that day. I picked up a bottle figuring it could be a nice Thanksgiving option, and have managed to resist the temptation to open it sooner!
2013 Punta Crena Vigneto Ca' da Rena ($27, 12.5% ABV) , is a Pigato Riviera Ligure Di Ponente–Pigato being a white wine grape. This wine definitely refreshes after a bite of the Ligurian Pesto Pasta, an excellent regional pairing. In addition to being a great pairing, the wine is very high quality. Shortly after enjoying it, I went back to the shop to pick up the last bottle of it they had on hand! Sorry, that was literally the last bottle at Pairings, you will have to do a little sleuthing to find it.
More Wine Gift Ideas from Pairings: In addition to the individual bottles I've suggested, Pairings has a number of great food and wine gift ideas for you. They have eleven themed Trilogy sets (e.g. Barolos, CA Cabs, Tuscan Reds, etc.) of three fine wines. Each Trilogy is discounted and packaged in a nice three wine-bottle box with a ribbon. They also have some great wine gift bags and cases available.
More Gift-Worthy Wines
Over the course of the year, I've had some great wines shipped to me for sampling. As always, the opinions expressed here are entirely my own. Here are some of the favorites I have had come my way in 2016, that deserve a spot on our gift-worthy wines list. I believe most are available from the winery websites.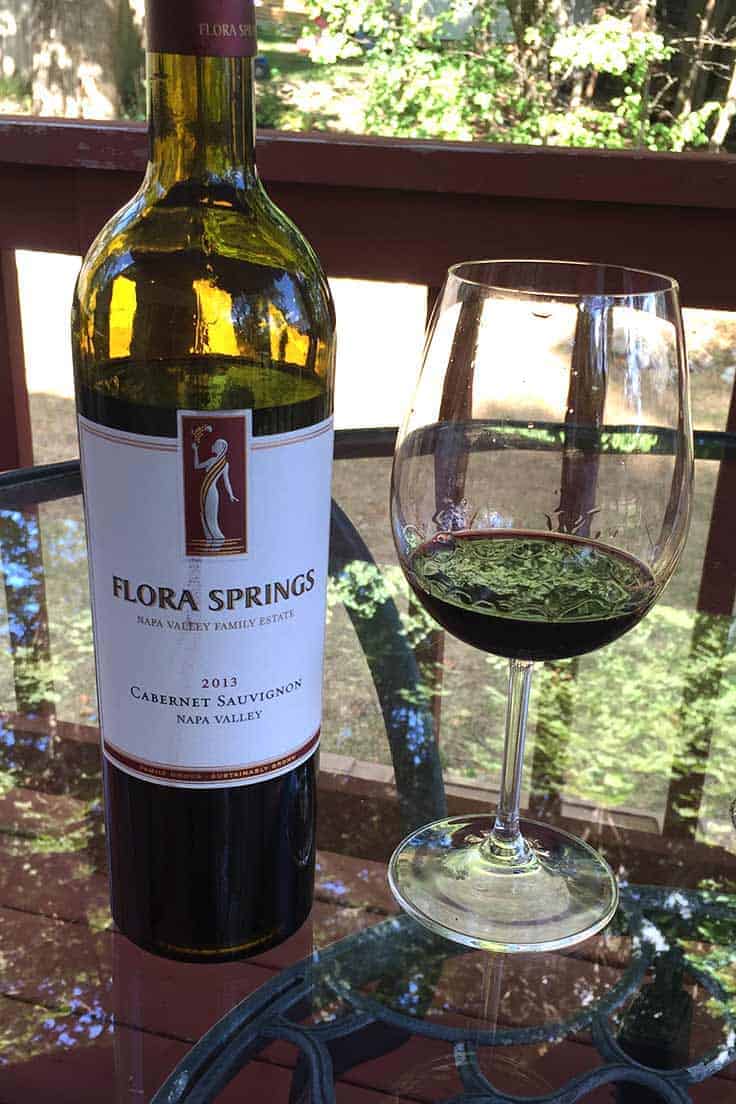 2013 Flora Springs Cabernet Sauvignon ($40, 14.2% ABV) Jammy nose. Taste of blackberry and cherry fruit along with leather and oak. After doing an initial tasting, I kept the bottle open for about two hours before serving it with pork tenderloin tacos. It really opened up nicely and showed a wonderful long finish. Flora Spring Winery website here.
2014 Landmark Vineyards Overlook Chardonnay ($25, 14.2% ABV) I got honey and flintiness on the nose of this Chard from Sonoma County. Pear fruit, hone and a touch of stone taste. A good example of a subtle, complex Chardonnay from California. Was excellent with some simple sautéed shrimp. Visit the Landmark Vineyards website.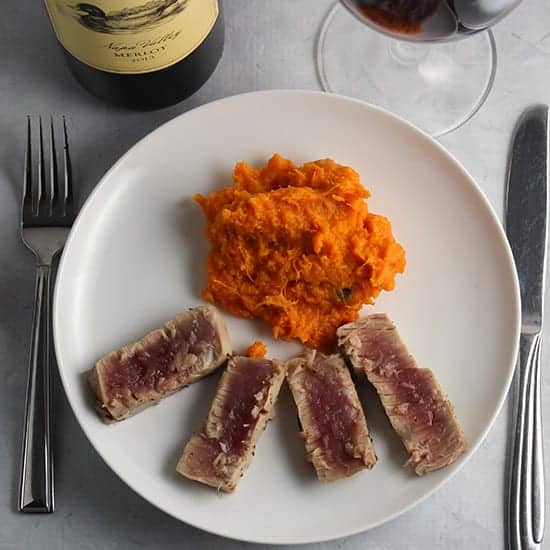 2013 Duckhorn Napa Valley Merlot ($54, 14.5% ABV) We were pleased to receive a bottle of  to sample for #MerlotMe month. This Duckhorn Merlot is comprised of 88% Merlot grapes, along with 7% Cabernet Sauvignon and 5% Cabernet Franc. I've enjoyed Duckhorn Merlot a few times before, and was eager to sample this bottle. This Duckhorn Merlot really opened up in the glass, with the fruit becoming really plush and flavorful. The Merlot did work well with our Garlic Thyme Crusted Tuna –enough complexity to pick up the herbs in the rub, and the medium body of the wine was a good match for the meaty tuna. An unorthodox pairing, yes; but one worth trying! The wine is a blend of grapes from several Duckhorn Napa vineyard lots and several independent Napa Valley growers. Duckhorn also has some great single vintage Merlots that definitely would make great gifts.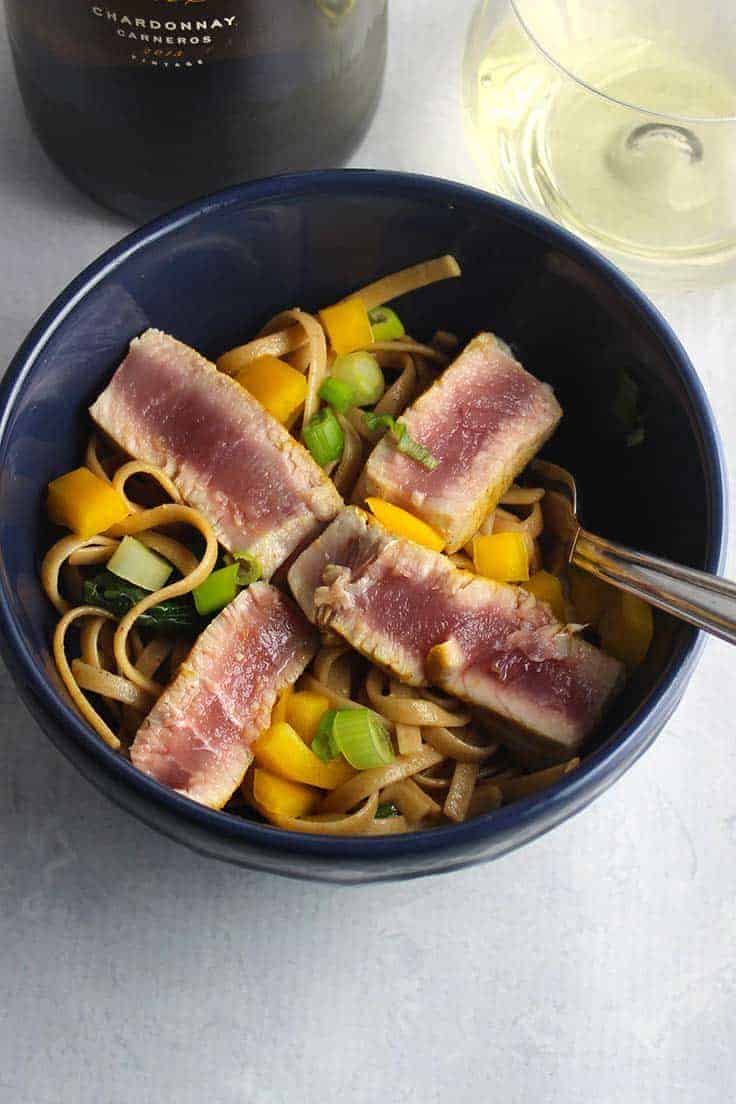 2013 Viansa Los Carneros Sonoma Chardonnay ($45, 15% ABV)A flavorful Sonoma Chardonnay that is delicious to sip on its own or to pair with foods calling for a full bodied white. We enjoyed it with tuna noodle bowls. Steely mouthfeel, butterscotch, and creamy mouthfeel. We enjoyed the Viansa Chardonnay paired with Asian Tuna Noodle Bowls. More info at the Viansa Sonoma website.