During a number of chats about our mutual interest in learning more about different cuisines, Fel Medeiros had sprinkled in tidbits about the food from his native Portugal. My curiosity was definitely piqued, so I eagerly accepted Fel's invitation to join him for lunch at one of his favorite local Portuguese restaurants.
The name
Trackside Bar & Grill
doesn't suggest authentic Portuguese food, but once you come into this Peabody, MA, restaurant you get a sense its the real deal. Fel was warmly greeted as we arrived, and chatted with the chef about what was fresh. He mentioned lobsters, and I saw the evidence of one poking out of a pan along with an interesting concoction of other ingredients. Combining seafood and other items seems to be popular in Portuguese cuisine from what I can tell.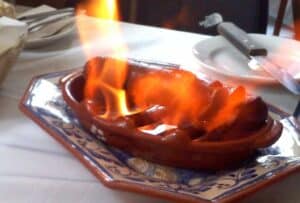 As we settled into our table and perused the menu, our server presented us with a flaming linguiça. Definitely a dramatic start! The traditional sausage is doused with grain alcohol, then ignited. The flame burned for a couple minutes, making the outside of the linguiça nice and crispy. The sausage was nicely spiced with just enough kick.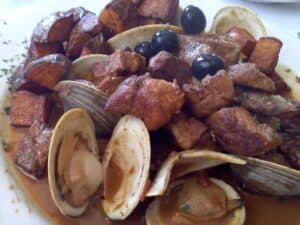 I definitely wanted to go with one of the classic Portuguese dishes Fel had described on our way to the restaurant, and the Carne Alentejana sounded like a good one to try. In this dish (photo above), pieces of pork are simmered along with potatoes and little neck clams. The broth was flavored with cumin (the chef confirmed my guess was correct) and black olives. The dish gets its name from the Alentejo region of south central Portugal,
Fel ordered another traditional dish, Bife com molho a casa (photo below). He gave me a sample of this tasty steak, served in a creamy mustard sauce and topped with a fried egg. The meat itself was tender and nicely enhanced by the flavorful sauce.
I was pretty satisfied after the entree, but was "convinced" to top things off with a "little piece" of flan.
We had a chance to sample some Portuguese wine as well. We tried the 2008 Adega de Borba, a light bodied red from the Alentejo region, a blend of traditional grapes. I didn't realize when choosing this that the wine was from the same region as the dish I ordered–pairing a wine and cuisine that hail from the same region is almost always a winning combination! I tasted blackberry fruit and a bit of white pepper. The body and touch of spice made it a nice food wine.
After this meal, the thought crossed my mind that it would be interesting to visit Portugal some time. But for now, I know there is a good taste of Portugal in nearby Peabody!