Having a beer with lunch seemed like a nice idea for a Father's Day treat. When I was visiting Mystic Brewery recently getting ready for our beer pairing fundraiser there tonight, Mike had some very specific tips about pairings for their Saison Renaud Ale. He mentioned it was a classic pairing with mussels, and that it also goes well with cheeses. Mike also mentioned it goes well with sausage, especially sausage with some fennel.
I had a bottle of the Saison Renaud Ale on hand, and started thinking about how to combine some of those flavor elements Mike mentioned. We had a good amount of cheddar cheese on hand from a recent gathering. A grilled cheese with a beer sounded like a great Father's Day lunch. I then thought of adding a tasty fennel salame from Pairings Wine & Food to bring that fennel flavor into the mix. The result was this pairing of Mystic Brewery Saison Renaud Ale with Grilled Cheese and Salame.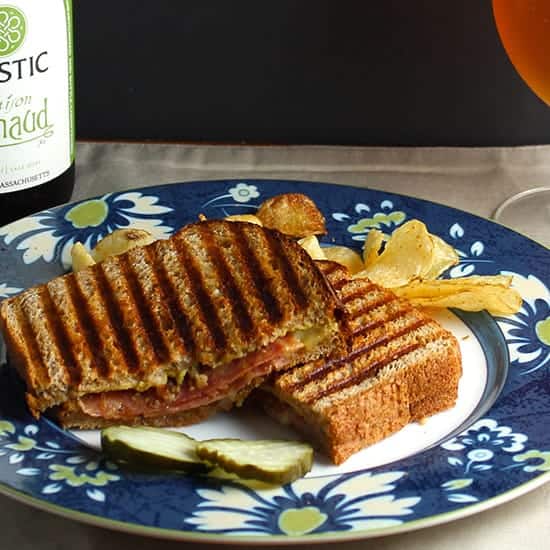 To make the sandwich, I got the sandwich press ready as I lightly buttered some whole wheat bread. I cut relatively thin slices of cheddar cheese from the block of it we have, and laid that out on the bread. Topped that with the salame slices, then spread some Dijon mustard on the bread. Just a few minutes in the sandwich press and tasty sandwich was ready to go! In case you are wondering, "salame" is the Italian spelling of what is more commonly salami here in the U.S. They use the salame spelling where I get it, so I'm going with that.
Sandwich making notes: If you don't have a sandwich press, cook this as you would other grill cheese sandwiches. I list "1 slice cheddar cheese" in the ingredients, thinking you might have pre-sliced cheese. If you have a block of cheddar as I did, cut thin slices about 1/4 inch thick. Cut enough slices to spread the cheese out to cover a piece of bread.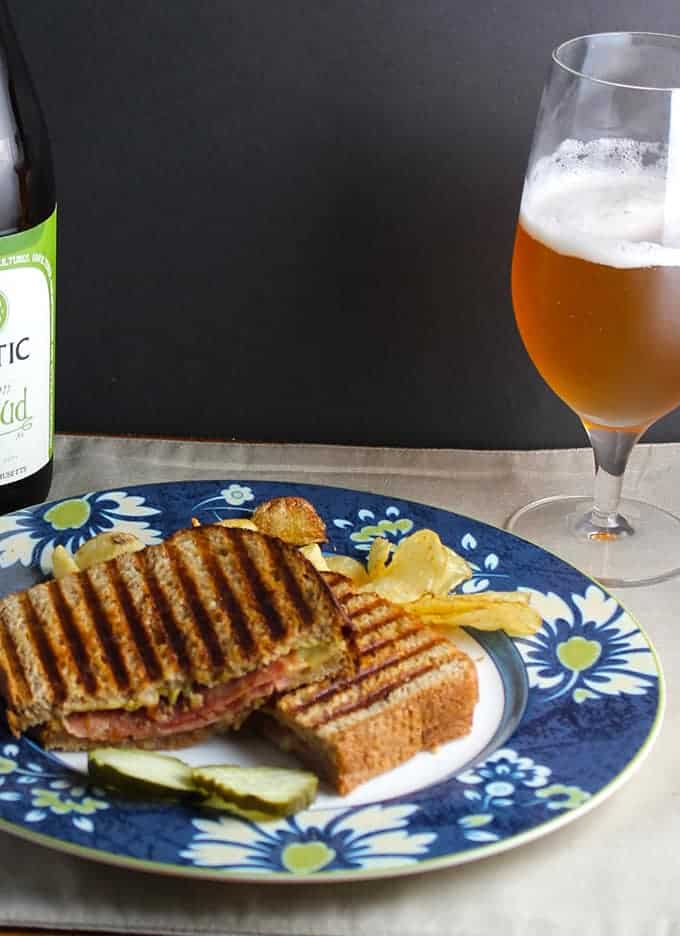 Beer pairing: The Saison Renaud Ale has a malty nose and my first tasting note was the lemon. It does really pick up the fennel element in the salame very nicely, and it also complements the spice of the Dijon mustard very nicely. The overall combination of the ale with grilled cheese and salame was very pleasing. There is also a spice element in the beer I was trying to put my finger on–cardamom, perhaps? Our plans to go out for Indian food last night might be influencing my mentioning that spice.
The beer gets its name from the Renaud yeast strain. They are very passionate about the details of the ingredients that go into making the beers at Mystic Brewery, one of the things I like about the spot. Their bottles and their website provide some interesting details on the ingredients and beer making process.
Upcoming Event: We have a beer pairing fundraiser tonight at Mystic to benefit Social Capital Inc. If you happen to be readying this on June 22, there are a couple spots open. I'm typically more focused on wine pairings for food, but the event has provided a fun chance for me to learn more about beer pairing. I shared some of the beer pairing tips I learned in this post; and previewed one of the pairings we will have tonight in this post.
Print
Grilled Cheese and Salame Sandwich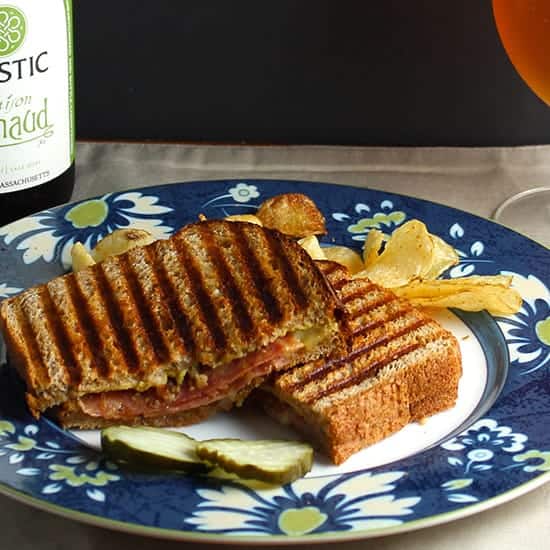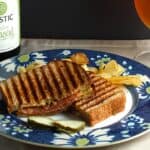 Grilled cheese sandwich featuring cheddar cheese and fennel salame. Pairs well with a saison ale.
Author: Cooking Chat
Prep Time:

10 mins

Cook Time:

5 mins

Total Time:

15 mins

Yield:

1

serving

1

x
Category:

Sandwich

Cuisine:

fusion
Ingredients
2

slices whole wheat bread

1 tbsp

butter, softened

1

slice cheddar cheese

4

thin slices fennel salame

1 tsp

Dijon Mustard (adjust amount to taste)
Instructions
Preheat a sandwich press. See notes in post text for approach without a sandwich press.
Spread half the butter on one side of a piece of bread. Spread the remaining butter on one side of the second piece of bread. Place both buttered sides down on a plate.
Place the cheddar cheese on one of the unbuttered sides of bread. Spread the salame out on top of the cheese.
Spread the mustard out on the other unbuttered side of bread, and then close up the sandwich.
Carefully move the sandwich and set it in the heated press. Gently press down on the sandwich maker.
The sandwich takes about 5 minutes to get the cheese melted and develop those nice griddle marks. Keep an eye on the cheese as the sandwich heats, you don't need to cook it much past the point where the cheese has started to melt.
When the sandwich is ready, use a plastic spatula to remove the sandwich from the press. Plate the sandwich, cutting it in half if you like for presentation effects. I like to serve it with a good pickle and some chips. Enjoy!
Recipe Card powered by
Tools to use: (Amazon affiliate link, meaning I would receive a small commission if you choose to purchase using the link)
Hungry for another tasty sandwich idea? Try this Moroccan Turkey Pannini!