Last Updated on
I originally came up with this Artichoke Dip with Roasted Broccoli and Garlic recipe in January 2014, inspired by a "Mystery Bag" of ingredients from our local Whole Foods. I made the recipe again recently (January 2016) and posted the updated recipe here.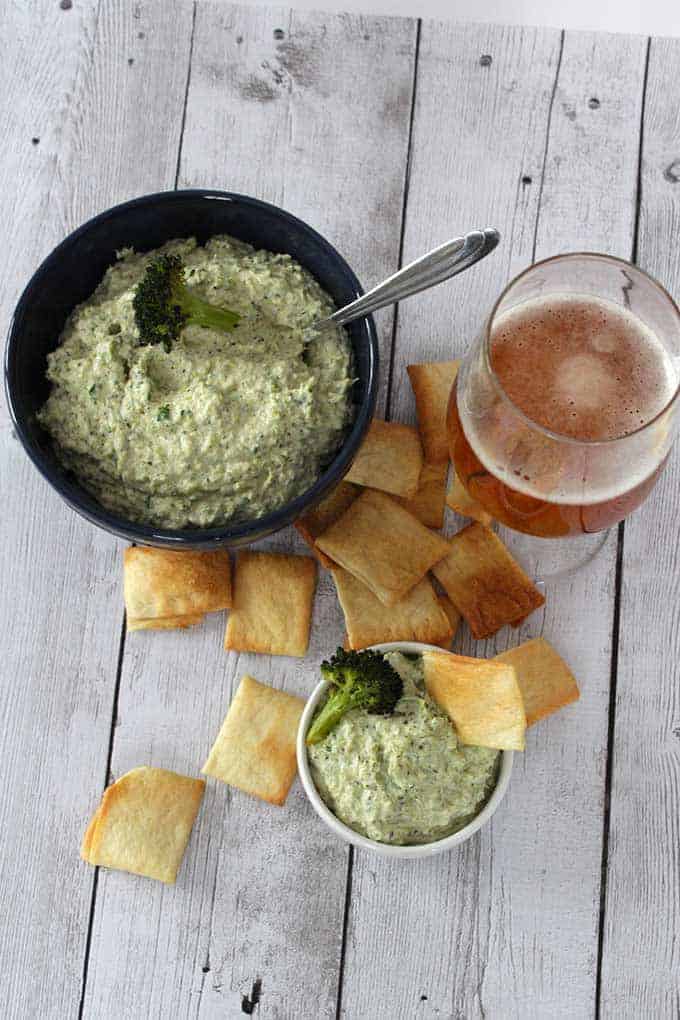 This Artichoke Dip with Roasted Broccoli and Garlic is the second recipe I came up with from my Whole Foods Market "Mystery Bag", posted in time for #AppetizerWeek and the upcoming Super Bowl! As I discussed in this post, I'd gotten a bag of ingredients featuring the Whole Foods 365 Everyday Value® line to see what recipes I could come up with to feature this products. This linked to the recent Whole Foods Market Woburn 5% day, which raised $3,517 for Social Capital Inc. My first priority was to fix something for dinner the night this bag landed in our home–Super-Tasty Meat Sauce was the result. "Hmm, what next?" I thought as the meat sauce simmered.
Well, the next evening we had a church potluck supper on the schedule. Having signed up for an appetizer, I decided this would be the perfect time to concoct a new recipe (confidence or hubris, you decide!). Well, the can of 365 artichoke hearts seemed like a nature item to use in a dip. Perusing the web for some ideas, I saw artichoke and spinach always seemed to be paired in dips. Tasty, to be sure, but I wanted to do something a little different.
I've been getting into roasted broccoli this winter, and thought I'd add that along with a nice dose of garlic to my artichoke dip. Once I remembered to set out a serving spoon next to the dip, it got eaten up pretty quickly–in part because Jodi was extolling its virtues to people she was chatting with. Most people who tried this really seemed to like it. But you definitely need to like garlic! And if your feelings about broccoli run along the same lines as President George H. W. Bush, well, you might stick with spinach and artichoke dip. Those caveats aside, give this tasty Artichoke Dip with Roasted Broccoli a try!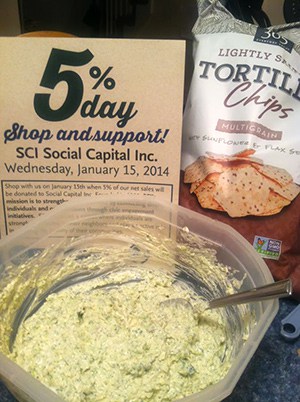 2 stalks of broccoli, chopped into florets
2 cloves garlic, minced
1 tbsp 365 Everyday Value® Extra Virgin Olive Oil
bit of salt an pepper to taste
1 14.5 oz can 365 artichoke hearts
2 tbsp olive oil
8 ozs cream cheese, left out of fridge for about 30 minutes to soften
1/2 cup sour cream
1 scallion, chopped
generous pinches of tarragon, red pepper flakes, basil and 365 Organic Healthy Earth Seasonings spice blend for meat, seafood and veggies. You can, of course, vary the spice combo…but tarragon is definitely a good one here.
1/4 cup parmesan cheese
tbsp lemon juice
1 tbsp roasted garlic (you could do one clove raw garlic, minced, if you don't have roasted garlic on hand or time to make it)
1/8 cup milk
365 Multi-Grain Tortilla Chips for serving
Preheat the oven to 400 degrees. Toss the broccoli and the garlic with the olive oil in a roasting pan. Add a bit of salt and pepper to taste. Put the broccoli in the oven to roast, about 20 minutes. You want to get the broccoli browned and tender when checked with a fork. Remove from oven when done and set aside to cool.
Set up your food processor with a chopping blade. Drain and rinse the canned artichokes. Add the artichokes along with 2 tbsp olive oil to the food processor and chop the artichokes into small pieces. Add the broccoli and chop it along with the artichokes and set aside.
Place the cream cheese in a large mixing bowl. Stir it up with a sturdy spoon so it starts to get soft and pliable. If it seems to hard, put it in the microwave for 5 or 10 seconds and try again. Stir in the broccoli artichoke mixture so that the veggies are well combined. Then stir in the remaining ingredients from the sour cream to the milk. I added the milk to make the dip a bit less thick. It was still on the thick side, you could add a bit more milk or sour cream for consistency if you'd like.
Serve the Artichoke Dip with Roasted Broccoli along with tortilla chips or pita chips. I liked the hearty flavor of the 365 multi-grain chip with this dip. Now, I realize beer might be your beverage if you're serving this on Super Sunday, but we enjoyed it with some good Napa Chardonnay from Ramey!