Last Updated on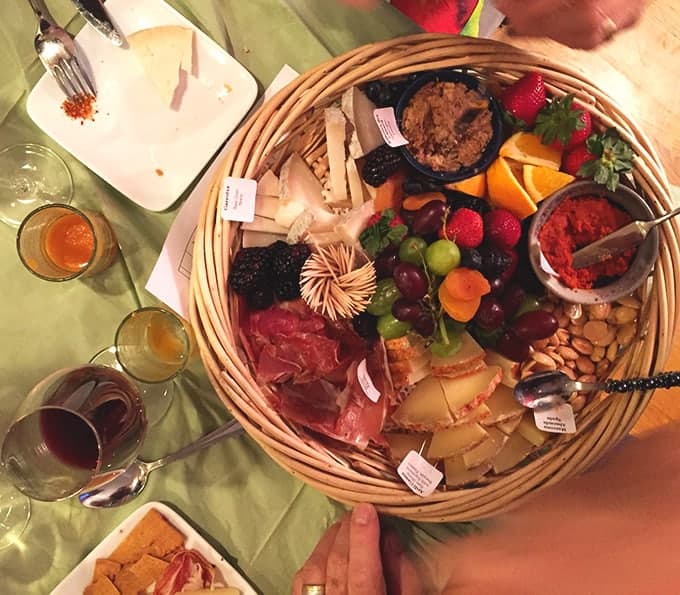 I love the way good food and wine can transport us to different parts of the world. Sometimes we actually get a chance to visit other food and wine regions, but the virtual visits through eating a particular cuisine can happen more often. During our most recent wine club gathering, we enjoyed a taste of Southwest France and Basque Wine Country, getting to sample food and wine our friends Ray and Lori brought back from a recent trip to the area.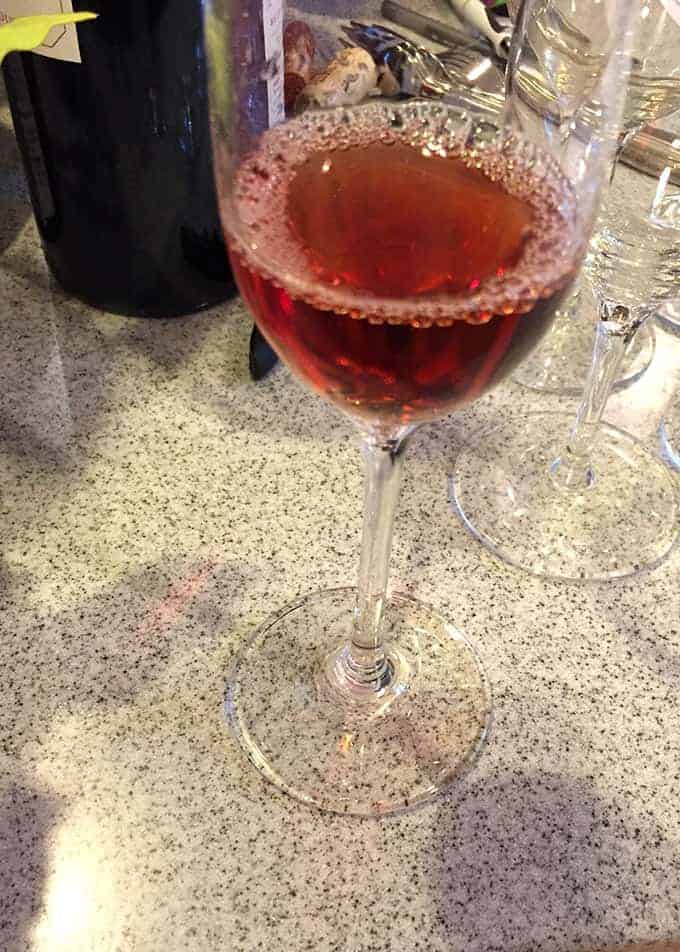 The wine areas Ray and Lori visited on this trip are underappreciated, but offer a lot of interesting, high quality wines at reasonable prices. So I'm going to share some of the highlights of what we tasted, and encourage you to find a chance to check out some of these wines too. Our friends are the owners of the wine shop, Pairings Wine and Food, so some of the wines mentioned can be found in their Winchester, MA store. If you're not in the area, consult with a good local wine shop to see if they can help you find some of these wines.
What the Floc? At our wine club gatherings, we typically start with a sparkling wine. But this time, we sampled Floc. Not familiar? You aren't alone! The 2014 Domaine de Laguille Floc, from Gascony, is a combination of 1/3 Armagnac, distilled from Ugni Blanc and Baco Blanc wine, and 2/3 Merlot and Cab grape juice. Definitely an interesting starter! It was smooth and refreshing, and and definitely whet our appetites for the evening of good food and wine.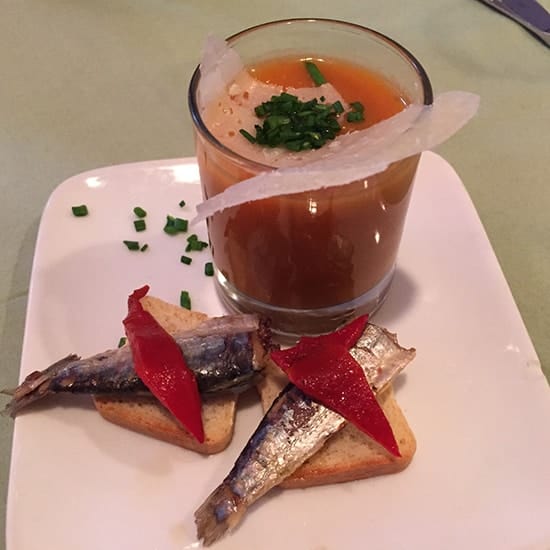 First Course with Tzakolina: Lori and Ray gave us an authentic taste of Basque country by serving Tzakolina white wine with a plate of toasts with sardines and piquillo peppers, some super-fresh gazpacho with manchego cheese, and some idiazabal cheese. Apparently this would be a common pairing to enjoy a pinxto bar overlooking the Atlantic in the Basque region. Though I've become a big seafood fan, I haven't eaten little whole fish like the sardines much before. It's pretty tasty, especially when washed down with the slightly effervescent Tzakolina (see Eric Asimov in his NYT The Pour column for more on the wine). The dominant grape in Txakolina is Hondarrabi Zuri, and both we tried also had Mune Mahatsa in the blend. The first we tried was light and crisp; the second was aged in American oak. I didn't find that second one as appealing with the wood element in this light white wine. For variety, we also sampled a Sauvignon Blanc from Domaine des Cassagnoles Eclat in Gascony with this course.  This wine had the grapefruit element characteristic of a sauv blanc, but just enough to make it refreshing.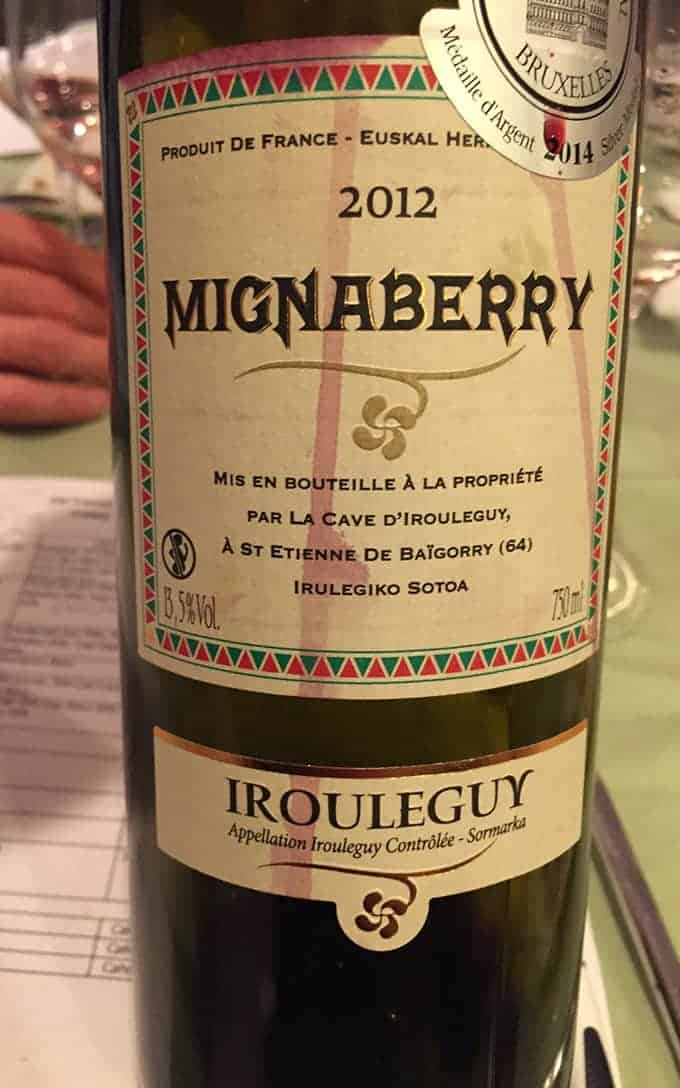 Second Course with wine from Irouleguy: Next up we sampled two wines from Irouleguy, a wine region in the French Basque country. Both wines featured Tannat as the primary grape. This tannic grape is more often used in small amounts in a blend, but did well in a starring role in the wines we sampled. I particularly liked the Mignaberry, which had 30% Cabernet Franc and 10% Cabernet Sauvignon blended in with the Tannat. Big flavors from the Tannat, but the other grapes gave it a soft edge. That wine and the Tannat we tried from Domaine Llaria paired well with the charcuterie plate we enjoyed with rillettes de canard and Serrano ham. We also had an Espellette spread, flavored by the eponymous pepper spice blend popular in the region.
Third Course with Cahors Malbec: We may associate Malbec with Argentina, but the grape varietal has its roots in France. Cahors in Southwest France is one place where Malbec is still prominent, as a red wine must contain 70% Malbec to have the Cahors AOC label. Ray and Lori had a chance to visit Cahors, and had 4 wines for us to try from two different wineries. I particularly liked the 2011 Chateau de Haut-Serre Grand Vin Seigneur, which was softer than some of the others, with nice blackberry fruit and a bit of charcoal. And the 1994 Chateau de Mercues Prestige Cuvee was also great, darker and dense compared to that one from Haute-Serre. Certainly dense wines that can age well.
We enjoyed the bold Malbecs with Duck Confit with Truffled Risotto, a hearty dish that went very well with the wines. There was also a beautifully presented plate of zucchini and summer squash ribbons.
Final Course (Savory): We finished up with foie gras with onion jam and polenta pennies as a savory finish to the meal. This final course was served with a 2012 Prestige d'Autome Petit Manseng, from Jurancon, a wine region in the foothills of the Pyrenees. I didn't get any notes down on this final wine, but I do recall being pleased with the combination of slightly sweet wine with the savory course. Not being a huge sweet fan, I like to finish a meal that way.
As I mentioned in the intro, you can find some of these wines at Pairings. Generally, I hope your curiosity might be piqued enough to see if you can find a wine from one of the Southwest France and Basque regions described here. Though lesser known here in the states, it was clear from this dinner that there is a thriving wine culture there, and many high quality, interesting wines to try. I hope you get a chance to taste for yourself soon!