Last Updated on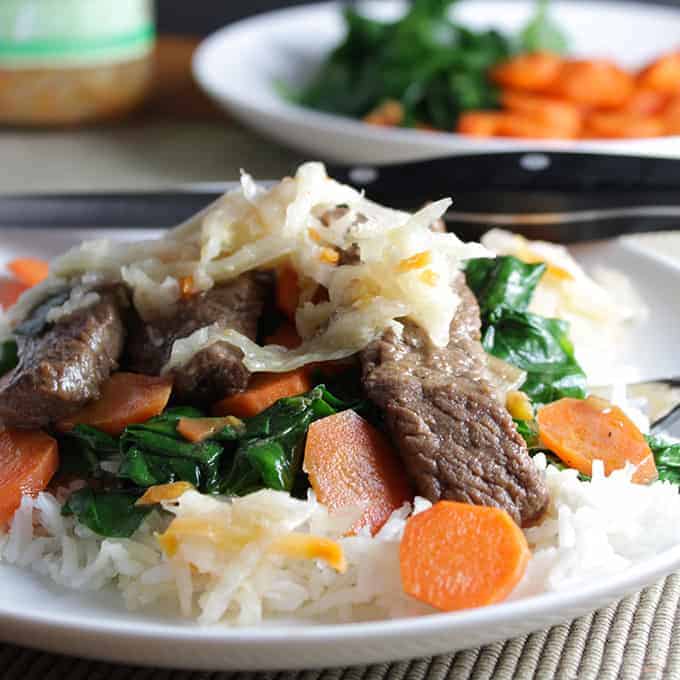 I was inspired to make this when our son came home from pre-school talking about Bee-Bim Bop
, both the children's story by Linda Sue Park and the dish…basically the story revolves around a young girl helping her mother shop for and prepare this traditional Korean dish for her family. At the end of the book, they have a recipe designed to involve a child in the preparation. I'm recapping the essentials of the recipe here, with some of my tweaks, as the dish is tasty in its own right. But if you want to replicate the process of engaging your child as sous chef on this one, I encourage you to get the book!
Ingredients
MARINADE:
2 cloves garlic, minced
2 scallions, chopped
5 tbsp soy sauce
2 tbsp sugar
2 tbsp vegetable oil
dash black peper
(the book lists roasted sesame seeds and/or tbsp sesame oil as optional ingredients, we didn't use them)
OTHER:
2 cups rice; I like long-grain brown for health & taste
1 lb sirloin tips, sliced very thin across the grain
2 carrots, peeled & julienned
4 cups or so spinach
kimchee (Korean pickled cabbage) I used a prepared version from Whole Foods
Note: one would typically also have thin slices of egg as one of the topping but our son is allergic and we didn't use, nor miss it. It also calls for a pound of mung bean sprouts which we didn't have available.
Preparation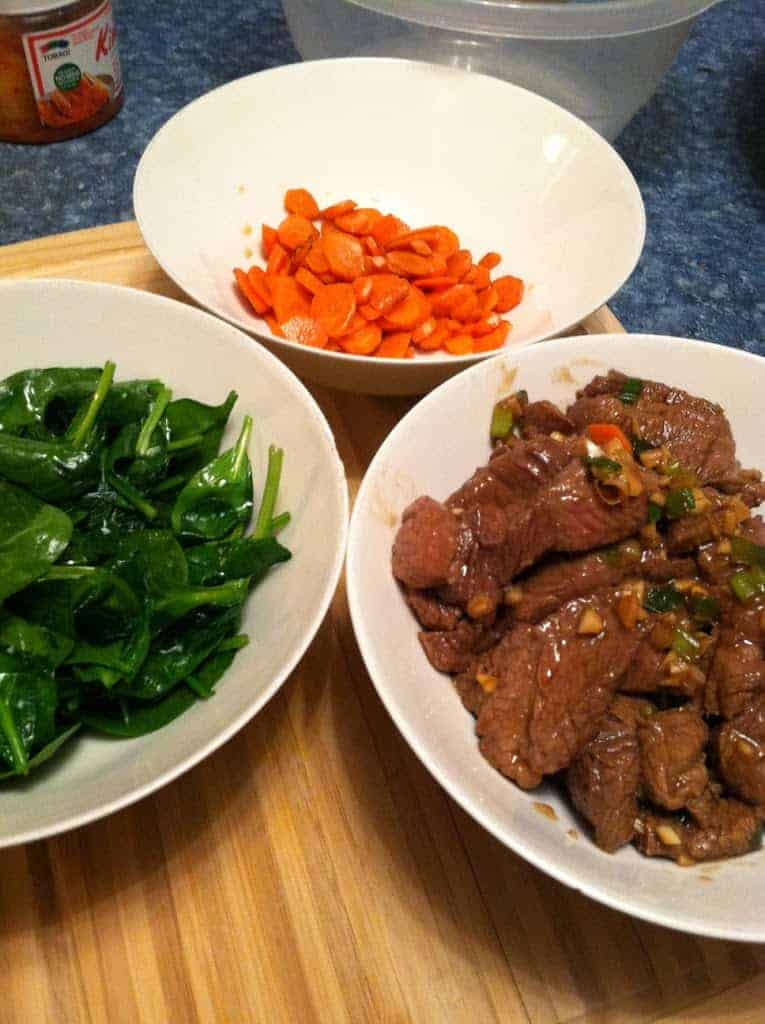 First, cook the rice in 3 cups of water, keeping in mind that brown rice can take 30 minutes or more. As the rice cooks, make the marinade and combine it with the steak. Then get all the other items prepped for cooking as noted above. Heat a wok or large skillet and a tsp of oil. First stir fry the carrots until tender; then the spinach (just needs a few seconds to wilt if using baby spinach). Wipe the pan out a bit after the spinach, prior to cooking the steak. Place each item in a separate serving bowl when it is done being cooked. Cook the steak last, until it has just begun to turn brown. This will only take a minute or so. Pour the steak and all the juices together into a serving bowl.
Place the serving bowls on the table for self-service. Start with the rice, then add in the other items on stop of the rice. I recommend starting with a just a bit of the kimchee if you're new to it, then add more if you like. It's a strong flavor.
Wine Pairing: I originally served this with '08 Layer Cake Shiraz from Southern Australia. It's a tasty wine, and aptly named, has distinct elements of chocalate in the taste. Ideally, for this dish, something with a bit more spice would be ideal. UPDATED The Enkidu Syrah/Petite Sirah blend was a very good match for this one. Has a bit of spice element, some definite heft to the wine that works nicely with this dish.