Last Updated on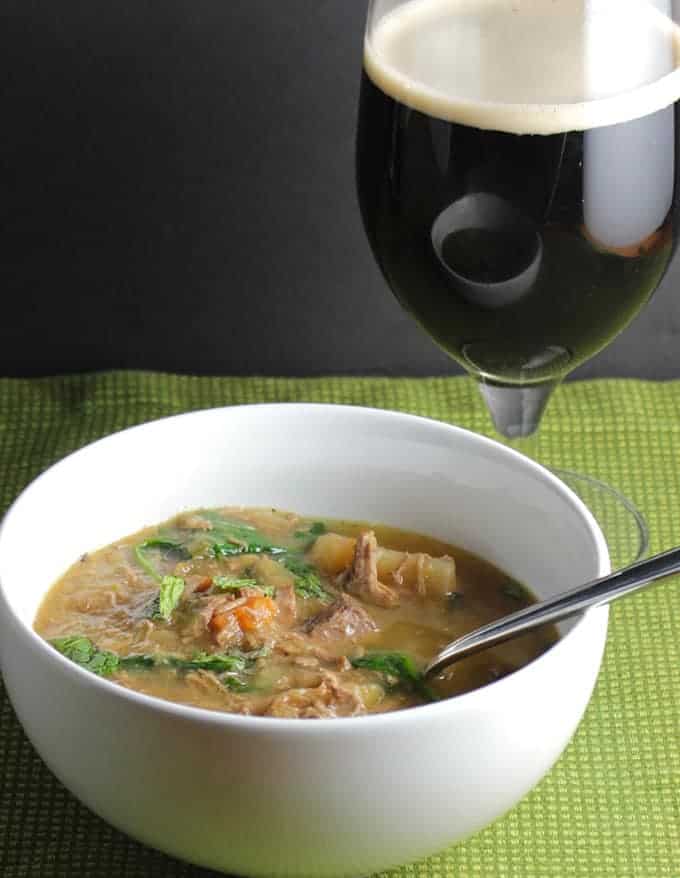 Readers of Cooking Chat know that I'm very interested in finding good wine pairings for the food we enjoy. Though there is little mention of beer on this blog, I do enjoy beer on a regular basis, too. In fact, I'll often sip a bottle of beer as I cook, and save the wine for dinner. Occasionally I do pair a beer with the meal I make, such as the Slow Cooker Irish Lamb Stew shown above.
I've been coming across more people putting an emphasis on beer pairings for food lately. I've heard Sam Adams founder Jim Koch speak passionately on the subject on the radio, and read Food & Wine articles on it. Now I have a chance to focus on beer pairings for food more closely, as we are having a beer & food pairing event to benefit Social Capital Inc. on June 22 at Mystic Brewery. Guests will have a chance to sample four of Mystic's beers along with food pairings for each beer. Tickets are available for the fundraising event by clicking here.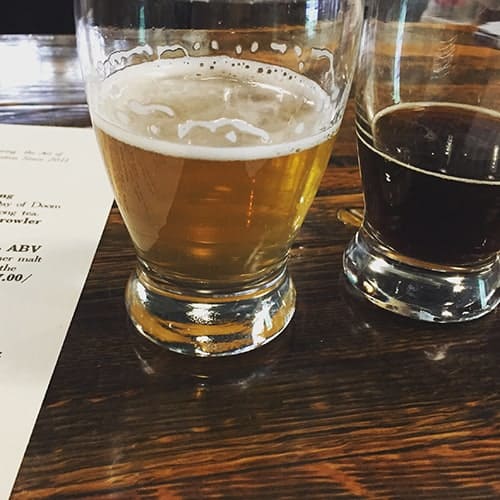 I visited Mystic Brewery in Chelsea recently to sample the beer we'll be having and consider what foods will be best to serve with the beer. I chatted with Mike from Mystic at the bar, and he offered three basic tips for pairing beer with food:
1) Pairings that compliment each other: Look for a flavor element in the beer and serve a food with it that picks up on that flavor element. For instance, we will be sampling a saison style beer at Mystic with a lemon element. We are thinking a salad with a lemon vinaigrette may go well with it.
2) Pairings that contrast: Beer and food elements can counter each other in a pleasing way. For instance, the roasted flavors in a porter can contrast the briny element in raw oysters.
3) Pairings that demonstrate strength vs. strength: This one seems similar to the wine pairing concept of focusing on the weight of the wine and food. A lighter style beer would go better with lighter food, while a heavy stout would go with heavier foods.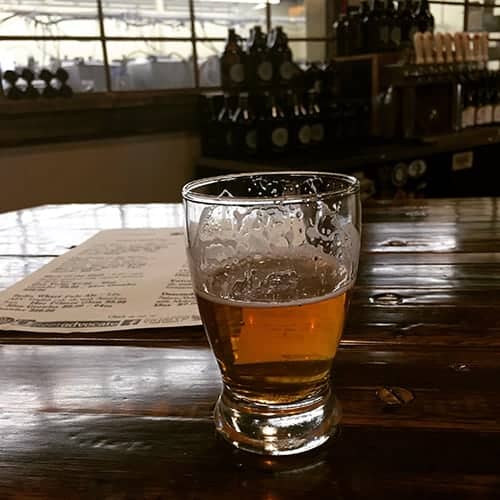 At our June 22 Mystic Brewery event, we will be sampling a light and crisp table beer, the Renaud traditional saison, a hoppy ale, and finishing with the Hum porter. We are still planning our food pairings, but do know that we have a cheese platter donated by Whole Foods Market Charlestown that will go great with the Renaud. We are working on getting some chocolates to go with the porter, and some Cubano sandwiches and empanadas to try with the hoppy ale. I'm planning to make something to go with one of the beers, too. Stay tuned for more about this beer pairing adventure; better yet, plan to join us on June 22 at Mystic Brewery!
Let me close with a few more words about Mystic Brewery. The brewery is about four years old, and has already won a number of accolades including being recognized as one of New England's top breweries by Boston Magazine. A few days after visiting Mystic, I happened to hear Mystic's founder on Boston Public Radio talking about how he and his wife were inspired to start the brewery during their honeymoon trip to Belgium. Hearing Bryan passionately describe their beer making process, emphasizing fresh beer with local ingredients certainly further whet my appetite for our upcoming event there.