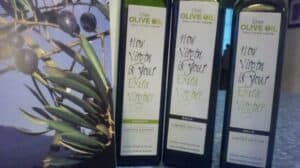 If you are of a certain age, you may recall the great "tastes great" versus "less filling" debates that raged on commercials for Miller Lite decades ago. Well, we staged a version of that in our home recently, but in this case the choice was between "Bold" or "Smooth" Chile Olive Oil. We had the opportunity to hold a special Chile Olive Oil tasting dinner at our home for a dozen foodie friends. Our dinner is part of a series of special events designed to increase awareness about the high quality of extra virgin olive oil (referred to at times here and on Twitter as "CEVOO").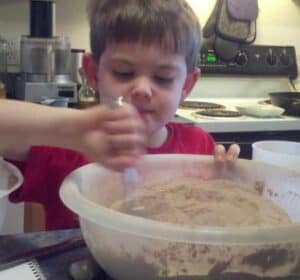 Preparation: In many ways, this was the easiest dinner party we have hosted (Jodi may disagree, after volunteering to finely dice the Yukon gold potatoes!). On Friday, our Chile Olive Oil sampling kit arrived from New York with several bottle bottles of bold and smooth Chile Olive oil, tasting cups, and lots of useful information. Then on Saturday I picked up a couple big bags of super-fresh ingredients provided by Whole Foods Market Woburn (thanks Nora!) and I was pretty much good to go…except I couldn't simply stick with the original menu, I had to add a few wrinkles and thus grab some additional items. And of course, some Chilean wine from Pairings Wine and Food.
Of course, there was still plenty of work to get things ready. I haven't done much baking, but might have to do more after seeing how much my seven year old enjoyed helping make the eggless chocolate cake! I tried to get as much prep as possible done before the party, getting the dip, pesto and dressing made, chopping vegetables and so forth. Alas, I did not get to the step of dicing the Yukon gold potatoes before the guests arrived; fortunately Jodi jumped in to take care of that tedious task.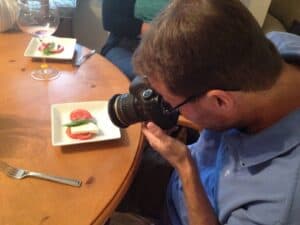 Our food savvy guests came ready to capture the experience!
The guests: We had a great group come to enjoy the tasting dinner with us. I'll mention and link to those that have an active food related social media presence so you can follow if you'd like. There was fellow local Woburn food blogger Raquel,  along with her husband Carlos (fresh of their honeymoon in Hawaii!). Carlos' Dad came too, and he offered us some great information as a native Chilean. Raquel has already gotten a nice post about the dinner up over on her Thoughtful Eating blog. Jeff brought his social media journalist photography skills to bear on the event. Our guest with the most creative Twitter handle would have to be Clownface3 who came with Jeff and contributed her rapid tweeting ability to the party. Speaking of prolific tweeting, few can match Eric's 100,000+ tweets, not to mention his 20,000+ Fourquare checkins. My wife Jodi may have caught the social media bug, but I think my sister Pam and her husband Doug are too busy cooking and enjoying great food to tweet about it! Doug will offer his opinions of the dinner if asked, I'm sure.
Tasting After we had had a chance to nibble on some of the appetizers (more on those below) it was time for the main event! We were gathered to learn more about the what Chile Olive Oil has to offer. Sure, we could read the nice brochures and learn how Chile Olive Oil goes from fruit to oil in 24 hours and Chile's great climate for growing olives. But that's no substitute for tasting. The Chile Olive Oil folks gave us two different oils to sample. The "Smooth" is a blend of Frantoio and Arbquina olives. "Bold" is  a blend of Arbequina, Frantoio and Leccino olives. And yes, our friends at Chile Olive Oil did encourage us to get into a bit of a debate on the merits of Smooth vs. Bold.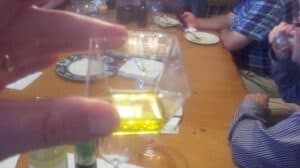 Getting ready to sample some CEVOO!
Olive oil tasting was new to all of us, so it was helpful to have the tasting instructions. The process is quite similar to wine tasting: swirling, sniffing, and some slurping to aerate the oil and get the full flavor. The added twist was nibbling a green apple to cleanse the palate! The Smooth has a nice, light mouthfeel, but did surprise us all with a peppery finish at the end. The Bold packed some punch from the get go, with a more full-bodied mouthfeel. Now, Clowface3 was the only guest that voiced a strong preference for the Smooth, though I suspect from the other's notes that would be the one we'd all choose if we were going to have a glass of it straight up…of course, it's about how the Chile Olive Oil accentuates the food! I enjoyed trying different oils for the various dishes, which I'll cover next.
The meal: We started with some appetizers that made good use of the Chile Olive Oil. I used Bold for the Muhammarra (spicy red pepper dip) served with pita chips:
My pesto already has a boldness to it, so I figured I'd amp up that taste by using the Bold for a batch to be served on crostini. Eric brought a bottle of Phanton Gourmet Sauvignon Blanc from Chile, which was a nice, crisp accompaniment to the pesto and spicy red pepper dip.
The Caprese Salad was perhaps the best dish of the night for showcasing the fresh taste of Chile Olive Oil. We gave people their choice of Bold or Smooth on this one, and the choices were pretty evenly divided. This one in the photo looks like it still needs more CEVOO!
The main course was Honey Chicken with Caramelized Onions and Yukon Potatoes. The chicken was cooked with CEVOO along with chicken broth, onions, thyme, potatoes and some Whole Foods Organic Wildflower Honey. It was a very tasty preparation. I served it with a basic green salad, tossed with my Balsamic Vinaigrette. Great ingredients are the key to this simple dressing, so the Chile Olive Oil made it very good! Ray from Pairings thought Carmenere would go well with this dish, and he was right! We had the Chono from their shop and the Panilonco Carmenere, a favorite of Carlos, Sr.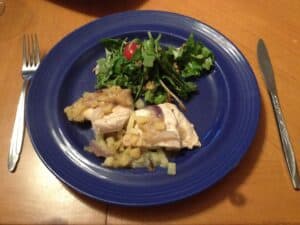 Photo courtesy of Eric Andersen. All rights reserved.
Finally, we finished off the night with Eggless Chocolate Cake, made with the Smooth Chile Olive Oil instead of eggs. Between not being much of a baker and the use of oil instead of eggs in the cake, I was a bit skeptical about how this would turnout. I took my sister up on her offer to bring a backup dessert. The cake was super moist and very tasty, so the other dessert was just a nice bonus! With our son allergic to eggs, this recipe was a great find!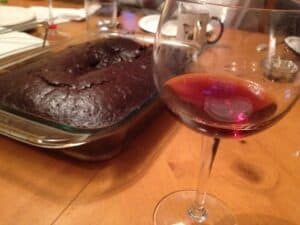 As you can see, we tested the chocolate and red wine pairing theory with this one, sampling the remainder of the Chono Chilean Cabernet we had opened with the main course, and also offered some port that went quite well. Both went nicely with the cake. We lingered a bit over our cake, wine and tea, chatting about our fun foodie adventure. Then it was time to go, with our guests leaving with their own CEVOO samples so they could continue to enjoy it in the days to come. I don't know about them, but I'm ready for a refill!