Last Updated on
A ten year old Pinot Grigio? I usually think of Pinot Grigio as an easy sipping white wine to be enjoyed young. I just wrote about a Pinot Grigio from Lindeman's that would be a good example of what one might typically expect from this grape varietal. But today we are sampling orange wine for Italian Food, Wine and Travel, so you can throw out the usual expectations for Pinot Grigio and other white wines. We will share about the Bressan Pinot Grigio we sampled, but first let's talk more about orange wine.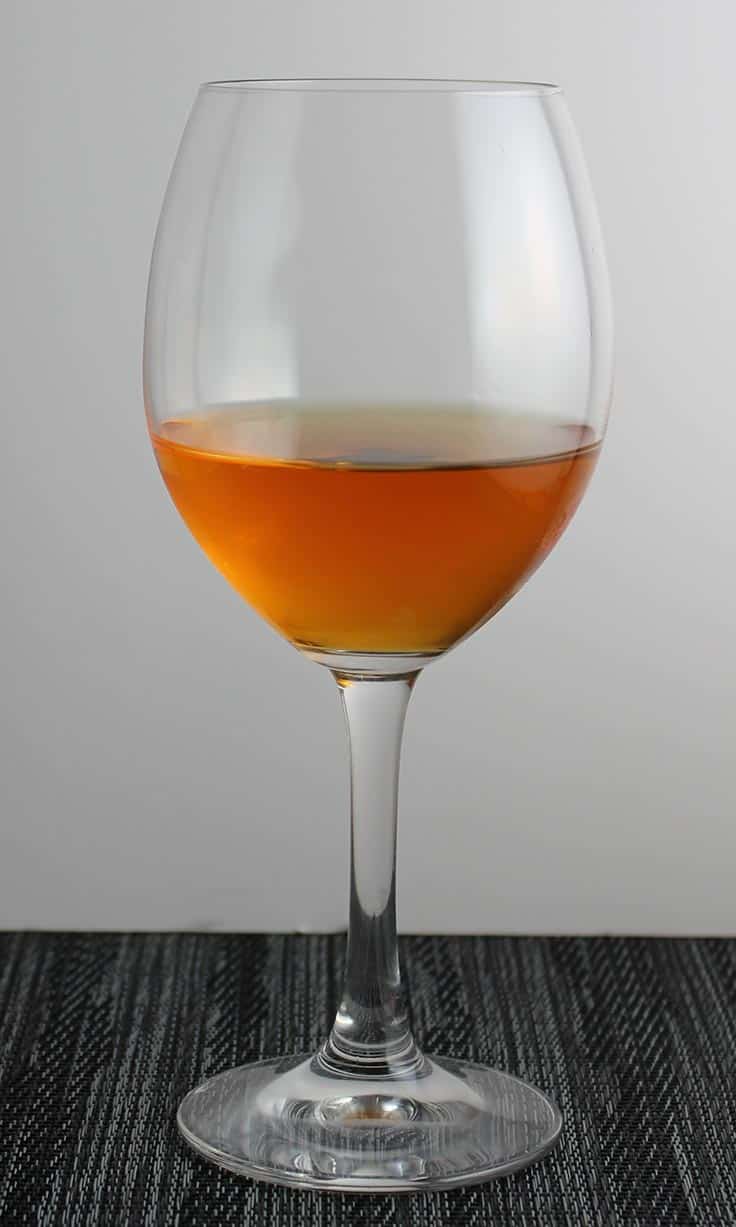 What is an orange wine?
An orange wine is made from white wine grapes with the skin and seeds left on for a period that can range from 4 days to up to a year. This skin contact brings about an orange hue in the wine, and also leads to higher level of tannins that make an orange wine have some of the characteristics you might expect from a red. Oxidation occurs in the orange wine making process that gives it a unique taste that can have nutty and/or sour characteristics.
Bressan Pinot Grigio
Ray and Lori Schaefer held a little tasting at Pairings of some Bressan wines after visiting Fulvio Bressan's winery in the Friuli region of northeastern Italy. They described an intense personality very passionate about producing excellent wines from a property that has been in the family for over 300 years. Ray mentioned that Bressan's mentor in Bordeaux told him he must "think like a vine" to make excellent wine. Bressan makes wines from a variety of grapes including Pinot Noir, Pignola and Schioppitino. More about the winery can be found on the Bressan winery website.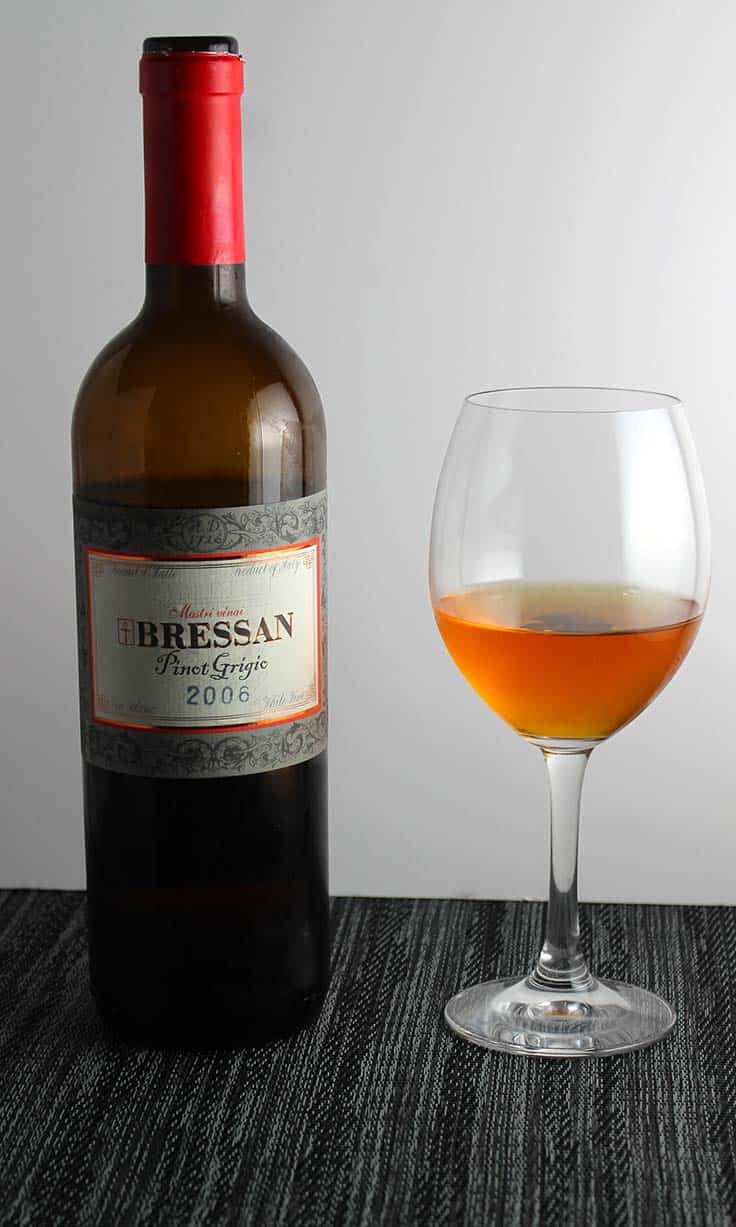 Now, before going on to describe the Bressan Pinot Grigio I must say I was disturbed to learn about racist comments made by winemaker Fulvio Bressan when Googling around for background information for this article. I had no idea about these remarks and the ensuing controversy when I bought and sampled the Bressan Pinot Grigio. Ray and Lori visited Bressan before this incident. I'm going to proceed to describe the wine as it is a good example of an orange wine, but I can't say I will be inclined to buy another bottle from the winemaker after what I have read about him.
Tasting Bressan Pinot Grigio
So I bought a bottle of 2006 Bressan Pinot Grigio ($37, 13% ABV) to sample for this #ItalianFWT article. The Bressan Pinot Grigio is a golden orange in the glass, with a tawny nose. I tasted caramel, prunes and toffee, definitely not a flavor profile one typically associates with Pinot Grigio!
This Pinot Grigio is not an easy sipping wine. It has a brooding personality, one that you must grapple with a bit to come to appreciate. But sipping a bit before dinner, then letting it open up in the glass, you really do come to appreciate the nuances of this wine. The flavor qualities seemed a bit more like a port or sherry, not a white wine. Somehow after it opened up a bit the mouthfeel also made me think of a Sauternes. Not your Grandma's Pinot Grigio for sure!
Pairing for Pinot Grigio
I have very limited experience with orange wines before this tasting, and it had been some time since I tried an orange wine. As I often do, I didn't do any background reading on the wine or the wine style before tasting it, so I could form my own opinion. I had a sense that this orange wine would be bigger than a typical Pinot Grigio and have some different flavor characteristics, but I was initially thinking more in terms of a typical white wine pairing for this Bressan Pinot Grigio. So I initially served the wine with Orzo with Grilled Swordfish and Kale Pesto. An excellent dish, but Bressan Pinot Grigio overwhelmed it.
I happened to also be grilling up some Heaven Sent Pork Chops the night I opened this orange wine. After tasting the wine, I correctly suspected the pork might be a better pairing than my original plan, so quickly snapped a picture of the pairing in the fading light.
These grilled pork chops have a rub with cumin and garlic, and the dish is a much better food pairing for the Bressan Pinot Grigio. The weight of this orange wine is more fitting for meat than pasta and seafood, and the complex flavors of the wine matched the spice rub pretty nicely. So next time I'm inclined to try an orange wine, I'll definitely be thinking in terms of a pairing like these pork chops. And I think I'll read about the wines my #ItalianFWT tried, and try another orange wine from an Italian wine producer who isn't known for making racist comments on his Facebook page.
Italian Food Wine & Travel Posts and Chat
Join us this Saturday, July 2 at 11 am EDT on Twitter at #ItalianFWT to chat about skin-fermented white wines from Italy. Here is a preview of what's to come from our Italian blogging group:
Don't forget to join us next month.  We'll be drinking Italian Rosato (the Italian version of rosé).