Last Updated on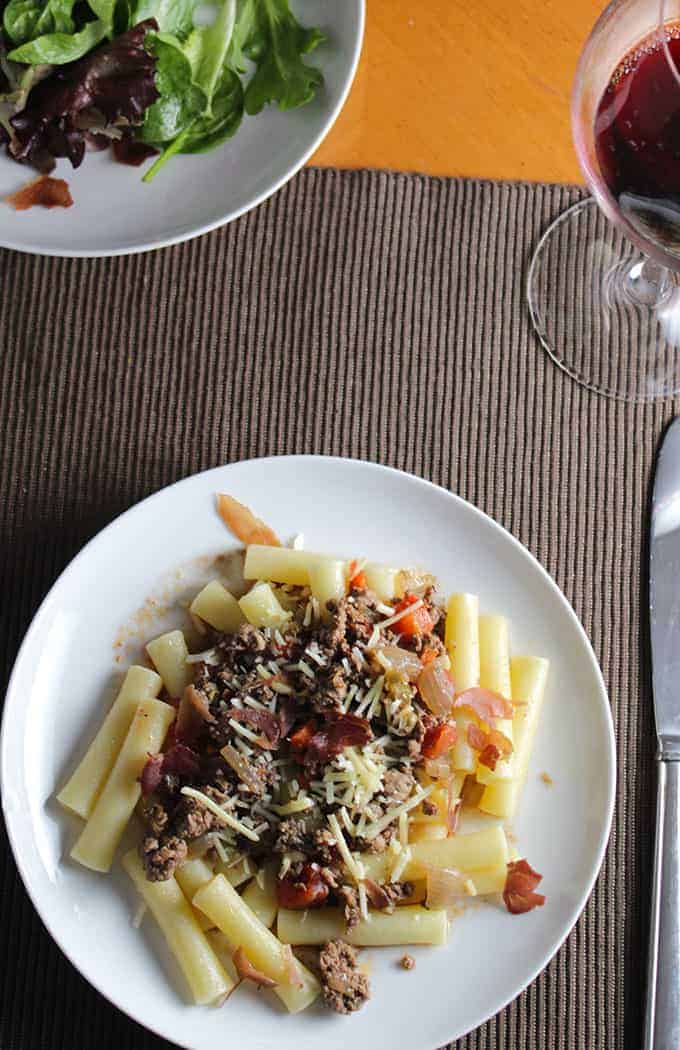 The photo was taken when making a more recent version of meat sauce, my Bolognese Sauce with Crispy Prosciutto recipe. Whether you try my recipe or the Butcher Sauce Bolognese, I am sure you will enjoy it!
Butcher Shop Bolognese, from Barbara Lynch's Stir: Mixing It Up In The Italian Tradition
, provides a straightforward starting point for my cookbook recipe and wine pairing project. I used the combination of ground veal, lamb and pork as recommended for this rich meat sauce with a bit of tomato. There's also a "secret ingredient", probably should let you get the cookbook for that. I've made similar preparations before, would say this is certainly a very good version of this classic dish. A nice option for long simmering on a cold winter day.
Many Italian reds could work well with the hearty meat sauce. A wine of substance, with enough acidity to match the tomatoes is needed (this dish is lighter on tomato than some pasta sauces, but there's enough for it to factor into the wine pairing considerations). Barbera I think would be a good choice, and a Chianti could do the trick as well.
I opted for something a bit off the beaten track, at least here in the U.S. I served the meal with a 2006 Tenuta Del Portale Aglianico Del Vulture. For the uninitiated, Aglianico is a red grape common in Southern Italy, and there is also a DOC wine region Aglianico Del Vulture where this grape is the basis for the area's wine. I just recently tried an Aglianico for the first time, paired with a somewhat similar dish, this pork ragu.
This Aglianico has an herbal bouquet with sage and lavender scents. It has a rough edge on the first taste, with notable tart acidity and taste of currants. Like many Italian wines, this is not something that makes for great sipping by itself, but after a bit of time in the decanter, it served as a good match for the Bolognese. The wine opened up a bit, with a bit more blackberry and currant fruit taste. But it retained the structure and firm acidity, that stood up well to the dish. As I noted, many Italian reds would work well with the Butcher Shop Bolognese, but the Aglianico I served is certainly one good match.