Today we share 3 California Chardonnay Picks to get you ready for Chardonnay Day. Traditionally celebrated the Thursday prior to Memorial Day, some of us got things started earlier this year!  Of course, you can enjoy any of these bottles whatever day you choose. Full disclosure: these wines were sent to me as complimentary samples. As always, the opinions expressed here are entirely my own.
I like to enjoy a wide variety of wines. In fact, I've now recorded the tasting of over 200 wine grape varietals. But I do like to come back to some old favorites, and a good Chardonnay definitely fits in that category. So with Chardonnay Day almost upon us, I am sharing 3 California Chardonnay picks today.
Chardonnay is one of the most widely planted wine grapes in the world. In fact, given its popularity in the US, I would have thought it would be in the top two or three, but lists such as this one from Wine Folly have it down a bit lower.
You can find Chardonnay from virtually every wine region in the world. I've had good Chardonnay from Australia, South America, Italy and Oregon, to name a few. White Burgundy is certainly one of my favorite wines, and that is made from 100% Chardonnay.
While you can find Chardonnay from all over, California certainly produces some of the top Chardonnay. There was a period of time when I found much of the Chardonnay from California was a bit too heavy on the oak and butter. But today, I'm finding more and more California Chardonnay showing more restraint, letting the fruit shine along with more subtle notes of butter and oak. To get you ready for Chardonnay Day, I've sampled three California Chardonnays that show good expression of the varietal at a range of price points.
Our California Chardonnay Picks for #ChardonnayDay
Let's get into the details of our California Chardonnay picks. I liked them all in different ways, so will present them in the order I tasted them:
2014 Landmark Vineyards Overlook Chardonnay ($25, 14.2% ABV) I got honey and flintiness on the nose of this Chard from Sonoma County. Pear fruit, hone and a touch of stone taste. A good example of a subtle, complex Chardonnay from California. On our plate with this Chardonnay, we had spaghetti with kale pesto, along with some simple sautéed shrimp. The wine paired pretty well with our pasta dish, but was an excellent match for the sautéed shrimp. Some chards might overwhelm the shrimp, but this Sonoma Chardonnay definitely had the nuanced profile to go well with it. The honey notes in the wine also matched the honey used in my shrimp marinade. For more on Landmark Vineyards, visit their website.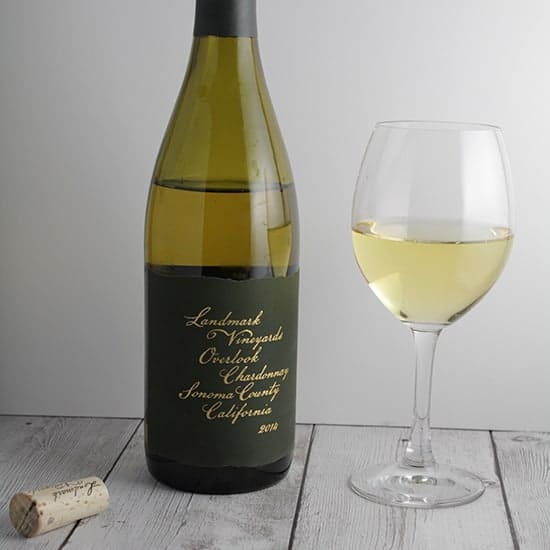 2014 Hahn Chardonnay ($15, 14.5% ABV) We are no stranger to Hahn Family Wines here, so it's no surprise that one of their wines is on of our California Chardonnay picks. OK, maybe a little surprise, because it is the Hahn Pinot Noir we have recommended here multiple times as a high quality, great value pinot.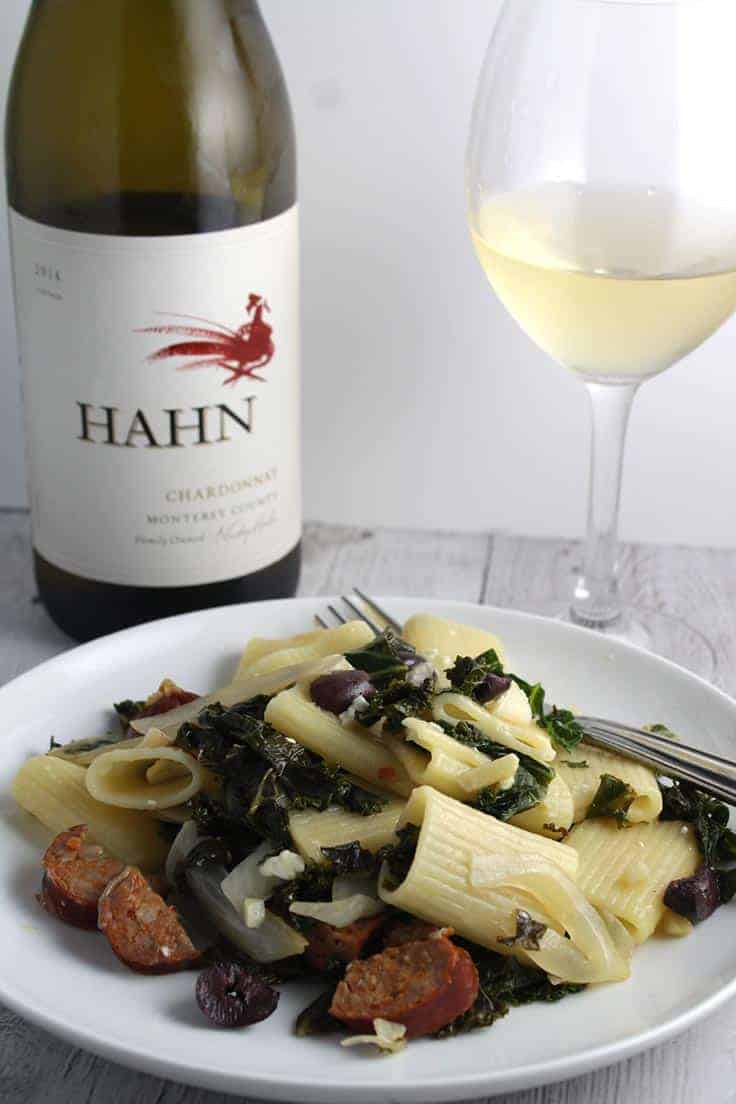 The Hahn Chardonnay is from Monterey County. I get peach blossoms on the nose, with melon and pear fruit, and a touch of minerality. We enjoyed this Hahn Chardonnay with Rigatoni with Sausage and Kale, and it was a pretty good match. Definitely a full-bodied white is needed for rigatoni with sausage, and the wine refreshes the palate after eating the flavorful sausage.
2015 Balletto Vineyards Chardonnay ($20) from the Russian River Valley was the final Chardonnay we sampled for #ChardonnayDay. Kiwi on the nose, I first taste butter, then lemon and a touch of vanilla on the finish with Orzo Salad with Kale Pesto.  Some chards might not be great with the pesto, but there is a touch of stone I detect in this chard, which definitely helps it go nicely with the pesto. The dish also gets substance from white beans and olives, which pairs nicely with the Chardonnay. I was pleased with this pairing. The Balletto Vineyards website has more information on this wine and their winery.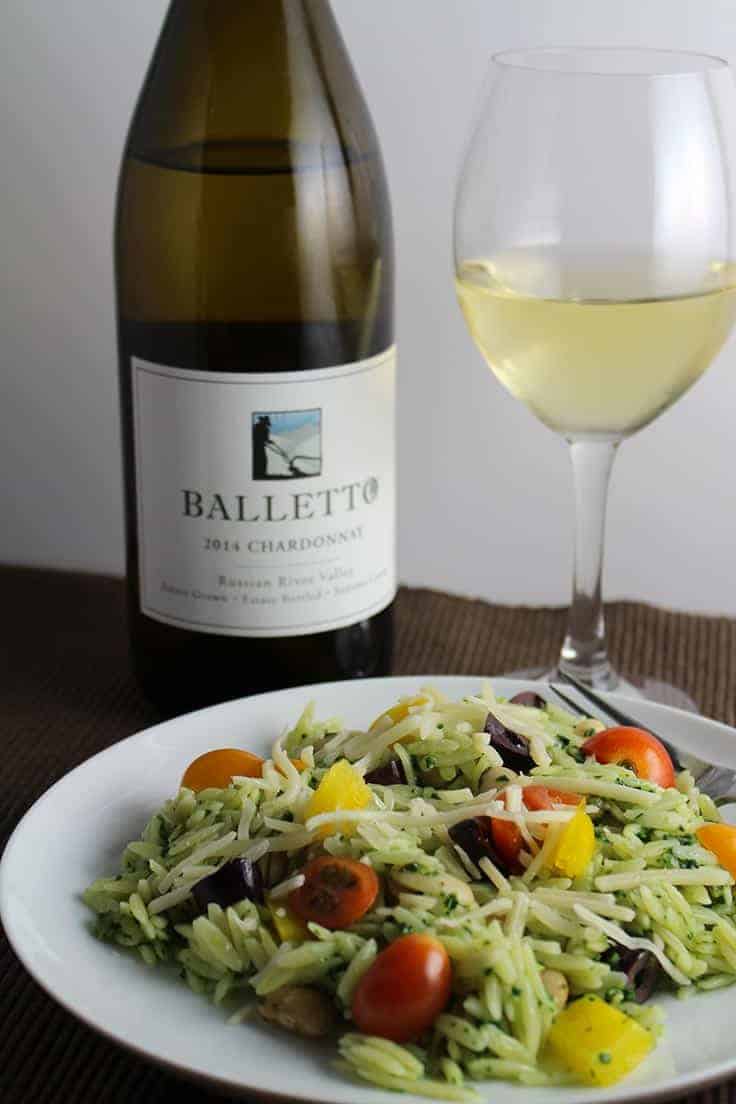 What foods pair with Chardonnay?
Unlike some more austere Old World style wines, California Chardonnay tends to be suitable for sipping on its own. That said, high quality Chardonnay can enhance the enjoyment of many foods. In addition to the dishes suggested above, I find Chardonnay can be a good match for creamy pasta sauces. For instance, we often go for a Chardonnay when having our Fettuccine Primavera. Chardonnay can also be a nice choice for shellfish–in addition to shrimp, the butteriness of Chardonnay makes it a classic choice for lobster. Chard can also be a nice choice for roasted or grilled chicken, especially if you prepare it with lemon.
Summer is just around the corner, which is a good reminder to mention that Chardonnay is great to have in the glass when enjoying some fresh corn on the cob. One of my favorite meals last summer featured corn along with the Mac and Cheese with Tomato Basil Salsa, and of course, a good Chardonnay!
Chardonnay also has the body to stand up nicely to a cream soup. For instance, we enjoyed another good California Chardonnay with our Potato Soup with Kale Pesto.
If you are in a snacking mode, a glass of Chardonnay can go nicely with some popcorn. Chard can also go with big cheeses, like aged cheddar or a blue cheese. This Food & Wine article has more tips on matching Chardonnay with different cheeses.
We hope you have a chance to enjoy #ChardonnayDay, whether it be with one of our California Chardonnay picks or a find of your own. Let us know what Chardonnays you enjoy, and any food pairings you'd like to recommend. Cheers!