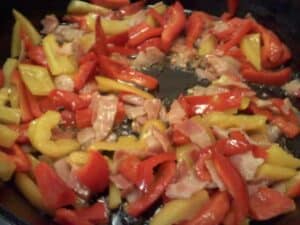 Fettuccine is popular in our house, as noted here recently. But one can only have the alfredo version so much, so I was ready to make a new version. So far I've been pleased with what I've made from Giada De Laurntiis' Everyday Pasta and her Roman-Style Fettuccine with Chicken is no exception. In this dish, chicken breasts and a bit of thigh meat gets braised in a sauce comprised of sauteed bell peppers (see photo), pancetta, garlic, tomatoes, wine and herbs. Served over fettuccine, the result is quite tasty.
I had the opportunity to try two different wines with the dish. My instinct is typically to serve Italian wine with a pasta dish, but was down to just one bottle of Chianti in the cellar with a lot of pasta in the food plan for the week. So I thought I'd try an alternative–was looking for something medium bodied and perhaps a bit rustic. But the 2006 Centeilles Minervois, a Languedoc red blend, just didn't work too well–though it has a nice finish and mouthfeel, there's a touch of gaminess to the taste that was a bit overpowering for the dish. I do recall I liked it quite a bit when I first tasted it at the shop. I suspect I probably first had it paired with sausage or something hearty like that, which would be a better match.
The simple 2008 Banfi Chianti Classico ($10) we had, on the other hand, served as a good example of the benefits of pairing wine and food from the same region. Granted, this wasn't a classic Italian dish (they don't really tend to combine pasta and chicken) but the essential flavors of the tomato and pepper sauce married very well with the Chianti. The wine had enough acidity to stand up to the tomatoes, medium body and a pleasant cherry fruit. Just the right combination to enhance rather than overpower the dish.
Chianti is the preferred option for this one I'd say, from my sampling, but I'd anticipate a Barbera would also be good.