Last Updated on
Looking for a great holiday gift idea for someone who enjoys wine and checking out new restaurants? Consider getting the a gift card for City Wine Tours in Boston or New York! In this post, we discuss our first experience with City Wine Tours in Boston's South End yesterday. If you can't wait to grab that gift or try the tour for yourself, visit the City Wine Tours website and enter the discount code "DavidBOS10" to get $10 off your purchase made by 12/31/16.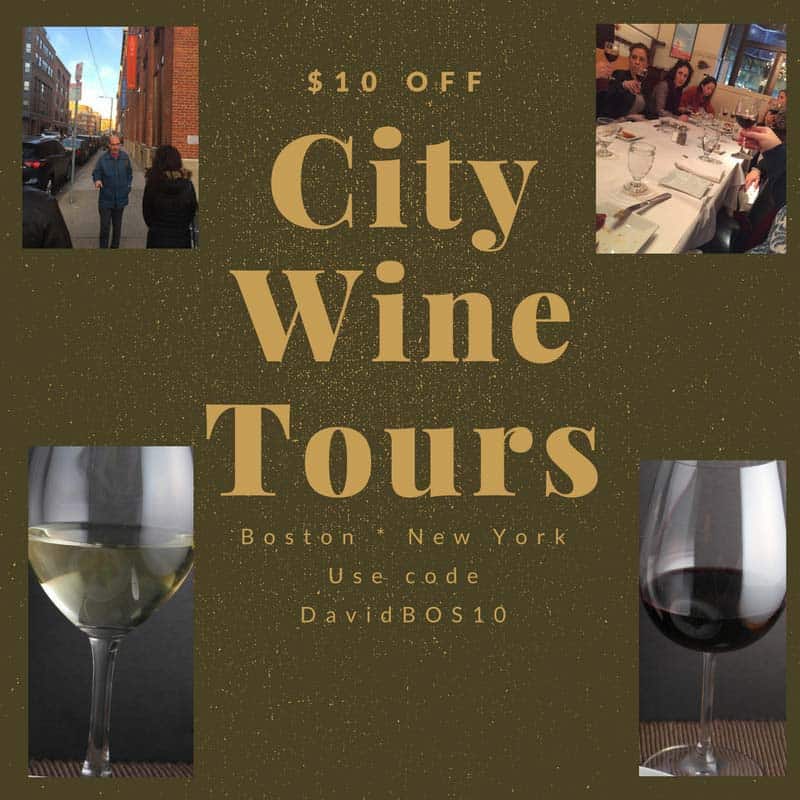 I'd heard good things about about City Wine Tours a few times, but hadn't had the chance to go on one of their tours yet. So when Holly reached out about a blogger partnership opportunity with the tour program, I was all for it. I liked the idea of being able to offer Cooking Chat readers a discount on the tour, but of course, needed to check it out first and make sure the experience is something I would recommend. We had a great time on our wine tour of Boston's South End yesterday, so now it's time to tell you about it.
City Wine Tours are offered in 5 Boston area neighborhoods as well as 2 in New York City (SoHo and West Village). So our first step was to choose which one to do in Boston, with the choices being the South End, Back Bay, North End, Harvard Square (bubbly!), and a new one in Somerville's Assembly Square. It wasn't an easy choice, but I perused the restaurants included and decided to give the South End a try. I liked the sound of the spots visited and sample pairings, and we don't get out in the South End much so it was a chance to give it a try.
Sampling in Boston's South End with City Wine Tours
We set out for the three o'clock tour at the South End starting point, Gaslight Brasserie. We pulled into the lot where free parking is available with validation from Gaslight–that's right folks, free parking in Boston! I'm going to give the details of our tour to illustrate the experience, but be sure to check out the City Wine Tours website to get all the current particulars of the tour you are choosing.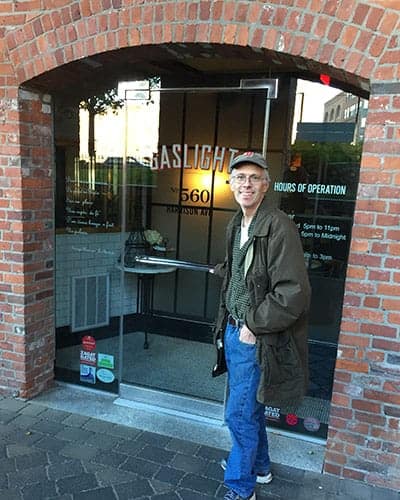 Upon arrival, we were greeted by John Fiola, the friendly Wine Ambassador who would be leading our tour. A section of the Gaslight Brasserie bar was reserved for the tour group; Jodi and I grabbed a table top for two. A very cool bar, by the way; made from one huge piece of zinc.
John warmed up the group with a fun ice breaker, asking us to introduce ourselves along with the most recent glass of wine we'd had along with the first concert we went to. Not surprisingly, Jodi and I were the only ones who answered "Lacrima di Morro d'Alba" to the first question. My taste in wine is more interesting than my concert going (Beach Boys was the other answer, if you must know). The ice breaker set a convivial tone for the afternoon, which provided a chance for Jodi and I to chat with the other tour goers as well as enjoying some quality time with each other.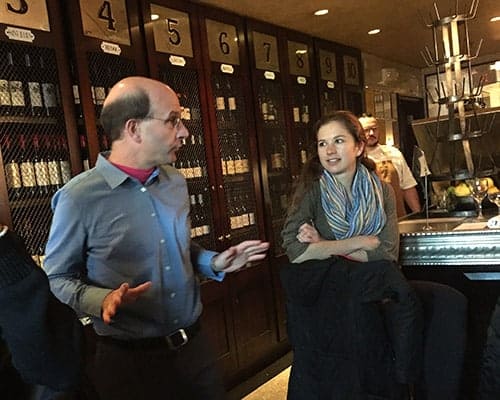 We sampled a total of 6 wines during the tour. John introduced each one with some information about the bottle, as well as some general teaching points about wine. For instance, in talking about the first selection, a sparkling wine from the Loire Valley, John gave a good, succinct description of how sparkling wine is produced. He also gave some pro tips on how to open, and not to open, a bottle of bubbly!
After the bubbly, we also sampled a Chablis at Gaslight. The wines at gaslight were served with a plate with a sample serving of prosciutto, steak tartare on a little crostini, and a crab appetizer. I especially like the way the bubbly paired nicely with the prosciutto (salt and bubbles is a winning pairing!) and the Chablis worked with all three items.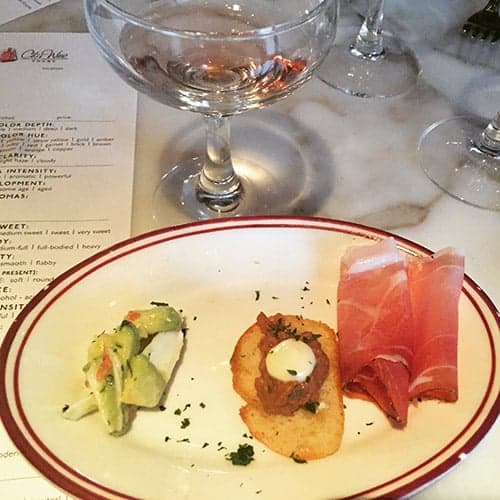 Following our tasting at Gaslight, we strolled down the street to Cinquecento, a Roman Trattoria. Between the stops, John provided us a little bit of neighborhood history, another interesting element of the outing.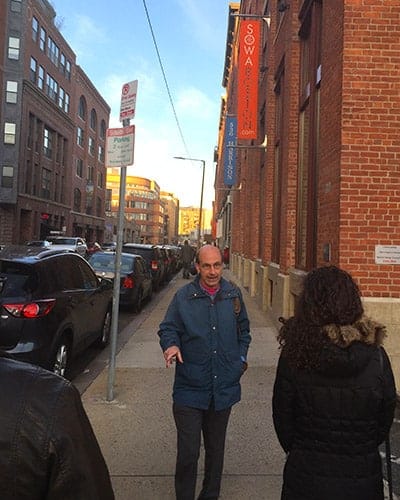 At Cinquecento, we were served a glass of Orvieto, a white Italian wine, followed by a Nero D'Avola from Sicily. The wines there were paired with a charcuterie plate that included some savory Parmigiano cheese and some tasty salami. At this stop, John gave some good pointers for ordering wine from a restaurant list.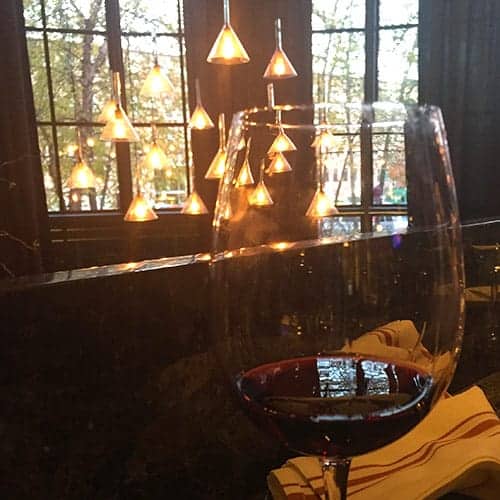 Our final stop with City Wine Tours was Masa, a Southwestern style restaurant. This is the one stop we knew a bit, having been to their location in Woburn (which unfortunately is now closed). Here we sat at one big table, and three types of tapas were served family style–chicken taquitos, fondue empanada and grilled chorizo. The Malbec we had there was very good (see the group checking it out below), and we also sampled a white Pedro Ximenez wine. This grape is more commonly found in a sherry, but makes for a crisp, refreshing regular white wine too.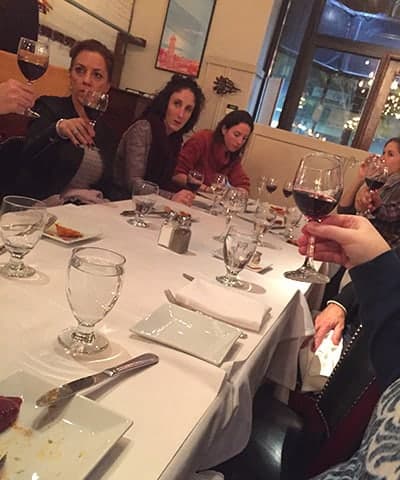 More City Wine Tours Details
Going on a City Wine Tours is a fun outing for anyone who enjoys wine and checking out new restaurants. For the $70 ticket price, you get to sample 6 interesting wines along with some tasty food from three different restaurants*. You also get some interesting and practical education at wine. John's presentation was straightforward, suitable for someone just beginning to learn about wine. Yet at the same time, there was plenty of interesting info for someone who has developed a decent working knowledge about wine. In addition to leading City Wine Tours, John also teaches a number of wine education courses, so brings a lot of experience helping people learn about wine.
Now, just to clarify, you are getting generous tasting pours of each of the 6 wines, not a full glass. But over the course of the tour you are getting the equivalent of a couple full glasses, and John kept his eye out for tour goers that seemed to be "thirsty". By the time we polished of our tapas at Masa, I was pretty satisfied and thinking a light salad for dinner would do. So when you consider the food and wine sampled along with the wine education and experience of a neighborhood, I'd rate the $70 ticket price a good value…and that value is even better when you use my discount code!
A reminder on how to get that discount…visit the City Wine Tours website, choose the tour you want to go on, and enter the discount code DavidBOS10 to get $10 off your purchase made by 12/31/16. You an also buy a gift certificate using the same DavidBOS10 to get a $10 discount on gift card purchases. If you buy a gift card, the gift recipient can choose the tour they want to do. The gift cards are available as physical cards or ecards.
*Notes and disclosure: I've given the format as we experienced the tour of Boston's South End. There may be a different setup on some of the tours, but the 3 restaurants/6 wines seems pretty typical from my perusal of the City Wine Tours website.
As a City Wine Tours blogger partner, I would receive a small commission if you choose to make a purchase if you make a purchase using my discount code. As always, I only recommend products and services that I recommend from my experience, and you can see from this post that City Wine Tours definitely qualifies!