Now in my second year of participating in a consumer support agriculture (CSA) program, I think I'm starting to get the hang of how to make good use of the veggies that roll in. So I'll do some sharing of my process through posts like this, as well as some of the more detailed recipes I create and find. This year, our CSA is all organic, and comes from First Light Farm in Hamilton, MA, picked up around the corner from us at McCue Garden Center. After last year's experience, we've found a friend to share it with–definitely a winning proposition given that we are just feeding two adults and a child here, as opposed to a football team.
For starters this week, I passed on the bok choy and cabbage to John, and used the kale to make Rigatoni with Sausage and Kale. But Thursday rolled around, and was likely to be the only time I'd have the rest of the week to do much cooking. I still had beets, white salad turnips, carrots, zucchini and summer squash to use (and the ubiquitous scallions!).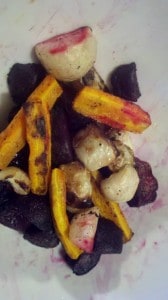 I hadn't use this kind of turnip before. After a bit of research, I learned the turnip can be used raw and salads or cooked, and that the greens have a delicate flavor when sauteed. I've found grilling beets is one of the few ways I like them, so planned to grill the beets along with the turnips for good measure. So, as you can see above, I removed the greens from the turnips. Then I quartered the turnips (small ones don't need peeling) and beets, and tossed them with one chopped carrot, and a bit of olive oil and garlic powder.
The root veggies were then ready for the grill, preheated on medium high, with two of the three burners on. I placed the veggies in a grilling pan on the back of the grill, so it was just getting a bit of direct heat. They took about 20 minutes, turning occasionally, to get nice and caramelized. And on the grill's front burner, I cooked some beef sliders we had on hand. When the veggies we cooked, I placed them in a bowl and tossed with more balsamic vinegar than I intended (I thought I'd grabbed the olive oil), some olive oil and a bit of toasted almonds. I'd have visions of making a fancier dressing, but as weeknight cooking often goes, that wasn't feasible along with the other things I had going.
As the veggies were on the grill, I got the squash going. I thinly sliced the zucchini and interestingly shaped summer squash (I usually think of yellow summer squash, but the farm called the light green squash a variety of summer squash). I got a large, minced garlic clove sauteeing in some olive oil, then added the squash and a bit of dried basil (alas, didn't have fresh). After a few minutes, I added the coarsely chopped turnip greens to saute for just a few minutes more. After a bit of salt and parm cheese, the squash and greens was ready to serve. I would have also squeezed some lemon over it if I had it on hand.
After about an hour of prep time, we were ready to enjoy this local vegetable focused meal on our deck, enjoying a beautiful summer evening. With two substantial veggie dishes, one slider was plenty of meat. Another benefit of the CSA–in addition to some vegetarian meals, there are healthy meals like this, where there is still a bit of meat but veggies dominate the plate. I really like the way the squash and greens came out–definitely don't throw away those baby turnip greens! And what I thought was way too much balsamic (probably 2 tbsp or so) actually worked pretty well, which I'll keep in mind for next time. Now, I'm still searching for a red wine that can go with the grilled beets…I had to be sure to have burger following the beets, before taking a sip of the Monastrell I had. Stay tuned for that quest!