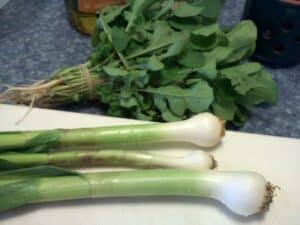 The first Woburn Farmer's Market at Spence Farm on Sunday was a beehive of activity–and I'm not just talking about the local honey producer's booth. It was a great example of how locally produced food can help build community. People had a chance to catch up with other community members and get to know local food producers. I'm looking forward to enjoying this throughout the summer, and sharing about it here.
For the last couple of years, I've been increasingly focused on trying to eat more local food. This summer, I'm ready to kick it up a notch–in addition to enjoying the new Farmer's Market, I've signed up for the community supported agriculture (CSA) program through McCue's Garden Center, and have begun to enjoy the new Woburn Farmer's Market at Spence Farm.
One of my first stops was the booth of Samira's Homemade, a small Belmont-based business with traditional Egyptian and Lebanese dishes. I picked up some Ful Medammes dip, made from fava beans, and surprised the owner by telling him that I'd made Muhammarra several times. We rounded out our picnic by Horn Pond by getting some wonderful Tomme cheese from West Rivery Creamery and sourdough bread from Winchester-based Mamodou's bakery.
My real food objective on this trip, though, was picking up some vegetables to build our dinner around Sunday evening. We're still a bit early for fresh veggies here in New England, but the produce vendor did have a variety of greens to choose from, radishes and some small tomatoes. I picked up some green garlic and arugula, which became the foundation of a simple pasta dish–sauteed the garlic in olive oil, added 1/2 cup diced grape tomatoes for a few minutes then quickly sauteed the arulula. Tossed with cheese and another 1/2 cup tomatoes, and I had a simple farmers market dish.
Green garlic comes with long stems; the lower portion of which can be chopped and used along with the young garlic clove. The young man working the farm booth mentioned having wrapped chicken with the tops of the green garlic to infuse flavor while grilling. That gave me an idea to do something similar with swordfish I was planning to make along with the pasta. I made a marinade with the lower portion of the garlic, along with olive oil and lemon juice, then wrapped the fish with the tops. All in all, this proved to be a pretty good first meal from the farmer's market!