Well, if I'm going to post about what I did with the past week's CSA veggies, I guess I'd better do it before the next onslaught tomorrow! There was basil, so I naturally made some pesto for starters (basil doesn't last long). I used
my basic pesto recipe
except that I substituted 2 scallions for two of the garlic cloves. I sauteed summer squash & zukes, swiss chard and beet greens to toss with pasta and the pesto, for meal # 1 pictured below.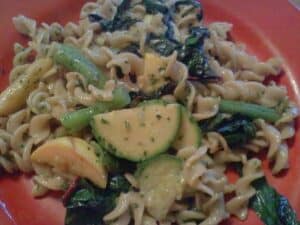 This week I just had to do something with the beets–which along with eggplant is one of my least favorite vegetables. But I have liked them OK a few times prepared nicely by others and was determined to find a way to make them work. This
Beet Bliss salad
(photo below) recipe, with the beets roasted and a very tasty dressing, turned out to be a big hit. We had plenty of leftover dressing for basic green salads the rest of the week.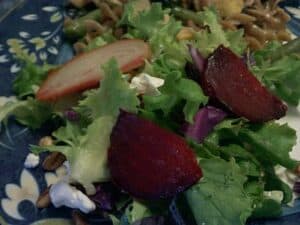 The third major recipe of the week was this Summer Squash Soup. I used the pesto I had on hand instead of the pistou the recipe calls for. It's pretty easy and was quite tasty. Though the recipe calls for it to be served hot, we enjoyed the leftovers cold–perhaps a better way to serve it on a hot day.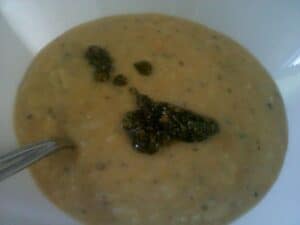 In addition to these recipes, we were eating a lot of green salad, and the pesto also came in handy to top pork and swordfish. We finished the CSA week with a all local meal–fillet mignon from MA, greens from VT (actually had to buy some on the eve of picking up our next CSA delivery!) and corn from western MA. Yum! (the wine was from France, but one must be flexible).