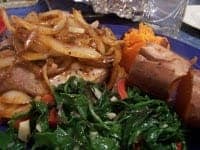 Routine weeks, insofar as they exist, are a bit easier for
managing the food budget.
But once again, this week was a bit different for us, as we're going out of town for a short overnight trip early in the week, and have a visitor with us for most of the week. On top of having an extra person in the house, we had a lot of items to restock that can add to the tab–some of B's specialty allergy-free items, plus we had virtually no fruit to start the week. But following these strategies and meal plans, I was able to still have our Whole Foods bill for week come in exactly on budget, $150.
One tip for frugal cooking is to plan at least one meal around something that is on special at your local grocery store. This week, a sirloin roast got top billing on the sale sheet, but we had enough beef the past week or so. Then I spotted pork chops on sale, and thought would be my sale item to work with. I often get pork chops on sale and leave in the freezer for a quick meal, sometimes resorting to (gasp) prepared sauce in a pinch. But this week I'll be more intentional and make some version of my
Cumin & Sage Rubbed Pork Chops with Onion Sauce
.
I'll make these pork chops some time during the week. Tonight, I'll make this wonderful
Seared Salmon with White Beans & Spinach
from Stir. I love this technique for cooking salmon, and so does my son who tried it for the first time recently and really liked it. It's not on sale nor is it a classic "frugal" item, but I want to train B. to enjoy fish so want to have it again before he forgets he likes it! You do need to look beyond the per pound price when comparing a fish like salmon to meats, because with the salmon there is virtually no waste. Just over 1/2 pound or so does fine for our family, so it's not as pricey as it seems at first glance.
Using items on hand is another key frugal foodie principle, so I'll round out the week with two pasta dishes that utilize items on hand: Fusilli with Lentils & Cheese (using cheddar and carrot sticks we over-bought) and if I need a fourth dish, I'll have some frozen ground beef or turkey ready to use for a quick meat sauce with leftover canned tomatoes I've got in the fridge.
In addition to having a good plan, it also required standing firm and only letting B pick one extra item he wanted that wasn't on our list. If I gave into his special requests, I would have easily been $10-$15 over. Discipline is definitely key to staying on budget, and not a bad thing to be teaching.