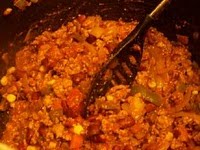 OK, so commitments to save money might seem so, well 2009, but we did start the new year resolved to keep a close eye on our spending. Groceries are a key item I'm in charge of in the family budget, and it's kind of a fun challenge to keep making tasty, healthy food while hitting my target–which is $150/week.
Now, I'm not sure where our target figure stacks up compared to others, but a few points that guide our food buying habits:
1) We're committed to eating healthy as a family. For us, this means whole foods, organic and/or local as much as possible. We really try to limit processed food. At the same time, we want to enjoy our food–we put healthy and tasty about the same in the priority list.
2) Our 4 year old son has significant food allergies–egg, dairy and nuts. So we need to have confidence in the food labeling, and there are a number of specialty items that work well for his allergies that are pricier than similar items (e.g. Ian's Chicken Nuggets made in an allergen-free factory).
3) Points 1 & 2 lead us to do virtually all of our grocery shopping at Whole Foods Market (Woburn, MA). Of course, I know people like to call it "Whole Paycheck", but I'm convinced it's less about the cost of each item but that things there are so good, you can wind up spending more than you'd like if you're not disciplined about sticking to your list of needs.
In January I started closely tracking how I was doing with my $150/week food budget, and at the end of the month, and came in $4 under budget for the month! I figured a lot of people are still trying to stretch their pennies while eating well in 2010, and sharing my quest to stay on budget without scrimping on taste or health might be helpful.
So let me start by recapping February week 1, which got the month off to a pretty good start–my weekly shopping trip came to $144, but I did need to spend $18 mid-week to replace maple syrup (a daily staple for B. with his waffles) and some fruit…so need to make that up over the month.
I started by looking at what Whole Foods had on sale (their weekly fliers are downloadable on the
local store website)
. Having already spent the $18, I wanted to take care not to build my plan around any pricey items like steak or salmon. I also noted that I have 3 nights in a row later in the week with evening meetings that will prevent me from cooking. So the goal will be to cook plenty of extras early in the week to carry us through.
Sausages were on sale, so I picked
Rigatoni with Spicy Sausage
for last night's meal. I had frozen some extra basil, which is OK for cooking in small quantities in a sauce, saving $2.50 or so by not buying fresh again. I'll get some chili going in the slow cooker today, and will make Fettuccine Prima Vera during the week (1 or 2 vegetarian meals per week is always good on the budget; I use soy cream instead of heavy cream on this so it's a bit lighter than some version too). As noted we were on target with the budget with this plan and the first meal at least also met the standards for tastiness! Stay tuned for more on February's food quest…