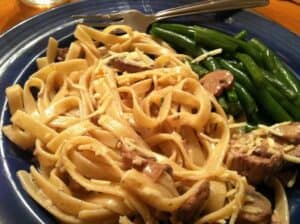 OK, perhaps you are ready for recipes that don't have to do with preparing the Thanksgiving feast or using the leftovers? Came up with this tasty dish about a week ago, seeking to use some thyme and cream I had on hand. Figured it was time to write it up and share! Not exactly light but it does use a bit less cream, cheese and oil than my standard fettuccine recipe.
2 chicken breast fillets
3 tbsp olive oil
2 small or 1 larger shallots, chopped
3 cloves garlic, minced
10 ozs mushrooms, sliced
couple sprigs thyme, or tsp of dried thyme
1/3 cup red wine
1/2 cup cream
1/3 cup parmesan cheese
12 ozs fettuccine
salt and pepper to taste.
Heat a large skillet with 1 tbsp of olive oil on medium high. Add the chicken to the skillet, sear for a few minutes on each side until it begins to brown. Remove the chicken and set aside on a plate covered with foil to keep it warm. Start boiling water to cook the fettuccine.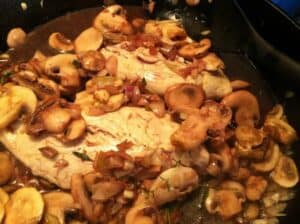 Add another tbsp olive oil to the skillet, with heat on medium. Add the shallots, cook for a few minutes until they begin to soften. Add the garlic, cook for another minutes. Stir in the mushrooms, cook for about 4 minutes until they begin to soften. Add the cooking wine and and thyme, and raise heat to bring so that the wine begins to boil. Lower it to a steady simmer on medium heat, and add the chicken. Cover the chicken with the mushroom sauce. Add a bit of salt and pepper to taste Cook for about 5 minutes until the chicken is just about cooked through. Remove the sprigs of thyme. Take the chicken out and slice crosswise, then add back to the pan to finish cooking the chicken. Stir in the cream when the chicken is cooked and the pasta is just about ready to drain.
Drain the fettuccine when it is cooked al dente. Toss it with the chicken and mushroom mixture, and stir in the extra cheese. Add a few more grinds of pepper, and serve with extra cheese at the table.