After blogging more strategically for over a year, it is time to share the First Cooking Chat Income Report! Likely to be of most interest to other food bloggers looking to see where one fellow blogger is generating income and blog growth.
In the summer of 2014, a Pinch of Yum income report caught my eye. If someone could be making over $30,000 per month from a food blog, perhaps it was time to get more strategic with the food blog I'd been dabbling with for about 5 years. We invested in a Canon EOS Rebel T5 Digital SLR Camera
 and the Tasty Food Photography ebook from Pinch of Yum, and were on the way to kicking things up a notch or two here on Cooking Chat. Seemed like it was about time to publish our first Cooking Chat Income Report! Note there are a number of affiliate links in this post; as always, I only share affiliate links for products that I recommend based on my experience!
I realize most of my readers are just here for the tasty recipes. If that's you, now's a good time to jump over to something tasty like Potato Soup with Kale Pesto or perhaps Awesome Avocado Steak Tacos.  But if you're a food blogger seeking to monetize your blog, read on for the first Cooking Chat Income Report. I plan to post one of these at least once per quarter.
My traffic has been gradually building since focusing on giving Cooking Chat a boost. It's been a little over a year since I moved Cooking Chat from Blogspot to its current WordPress home. I'll talk more about the traffic after sharing the revenue and expenses. As it relates to income, traffic in December and related advertising revenue reached the point where the ads roughly covered my regular monthly blogging expenses. That means the sponsored posts revenue led to a decent profit. Let's to go the numbers in detail, with notes for items that may not be obvious.
TOTAL REVENUE = $562.48  Here's how it broke down:
Sponsored Posts — $475
Gourmet Ads — $18.30 (we joined about halfway through December)
Adsense — $26.03 Google ad program
Sovrn — $14.95 Another ad program for bloggers.
Food Blogger Pro Affiliate Revenue —$16.60 (Food Blogger Pro is currently closed to new members but I've provided the link to join the waiting list.
Amazon Affiliates — $1.60
Collards & Kale Cookbook Sale — $10 (hard copy price, $7 to download it)
EXPENSES
Tailwind —  $14.99 Great app for scheduling pins!
Food Blogger Pro $25 A great investment for serious food bloggers!
Vault Press $5 Service for backing up the website
Adobe Creative Cloud $10.61
Mailchimp $10
Facebook Ads $9.76
Etsy — $43.78 Some new food photo props, first put to use in this Potato Soup with Kale Pesto post. Looks good, eh?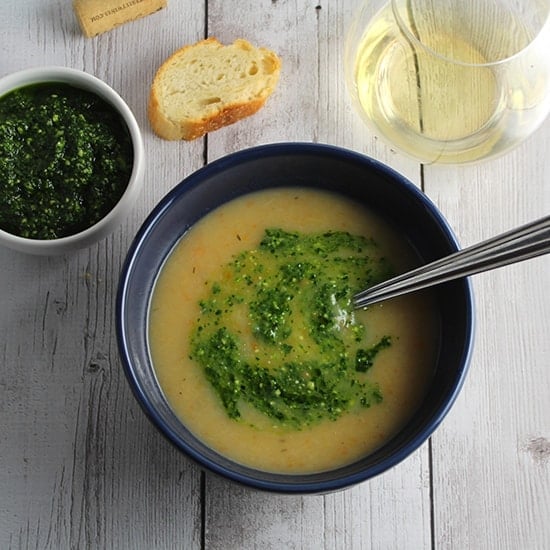 A few other notes before talking about the site traffic. It's probably helpful to know that I am food blogging in addition to a full-time job leading the nonprofit I started, Social Capital Inc. I tend to spend some time writing and related social media most mornings, then my evening cooking our family supper often involves a quick 10 minute photo shoot before we sit down to enjoy what I made. At this point, I'm looking to translate my passion for cooking into a supplemental income through Cooking Chat. After all, our ten year old sous chef will be heading to college before we know it!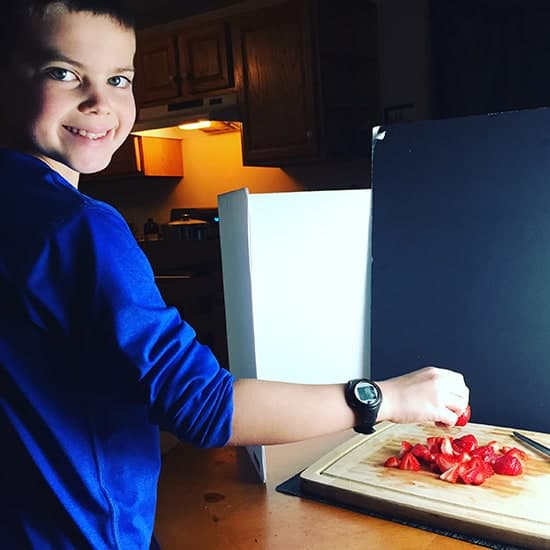 I also do some social media consulting work that ties in a bit with the food blogging, but haven't included that in the income. Though I track food expenses for tax reporting, I didn't include that here as we would have a food bill even if I weren't food blogging!
Of course, increasing traffic is essential for generating income from a food blog. For much of the fall, Cooking Chat seemed stuck between 20k and 25k monthly views. In December, we seemed to be ready to grow again, coming in just under 30k views. As of right now, we are around 32K views in our 30 day look back. Our Spoon Roast with Horseradish Cream recipe was very popular around the holidays, which helped us grow. In fact, Christmas Day was the highest traffic day on Cooking Chat for December. This is one recipe where we've managed to hold a spot at or near the top of Google search results, for something people do search for regularly!
December 2015 Cooking Chat Web Traffic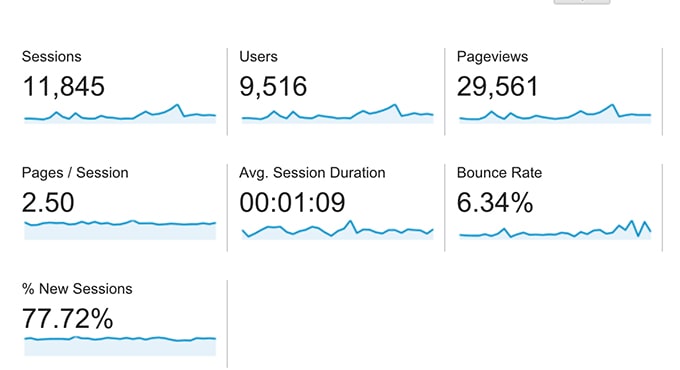 One thing I'm pleased about with our recent traffic growth is that it seems to be driven primarily by steady growth in our Google organic search results. Earlier in the process, I'd see occasional traffic spikes from having something get popular on Stumbleupon or Flipboard (I wrote about Flipboard for Food Bloggers recently if that piques your interest). Though my growth might be a bit slower than I'd like, I feel like gradually growing through improved search results and referral sources like Pinterest and Yummly is more sustainable. I'm consistently adding at least two new recipes per week here, often more like three or four.
December referral sources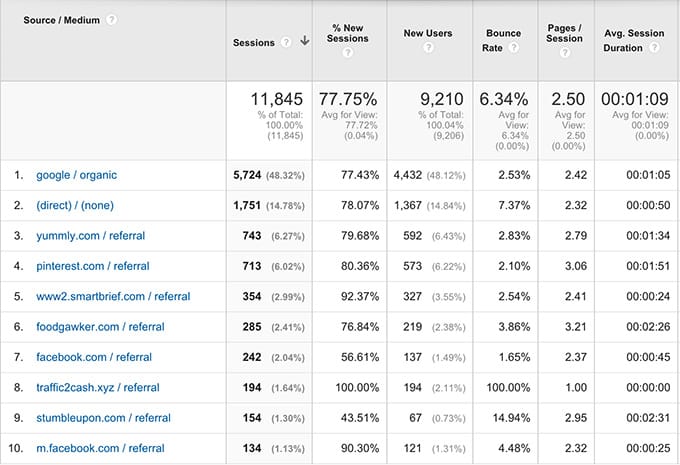 Speaking of the growth being slower than I'd like, I have taken note that I've seen some fellow bloggers that started about a year ago do far better than my results in terms of search and income. I'm sure there are a lot of reasons for that. I know I need to keep working on improving my photography. But I'm also wondering if all my old recipes I moved over from my Blogspot days are weighing down how I do in search. Speculating that is so, I'm going to be working on updating those old posts, and in some cases deleting if they don't seem relevant any more. Those posts generally have lower quality photos, and aren't SEO optimized.
OK, I believe I've hit upon all the key points I wanted to cover in my first Cooking Chat income report. I'd love to hear about your experiences trying to grow your food blog, and will do my best to answer any questions you might have.