What is Flipboard? That's exactly what I asked myself the first time I saw a big spike of traffic to Cooking Chat coming from Flipboard. About a year ago I was excited to have my first day with over 1,000 page views, and was at first mystified to see Flipboard was the main referral source for the spike. Needless to say, I wanted to learn more. Today, I bring to you a Flipboard for Food Bloggers post to give you a little introduction to this platform.
There was enough traffic coming from Flipboard that I wanted to see what I could do to leverage the tool. I signed up for an account, which you can do here, downloaded the app and have been happily using it on my iphone since then. I found that in addition to the benefits for my blog, I find Flipboard's made for mobile design makes it one of my favorite tools for reading and sharing articles from my phone. Most other social media I use, such as Facebook, Twitter and Google Plus, I'd much prefer to use on my laptop as opposed to the phone. The image on the left is my flipboard homescreen, pulling in recent articles based on users and topics I follow. I tapped the Red Quinoa with Spinach image, opening up the story you see on the right.
Flipboard is an online magazine particularly well-suited for mobile devices and tablets. Users create boards onto which they "flip" pertinent stories. A story is basically any piece of online content. Yes, food blogger friends, that includes tasty recipes and other stories about food and wine! Hello, traffic!
Below you can see I've chosen a "How to make a smash burger" story, and can now choose which of my boards to place it on. I'm thinking "Tasty Recipes".
Once something gets flipped, it is then available for easy sharing within the Flipboard environment. So we food bloggers want to think about how to get our stories flipped. More on that in my tips below. But before I give you my Flipboard for Food Bloggers tips, let me add a cautionary note or two here.  I mentioned the traffic spikes I've gotten from Flipboard, but Flipboard is not a steady source of traffic for your food blog. Flipboard is more like Stumbleupon, something that can give you a big traffic spike from time to time when something gets popular on the platform.
I know, steadily growing traffic is best. But, hey, big traffic spikes are good, too, right? I figure the trick is to try to have those spikes come with some degree of regularity. My caveat aside, Flipboard has added up to be a good referral source for me, coming in higher than Tastespotting or Twitter, for instance.
Convinced you should do some to leverage Flipboard for your blog? Here are my simple Flipboard for Food Blogger Tips for bringing Flipboard into your mix of blog traffic sources.

Flipboard for Food Bloggers: 4 Tips to Get Started
Include the Flipboard button as a post sharing option: OK, if you have a food blog, you have probably installed social sharing buttons to make it easy for folks to share your tasty stuff. I like to put those buttons right at the top of each post to make sharing easy. You might be thinking, I don't need to add another social media account to my life. Well, I understand that feeling. The good news is, you can do this first step and get some benefit without joining Flipboard if that's the way you want to go! Not all the social share services offer a Flipboard button; Shareaholic does, one of the reasons why I like using it. So go ahead, add that Flipboard button that I've circled above.
Give Flipboard a try. If you're feeling even a tad ambitious about Flipboard for food bloggers, go ahead and sign-up for a Flipboard account! You can sign-up online via a laptop or computer, but you will definitely want to download the free Flipboard app to a phone or tablet. There's now better way to learn a bit more about Flipboard (and pretty much any other social media account) by giving it a try. Set up a few boards of your own, follow some topics and start flipping!
Apply social media best practices. I don't have a lot of unique to Flipboard tips to offer you. Instead, I'd say apply best practices you follow on other social platforms here–engage with folks, share others content as much if not more than your own, etc.
Flip your recipes! Yes, you want to be a good social media practitioner and share other's content, but definitely share your own recipes too. I try to share each recipe I've created on Flipboard. I find the easiest way to do this is to first send a tweet with my recipe, then search for my Twitter handle, and click "social media results". I find myself there, and click my profile.
After clicking your profile, you will see your most recent tweet. If that's not the one you want to flip, flip through your recent tweets until you find what you are looking for…in this case, I found my tasty Baby Kale Salad with Maple Vinaigrette. Then I flipped it onto my "Tasty Recipes" board, by clicking the "+" symbol in the lower right that I've sort of circled.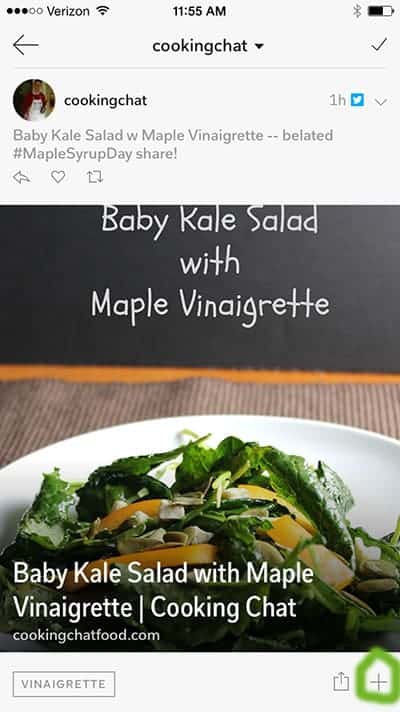 I haven't determined the extent to which I'm getting more Flipboard referrals from people initially sharing my recipes onto Flipboard from Cooking Chat, or more from sharing it once I've flipped my own recipe onto Flipboard. I figure it is probably a combination of both, so I think having the button on your blog and flipping your own recipe is a good idea.
So there you have it, a quick Flipboard for Food Bloggers intro! Give it a try and let me know how you like it. Already a food blogger using Flipboard? Let's connect there!
Visit our Food Blogger Resources page for more ways to grow your food blog!