Update: the sale described below has passed, but we continue to recommend Food Blogger Pro as a resource at its regular, affordable price.
With college tuition bills now under 10 years away (GULP!), not to mention making plans for a Disney & Legoland vacation, we figured it would be worth trying to translate the energy I put into cooking and blogging into generating some additional income for our family. Today I'm posting one in an occasional series of articles talking about my journey with with this blog as we seek to "kick things up" a notch. Seeing as there is a Food Blogger Pro Sale "Gobblepalooza", I figured I'd start the series by talking about this great resource for food bloggers. When the clock strikes 12:01 a.m. Central Time on 11/28/14 (a.k.a. Black Friday), you can get $75 (30%) off a one year FBP membership. I'll tell you why I think that's an awesome opportunity for folks serious about their food blogs. Oh, and in case you came to the site looking for a good recipe for turkey leftovers, let me link you to this tasty Turkey with Butternut Squash Stew.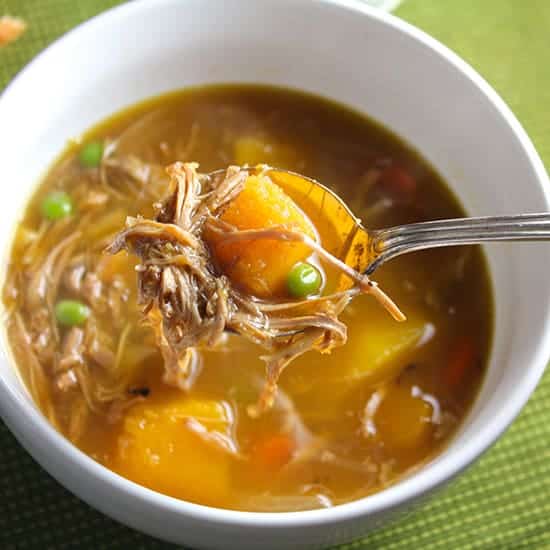 Reading about the success of the Pinch of Yum blog motivated us invest some energy and resources into enhancing our Cooking Chat blog. Lindsay and Bjork detail in their highly transparent and helpful income reports how they have grown their blog to generate over $30,000 some months (they were "down" to $18,734 for October 2014). They have created Food Blogger Pro (FBP) to help bloggers like you and me improve their blog quality and income. It's a great resource for people trying to take a current food blog to another level, such as our case, or people looking to get started with a food blog.

I signed up for Food Blogger Pro this summer to learn from the Pinch of Yum successes and the ideas of a great network of over 700 fellow food bloggers. There are helpful instructional videos on topics like Building Traffic, Food Photography, Generating Income, and much more.
Reading the resources and getting input on the FBP site helped me decide to make the switch from Blogger to this new WordPress home. (stay tuned for a post with more on that Blogger to WordPress move).  To figure out how to get the most out of the WordPress site, I try to watch one of the videos per day, and check out the latest discussions on the forums. The videos are done in nice, easy to digest segments of about 5 minutes or so. There's lots of great wisdom to be gleaned from the forums; and Bjork and Lindsay are very active, chiming in with their advice on many of the post discussion.
I just made the Blogger to WordPress transition earlier this month, so I don't have a lot of data to point to yet. That said, we definitely seem to be pointed in the right direction. We've had tasty recipes here on Cooking Chat for years, but we really needed to improve the photo quality here to take it to another level. (BTW, the "we" here is used because my wife Jodi has been doing the majority of photos here since this past summer).
Our photos have really improved thanks to tips from Food Blogger Pro (including how to edit for the food photo sites) along with the extremely helpful Tasty Food Photography ebook (Click here to view more details & order the photography ebook, well worth the $19!). I'm getting great feedback on the photos, and we're now getting them accepted at foodgawker, tastespotting and other highly-selective food photo sites with some regularity. For instance, the turkey stew photo at the top of the page was picked up on both of those food photo sites. Take a look at the improvement in my salmon photos…before connecting with FBP & reading the ebook: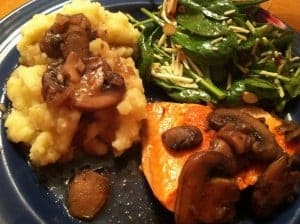 and after joining FBP and reading Tasty Food Photography my salmon photos live up to the true tastiness of the dish! (and get picked up by the food photo sites).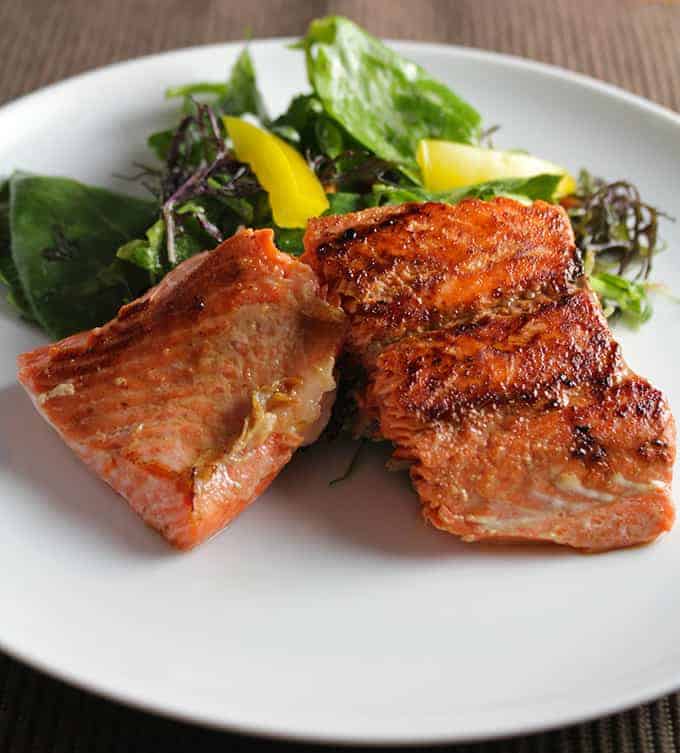 So, if you're serious about your food blogging, definitely consider taking advantage of this Food Blogger Pro  sale! And if you come upon this post after the sale has passed, it's still a great investment at the regular price.
One other note I should make before signing off. I'm focusing on FBP here today because of the sale they are running, but I should also make mention of the Sunday Supper Movement blogger group, too. I'll have to say more about it at another time, but participating in the #SundaySupper blogger events has gone hand-in-hand with my FBP membership in terms of increasing traffic here on Cooking Chat. Another resource for serious food bloggers to check out!
Full disclosure: I'm part of the Food Blogger Pro and Tasty Food Photography affiliate programs and receive a commission on sales initiated via the links in this post. You can be assured that I only recommend products and services that I use and enjoy!