Wine can be a great holiday gift for many people on your list! The Wine Pairing Weekend blog group will be sharing tips to help you pick out wine that is sure to please.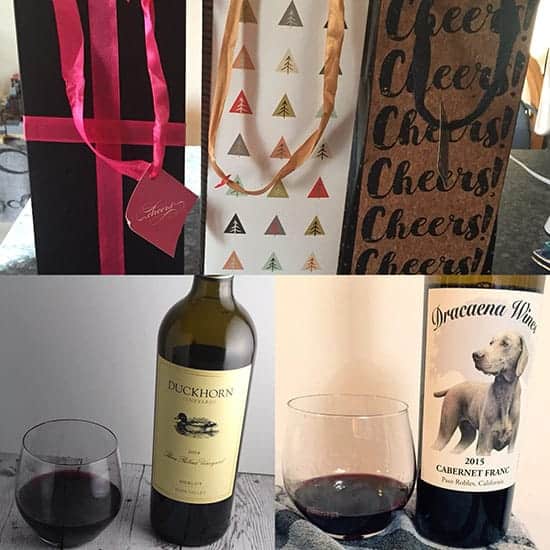 This Saturday, December 9, the Wine Pairing Bloggers will be talking about "Giving the Gift of Wine". This event is sure to get you ready to please the wine lovers on your holiday shopping list!
Giving the Gift of Wine: #winePW blog topics
Here are the topics the #winePW crew will be covering:
Jade from The Tasting Pour will tell us "How to Choose a Wine Gift"
Jeff from foodwineclick will share "Holiday Wine Gift Ideas: Not Just Any Champagne"
Cindy from Grape Experiences will post "Wines from The Hess Collection – Will You be Naughty or Nice?"
Here on Cooking Chat we will write about "Christmas Wine Gifts: Tips and Bottles To Give"
Wendy from A Day in the Life on the Farm will share "Spreading Christmas Cheer"
Michelle from Rockin Red Blog is telling us "How to Give the Gift of Wine"
Gwendolyn from Wine Predator will share "Good Gifts Have Good Stories: 4 Wineries from Napa"
Culinary Adventures with Camilla is talking about "Sips Worth Sharing"
Jennifer from Vino Travels is covering "Holiday Wines with a Sicilian Flair"
Lauren from The Swirling Dervish is blogging about "Family, Food, and Wine: The Gift of Memories"
Jill from L'Occasion will share "Wine Wrapped Up: The L'occasion Gift Guide"
Be sure to check on Saturday morning for these great articles! We will also hold a live Twitter chat on Saturday, Dec. 9., 11 am Easter Time / 8 a.m. Pacific. Just tune into the #winePW hashtag on Twitter at that time to join the conversation. You can check out past and future #winePW topics by visiting this page.