Last Updated on
On December 9, the Wine Pairing Weekend blogging group explored ideas for "Giving the Gift of Wine". This is the initial post for the event, inviting people to participate.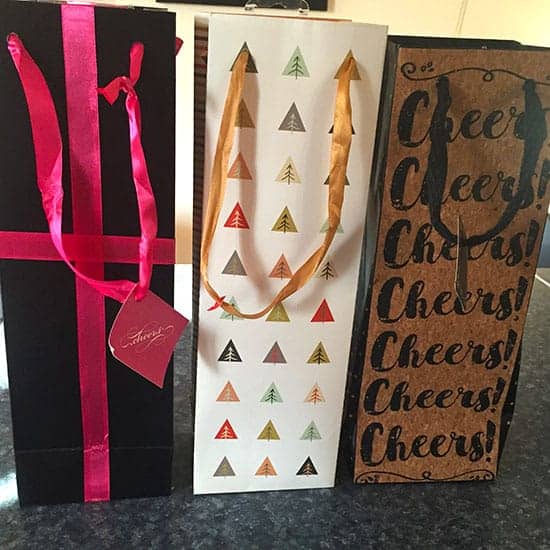 Who likes to receive a good bottle of wine as a gift? [raises hand eagerly!]
A good bottle of wine is likely to please most wine lovers out there, whether it is for Christmas or some other special occasion. But how to choose a good bottle of wine to give as a gift?
Giving the Gift of Wine — December 2017 #winePW
For our December 9 Wine Pairing Weekend event, the #winePW bloggers will explore considerations when giving wine as a gift. What are some things to keep in mind when buying wine for a gift? What are some gift-worthy wines we recommend?
The #winePW bloggers will take up these topics, and suggest food pairings to go with that gift-worthy wine. You may include a recipe that pairs with one of your gift-worthy bottles, or speak in general terms about food pairings to go with the gift wine you discuss.
If you're new to #winePW, every month we focus on a different food and wine pairing theme. The event, held the 2nd Saturday of each month, includes sharing blog posts and a live Twitter chat at 11 a.m. Eastern Time. Based on this schedule, that makes this Wine Pairing Weekend event Saturday, December 9, 2017. For a list of past and upcoming #winePW event, visit the Wine Pairing Weekend calendar here. Most of our communication now occurs in the Wine Pairing Weekend Facebook group. Please request an invite if you'd like to join.
How to participate in this Wine Pairing Weekend event
Send your post title to me by Tuesday, December 5, to be included in the preview post. I will do a preview post shortly after getting the titles, linking to your blogs. Your title should include "#winePW". If you want to get involved after Tuesday December 5, just drop me an email letting me know you plan to post so I can add you to the link list. You can email me your title at davidbcrowley AT gmail.com (please include #winePW in subject line) or respond to my post about it in the Facebook group.
Publish your post between 12:01 a.m-8:00 a.m. EDT on Saturday, November 14, 2015. 
Include a link to the other #winePW participants in your post, and a description of what the event is about. I'll provide the html code you can easily put in your initial post–which will link to people's general blog url–then updated code for the permanent links to everyone's #winePW posts.
Get social! After the posts go live, please visit your fellow bloggers posts' to comment and share on social media. We have a Facebook group for participating bloggers to connect and share, too.
Join the #winePW Twitter chat: Our "Giving the Gift of Wine" Twitter chat will be at 11 a.m. Eastern Time on Saturday, December 9. Bloggers participating in this month's event are encouraged to join the live chat; but you can still share a blog as part of the event if you have a schedule conflict.
Sponsored posts OK if clearly disclosed. Please be sure to disclose if your post is sponsored or if you are describing wine or other products for which you have received a free sample.