Last Updated on
We've put together seven great food and wine pairings that we've come up with recently. Enjoy for #NationalDrinkWineDay, or anytime you are looking for some food and wine inspiration!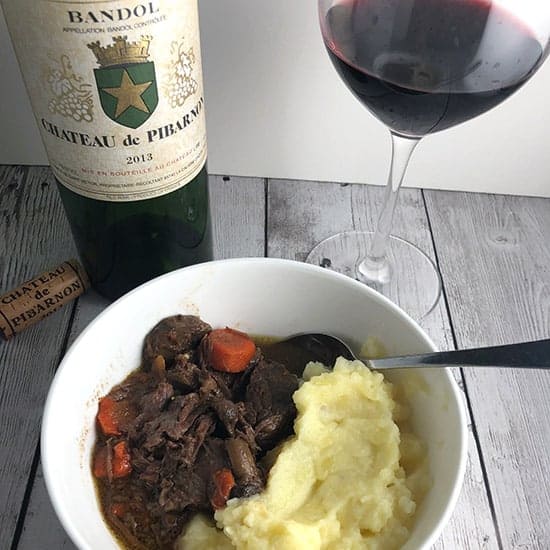 Happy National Drink Wine Day! OK, if you follow Cooking Chat you probably know we don't need a special occasion to open a bottle of wine to go with our dinner. But it did seem like a good occasion to roundup some of our latest recipes and wine pairings.
Speaking of following Cooking Chat, be sure to subscribe to our new YouTube channel. We'll be dropping new wine related content each Wednesday (#WineWednesday) and adding recipe videos on a regular basis.
New Recipes & Wine Pairings
Our most recent pairing is the Beef Daube Provençal paired with a red Bandol, shown in the photo above. If you can get your hands on that bottle from Chateau Pibarnon, that would certainly be a great way to celebrate #NationalDrinkWineDay! But let's go ahead and share some more ideas for you…
BBQ Baked Steak Tips with Tannat From Uruguay


Sticking with the beef theme, our BBQ Baked Steak Tips definitely calls for a good red wine. We enjoyed it with the Cerro Chapeu Reserva Tannat, from Uruguay. If you haven't tried Tannat from Uruguay, it's worth tracking down a bottle! At around $12/ bottle, that Tannat is certainly a good value. I talk more about the wine in this Cooking Chat video.
Easy Baked Cod with Olive Relish


Lightening things up a bit, you can enjoy our Easy Baked Cod with Olive Relish with an Albariño. We opened one from Paso Robles, from Barr Estate, that we really liked. Or you could go to the more traditional source for Albariño, the Rias Baixas region of Spain.
Creamy Cauliflower Pasta with Paso White Wine


We've been sampling a variety of wines from Paso Robles over the past month or so. A fun project! This Creamy Cauliflower Pasta goes very nicely with a Marsanne from the region. This recipe is a healthy way to get some creamy pasta onto your plate too!
Maple Pork Tenderloin with Wine from Vermont


A visit to Shelburne Vineyard in Vermont inspired this Maple Pork Tenderloin recipe. They are making some interesting, high-quality cold climate wines at this winery just outside of Burlington. Learn more about the process through my interview with winemaker Ethan Joseph.
Roasted Chimichurri Steak with Wine from Argentina


We had some wine from Argentina to sample back in January, so making some chimichurri sauce for steak was a natural pairing.
Healthy Bolognese Sauce with a Tuscan Sangiovese


We started our wine pairing year off right with this Healthy Bolognese Sauce, paired with a special bottle of Tuscan Sangiovese. Go ahead and open your favorite Tuscan to enjoy with this dish, and you are in food a great meal.
Whatever you choose to open for National Drink Wine Day, I hope you enjoy! Let me know if you came up with a good pairing I should try. Cheers!
p.s. Here's a pinnable image for you to save these ideas for the next time you are looking for food and wine pairing inspiration!