If you want to make Irish Lamb Stew in a slow cooker, check out our new, updated recipe.
With St. Patrick's Day coming up, March is a time for me to put down that pasta box and get in touch with my heritage. Now, we Irish might not be known for haute cuisine, but the last time I was in Ireland I could see how many cooks there are embracing the wonderful fresh produce, meat and seafood so readily available from Irish farms and seas. So around this time of year I make a point to celebrate this by cooking some good Irish food. Thus, I readily jumped on the chance to review Irish Country Cooking, a new recipe collection from The Irish Countrywoman's Association, published last month by Sterling Epicure.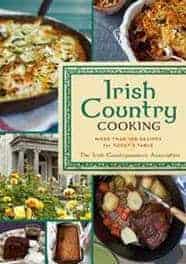 Over the past few weeks, I've enjoyed browsing through Irish Country Cooking, plotting which recipes to try. The cookbook has a nice collection of traditional recipes, and I will soon be trying ones such as their Shepherd's Pie, Braised Derrynaflan Brisket and Lickeen Colcannon. But I was surprised to see the book also offering such items as Blackened Cajun Salmon and Chilled Avocado Soup. Clearly Irish cooks are experimenting with how global flavors can spice up the good local products. Even before delving into testing some of the recipes, I could see that this cookbook would make a nice St. Pat's gift to the cook on your list!
The Irish Stew made with lamb shoulder looked like a good place for me to start cooking from the book. I've had good luck with slow cooking stews lately, so decided to apply that method to the recipe presented, along with a few other tweaks of my own. This stew was a big hit, so I'm eager to try more of the recipes! Here's how you can make a nice traditional Irish meal for St. Patrick's Day:
1 celery rib, finely chopped
1 onion, diced
1 carrot, chopped
1 leek, cleaned (see tip below) and sliced
1.25 lbs lamb shoulder, cut into pieces of two inches or so
4 cups chicken broth
2 tbsp olive oil
salt and pepper to taste
bay leaf
2 medium carrots chopped
1 large potato, peeled and chopped into 1 inch cubes
2 1/2 cups cabbage, coarsely chopped
a few sprigs of thyme and rosemary, tied with kitchen string to make a "bouquet garni"
1/2 cup water if needed
Heat 1 tbsp of the olive oil in a large skillet. Saute the aromatics-celery, onion, leek and 1 of the carrots–until they begin to soften and brown a bit, about 5 to 10 minutes. Transfer these vegetables to the slow cooker or the stew pot, depending on the method you are using. Add the other tbsp of olive oil to the skillet on medium heat. Add the lamb, with a bit of salt and pepper to taste. Cook the meat, turning occasionally to that it is browned on all sides, which takes about 5 to 10 minutes. Transfer the meat to add to the vegetables in the slow cooker or pot on the stove top, and follow the related instructions below.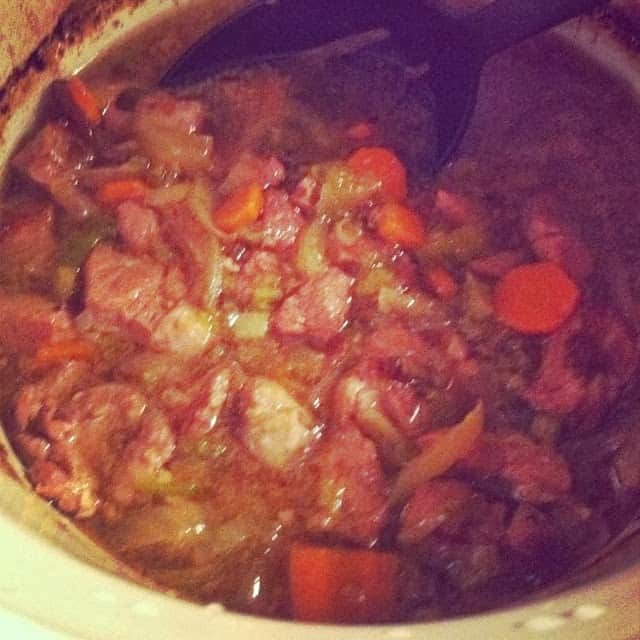 Looks prettier in the bowl, but slow cooking makes it nice and tender!
Slow Cooker:  This is the method I used based on my schedule for the day, so I can speak more to the timing. Stir the chicken broth into the meat and veggie mixture, then add the bay leaf. Cook on high for one hour then on low for 7.5 hours. Or if you have time, you could just do low for 10 hours. I wanted to eat before 9 p.m though! After the slow cooking time, the lamb should be nice and tender. Remove the bay leaf, and transfer to a large pot. Skip ahead to the "finish the stew" section.
Stove top quicker cooking: The original recipe from Irish Country Cooking calls for cooking the lamb on the stove top for 30 minutes. So if you want try following this quicker approach, stir the chicken broth in with the meat and veggies, and bring to a boil. Simmer on low for 30 minutes. I would suggest checking the meat at this point and see if it's getting tender for you. If you have time and think it could benefit, let it simmer another 20 to 30 minutes. When the lamb is getting close to the desired tenderness, go ahead to the "finish the stew" section.
Finish the stew: Now you've got some nice tender lamb and are ready to finish it up by cooking it with some vegetables. Add the carrots, cabbage, potatoes and herbs to the lamb and cooking liquid, stirring well to combine. Bring to a boil, then lower to simmer on medium for about 30 minutes, or until the potato is tender. Particularly if you've done the slow cooking, which reduces the liquid, you can add a half cup of water and partially cover the pot to cook the potato a bit faster. When the potatoes are softened, remove the herb bouquet and you are ready to eat.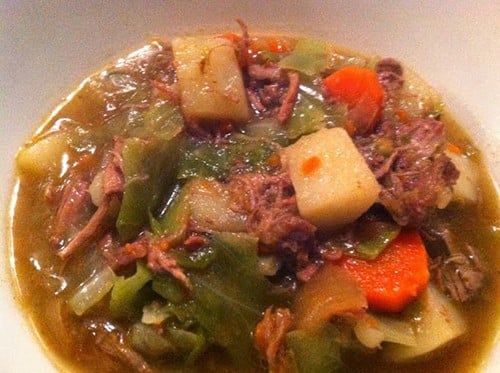 Serve the stew piping hot. The Irish Country Cooking book suggests serving it with warm soda bread, and provides a recipe for that if you're up to making your own. That sounds like a great idea–though we simply enjoyed our stew with a nice, simple French red wine blend and that worked pretty well, too! Nexttime though I'll serve this with a pint of Guinness and the soda bread. Sláinte!
Full Disclosure: I received a complimentary review copy of the book. As always, the opinions presented are entirely my own.