Last Updated on
The calendar has turned to June and tells us summer will begin soon. The weather in New England has us skeptical that summer will ever arrive, as we have been mired in a cool, rainy weather pattern. But every now and then the sun peeks out and gives us a sense summer might really come. So we will prepare by sharing 5 June Wine Values to help get you ready for summer. Each of these high quality wines come in under $15, and pair well with summer foods or can be enjoyed on their own on your deck and by the pool.
With the exception of the Parducci Merlot, I got these bottles at Pairings Wine and Food in Winchester, MA. So if you are in the area, there's an upside to the gloomy weather…you know where to grab these June wine values!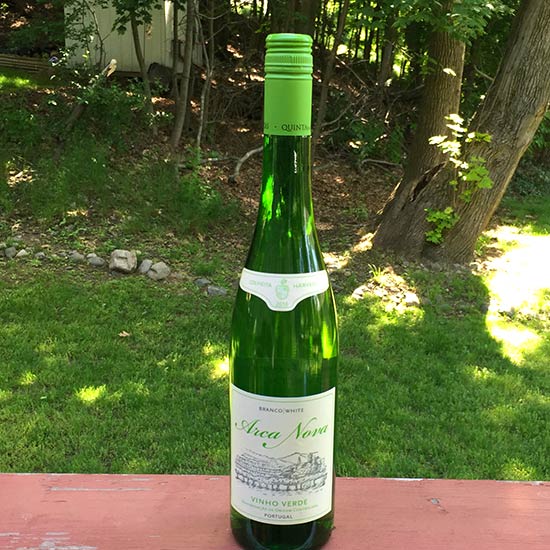 2016 Arca Nova Vinho Verde ($12, 10.5% ABV) This light, effervescent white Vinho Verde is a natural addition to our June Wine Values lineup. Vinho Verde is a Portuguese wine region that translates to "young wine". Bright green apple flavors and low alcohol content make for easy summer sipping.
2015 Marco Scolaris Collio Pinot Grigio ($11, 12.5% ABV) I tend to keep "value" or everyday drinking wines on the top rack. Based on where this bottle was sitting in the middle of our wine rack, I thought it was probably at least in the $15 to $20 range. That guess about price was reinforced when I savored this crisp white wine along with some pasta with kale pesto. Then I happened across the tasting sheet from when I sampled this Pinot Grigio, and I saw the regular price was just $11. A definite pick for our June Wine Values article!
I enjoyed this Scolaris Pinot Grigio with dinner, without taking much note other than its general quality. The bottle notes suggest "notes of acacia, toasted almond and crushed rock." I don't know much about acacia notes, but the almond and crushed rock definitely jive with my recollection of the wine's taste. Collio is a wine region in Friuli-Venezia Giulia, in the Northeastern part of Italy.
I think something was lost in translation when the winery gives "raw ham risotto with lagoon fish". I'll take my ham cooked, thanks, and pass on the lagoon fish. I will sick with the pasta tossed with kale pesto with this Pinot Grigio, or perhaps try it with some grilled shrimp.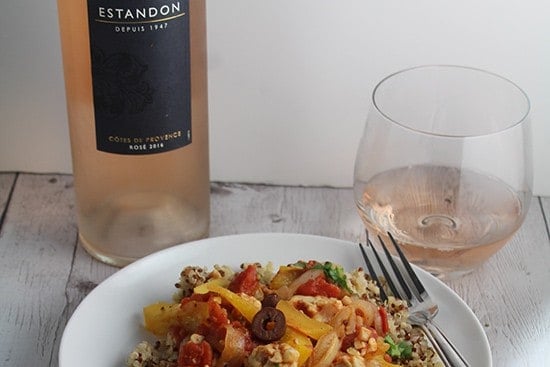 2016 Estandon Côtes de Provence Rosé ($15). I feel like I have to offer a rosé in a June wine values article! Rosé makes for such classic summer sipping, it seems meant to be enjoyed poolside. This bottle from Estandon is a classic rosé from this region, made from a blend of Grenache, Cinsault, Syrah and Rolle (what they call Vermentino in the region).  Melon and peach fruit, a pretty good pairing for our tomato and tempeh skillet. I would anticipate this rosé would also be a good choice for grilled seafood.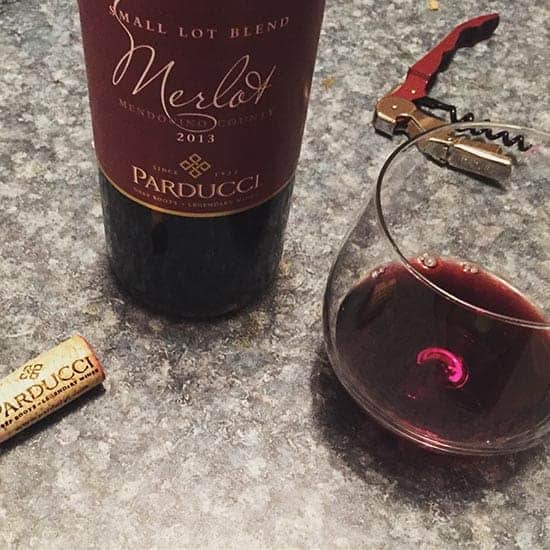 2013 Parducci Merlot ($12, 13.5 % ABV) This Merlot from California's Mendocino County has notes of vanilla on the nose, and ripe cherry fruit taste. Silky mouth feel for easy red wine drinking. We enjoyed it most recently with grilled burgers, and also found it paired well with our Tomato and Tempeh Skillet recipe.
Parducci runs on 100% green power and uses sustainable wine-growing practices. Pretty impressive they are able to hold to these practices while still offering good quality wines at a reasonable price point. I got the Merlot as part of a mixed case from Parducci, which also includes a Pinot Gris and a Chardonnay that we have enjoyed. The Merlot has definitely been my favorite, however. More on the Parducci Winery on their website.
2015 JP Azeitão Red ($8, 13.5% ABV). The wine is from Peninsula de Setubal, comprised of 55 % Syrah along with Portuguese varietals Castelão (25%) and Arogonez (20%). This Portuguese wine has a bright, fruity nose. Taste of strawberry and bit of licorice. Light and easy drinking. I originally served this as a nice pairing for our Vegetarian Kale Soup; in summer weather it could be a good match for grilled sausages or chicken.