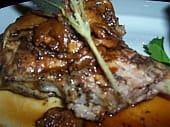 It's great to have Boston and Cambridge near by with their abundance of good restaurants to choose from. But it's also nice to have a growing list of top-level restaurants within a 10 minute drive from our home that compare with some of Boston's best. Last week we made our first trip to L'Andana Grill in Burlington, and it definitely warrants a place near the top of our good spots, close to home list.
We entered the restaurant and soaked in the lively energy of the Saturday evening crowd. The decor seemed to conjure up the feeling of being in a Tuscan lodge, with modern accents. The room buzzed with conversation as we made our way to our seat. Though very different than Mistral, it did share some of the feel of that Boston restaurant owned by the folks who opened L'Andana.
We started by sipping Prosecco as we perused the menu. We quickly landed on our "Primi" options, going for a lighter approach then the traditional Italian pasta course. We had a mixed green salad with walnuts and balsamic vinaigrette as well as the prosciutto served with figs, fresh mozerella and oregano. The prosciutto dish was especially tasty, a nice combination of the salty prosciutto, sweet fig and rich mozerella.
My main course selection was ultimately driven by the wine options. They had both salmon and swordfish options that sounded pretty good, but the big Italian reds were attracting my attention on the wine list and also made sense to pair with the filet mignon Jodi had chosen. So I decided in favor of the veal chop, which was served with porcini mushrooms sauteed in a madeira reduction sauce along with a side of parmesan polenta. The meat was nice and tender and the earthiness of the mushooms rounded things out nicely.
I was leaning toward one of the reds from their Northern Italy portion of the list, which had a nice range of Nebbiolo and Barbera based wines. The wine manager wasn't on when we visited, so General Manager Edson Coimbra Jr. came over to confer with us on the selection. He was quite knowledgable about the Italian wines that dominate their list, and he relayed a story about tasting wines with Albino Rocca, who owns and produces the epononymos wine we wound up going with.
The 2003 Albino Rocca Barbaresco from the Piedmont region was a wonderful wine. I could tell on the first taste that it had great potential, very firm and flavorful. We let it decant as we finished our first course, and it had really blossomed. It's a very well-structured, complex wine with full mouthfeel, blackberry fruit increasingly shining as it opened up, with a bit of dusky leatheriness in the backdrop. A great match for the meat we had, and easily one of the top wines I've had this year.
The service was very friendly and responsive, though there was one glitch near the end. We ordered coffees and a dessert to share, the peach and blackberry crisp, but the crisp seemed to get lost somewhere along the way. We were nearly finished with our coffee when a molten chocolate cake appeared along with apologies. At this point, I was ready to go with that–and it was quite tasty. In keeping with their strong customer service, the server promised a complimentary blackberry crisp on our next visit.
My only other small critique is that a couple of the items had a bit more sweetness than I'd prefer. For instance, the walnuts in the salad seemed to be candied walnuts, and the reduction sauce with the veal was a touch sweeter than the mushroom sauces I make. I like to emphasize the earthy quality of the mushrooms a bit more.
Overall, we very much enjoyed our visit and look forward to our next trip. Most nights they offer a three course Tuscan prix fixe deal which looks like a very good deal, we'll probably aim to try that next time. Glad to have another top-quality restaurant on the scene!