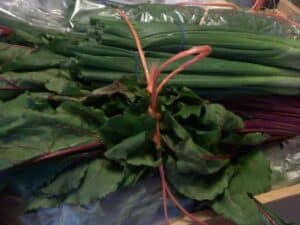 This was my first big hit with the CSA (consumer supported agriculture) veggies. I knew it was good when J. joined me in eagerly grabbing a 2nd plate–usually I'm the only one going for seconds in our house! I need to properly credit Carol for this one. Shortly after the first CSA boxes arrived from Kenney Farm in Concord (via McCue's in Woburn), Carol was whipping up some interesting recipes and
sharing via her new blog.
With her help, I figured out two things: 1) I ought to think about roasting the root veggies like kohlabri; and 2) I could put a dent in the lettuce by sauteeing some of it. With these ideas in mind, I created Linguine with CSA Veggies Two Ways. Worth a try! (and you could certainly do a lot of riffs off this. Basic concept: roast some hard veggies, sauté some greens, use plenty of garlic, olive oil, a bit of cheese and enjoy).
1 kohlabri, chopped into bit sized chunks
4 small white summer turnips, chopped into bit sized chunks
3 scallions, cut into 2 inch pieces (using green and white parts)
8 cloves garlic–3 of them minced, others whole
appx 6 tbsp olive oil
1 bunch radishes, halved (you could probably use the tops too but mine were not in good shape so I didn't)
1 small bunch arugula, coarsely chopped
a couple good sized handfuls of lettuce–I used iceberg–coarsely chopped
1/3 cup parmesan cheese
pinch red pepper flakes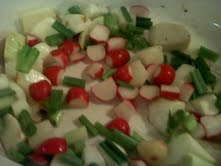 10-12 ozs linguine
Preheat oven to 425. Combine the kohlabri, turnips and whole garlic with 1 tbsp olive oil. Roast for 25 minutes. Remove from oven, add the radishes and scallions to the turnip mixture, combine along with another tbsp of olive oil, salt & pepper. Roast for another 20 minutes. This is a good time to start boiling water to cook the linguine according to package instructions. After roasting the veggies for 20 minutes, remove from the oven and combine with another tbsp olive oil and set aside.
Meanwhile, heat a tbsp of the olive oil in a skillet on medium, then add the minced garlic. Saute for about a minute, then add arugula and red pepper flakes, cook until it begins to wilt–a couple minutes. Add the lettuce, cook for a minute or two until it begins to wilt. Add the roasted veggies to the skillet, gently stirring to combine and re-heat the roasted veggies if needed. Then toss the veggies with the linguine and an extra tbsp or so of olive oil and the cheese. Serve and enjoy!
Wine Pairing: 2008 Domaine de la Solitude Cotes du Rhone. Very good quality CDR, matched the earthiness of the roasted vegetables nicely. Had a Burgundy the following night but liked this Cote du Rhone much better.