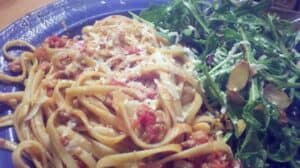 I was going to pitch this as a "heart healthy" way to prepare meat sauce, tying into the Valentine's Day theme. In looking for some data, I came across a post that suggested there is not a big difference in terms of fat and calories between comparable types of ground turkey versus beef. Oh well, the ground turkey is less expensive, so it does tie in with my frugal focus! Plus, the ground turkey version of this sauce has a lighter taste, with added flavor coming from the red pepper and bacon. So give it a try for a change of pace or to save a bit of money!
1 onion, chopped
3 cloves garlic, minced
1/2 red bell pepper, chopped
1 small strip of bacon
2 tbsp olive oil
1/4 cup red wine
1 28 oz can whole tomatoes
3/4 lb ground turkey
1/4 tsp ground fennel
1 tsp oregano
sprig rosemary
salt + pepper to taste
12 ozs linguine or other pasta
Parmesan or Romano cheese for topping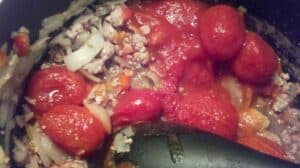 Heat a sauce pan medium high, spray bottom with oil to coat. Cook the bacon until crispy, about 5 minutes per side. Remove the bacon from pan, set aside to cool on a paper towel. Wipe out the excess grease from the bacon, leaving a bit for flavor.
Return the pan to the stove, heat on medium. Add a tbsp olive oil, then saute the onion. After about 5 minutes, add the pepper, followed by the garlic. After cooking the garlic for a minute or so, add the burger. Break it up with a heavy spoon and stir to combine with the onion mixture. Add the oregano and fennel plus a bit of salt and pepper. When the turkey meat is white on the outside, stir in the red wine and cook until mostly absorbed, about 5 minutes. Add the tomatoes with all their juice, stirring to combine, and break up the tomatoes with the heavy spoon.
The sauce should simmer for at least 45 minutes total, longer is better! Add the rosemary and bacon about 20 minutes after the tomatoes. That is also a good time to start boiling water for the pasta. I used linguine; rigatoni would also work well with this. Cook the pasta according to package directions, strain, and toss with the sauce. Pass the cheese at the table. A green salad rounds out the meal nicely.
Wine Pairing: This one is pretty easy! Pasta with a tomato based meat sauce calls for an Italian red. Lately I'm most likely to go for a Barbera with a sauce like this, as its acidity goes well with the tomato. But when I made this the other night I had the 2010 Cantina Del Pino Langhe Nebbiolo on hand, and it worked quite well. We had a bit before starting the meal. Like many Italian food oriented wines, we didn't really appreciate it until having it with the pasta. By that point it had opened up in the glass and was ready for its food match!