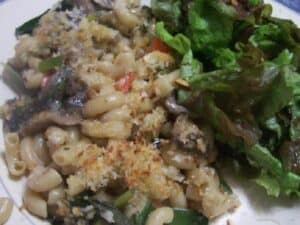 Really, don't let the leek top thing throw you off this one. I first read about using leek tops in a frugality article encouraging the use of items like this that are often thrown away. Here, the remnants of the leeks I used for last night's soup combine with the cheese, mushrooms and other ingredients for an earthy dish with a bit of zip.
1 lg leek top, sliced thinly
4 cloves garlic, minced
1/4 cup water
2 tbsp olive oil
1 tbsp butter
1/4 cup red wine
6-8 mushrooms, sliced
1/2 red bell pepper, chopped
1 cup Gruyere, grated
1/2 cup grated romano or parmesan
1/2 cup milk or cream
1 tsp Herbes de Provence
1/2 lb. short pasta, such as elbow or penne
1/2 cup or so breadcrumbs
salt & pepper to taste
olive oil spray
Preheat oven to 400 degrees. Begin boiling water for pasta. Heat olive oil in a skillet, then saute the garlic for a minute or so. Add the leeks, saute on medium heat, salt generously. Gradually add the water to keep the pan from getting too dry. After they begin to soften in about 10 minutes or so, add the peppers, mushrooms and butter. This is a good time to add the pasta, and cook until al dente.
Continue cooking the vegetables. After the mushrooms begin to sweat, stir in the wine. Meanwhile, drain the pasta, be sure not to cook beyond al dente as it will cook more in the oven. Stir the gruyere and milk into the pasta, then stir in the vegetables. Spread the pasta into a casserole dish. Top with the romano cheese and breadcrumbs, spreading them evenly over the top to just cover it. Spray the top with a bit of olive oil. Bake covered for about 15 minutes. Remove the cover, return to oven to broil for a minute or two, in order to brown the top a bit. Keep an eye on it so it doesn't get overdone. Remove and serve hot!
Note: Most mac & cheese recipes I've seen call for heating the cheese and cream to make a sauce. Not a bad idea, but for weeknight cooking I think this step can be skipped to save time and a pan. This recipe is not intended to be a purist version of mac & cheese anyway; rather it's a quick and simple way to use up some ingredients you might have on hand. It's lighter than typical mac & cheese.
Wine pairing: A baked pasta like this, with mushrooms and Gruyere, call for an earthy red to match. I went with the 2008 Moulin de Gassac Le Mazet ($10), a red blend from France's Languedoc region, blending Grenache, Cinsault, Carignan, Syrah and Alicante. This is a great every day red to have around for cool weather like casseroles and stews.