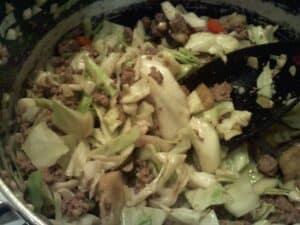 This dish combines elements of a "Beans & Greens" recipe I've made several times, where bitter greens are cooked with tomatoes and balanced with feta cheese; along with elements of a basic ragu meat sauce. In this case, I used half the usual amount of beef as I had cabbage and other veggies to give it substance. Made for a tasty dish, a bit lighter than a regular meat sauce.
Now, you don't have to duplicate this exactly. The basic idea is by adding substantial veggies you can use less beef than in a typical meat sauce; and the notion of balancing bitter greens with saltiness of bacon and feta cheese.
4 cloves garlic, minced
2 tbsp olive oil
1/3 cup red bell pepper, chopped
1/2 small eggplant sliced, then chopped
3 to 4 cups cabbage, coarsely chopped
1 tbsp balsamic vinegar
1 28 oz can diced tomatoes
3 to 4 cups radicchio, coarsely chopped (the CSA radicchio was a big head, I thought it was romaine at first…getting more into the inside leaves, it looked more familiar)
1/2 lb ground beef
1 slice bacon
kernels from 1 ear of corn (already cooked)
1/2 cup or so feta cheese
2 tbsp parsley
1 tbsp oregano
1 pound short pasta (I used elbow)
Heat a medium pan and spray with cooking oil. Add bacon and cook until well browned on both sides. Remove bacon from pan, place on paper towel (with plate under) to remove grease. Discard most of the bacon grease from pan, leaving a bit for flavor.
Return pan to medium heat, add garlic and red bell pepper. Saute for a couple minutes, add the cabbage and balsamic vinegar, then eggplant, continue to saute. After the cabbage starts to soften, stir in the beef. After the beef has browned, add the tomatoes. Bring to a simmer. After 10 minutes or so, add the radicchio. This is also a good time to add the pasta.
After the greens, add the corn, parsley and oregano. Add the bacon back into the sauce when it is almost done. Drain pasta when cooked al dente, toss with the sauce and feta. Enjoy!