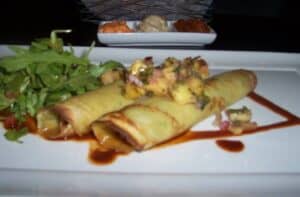 Earlier this winter we visited and enjoyed the new Masa Southwest Bar and Grill in Woburn.  Somehow this review was the victim of a very busy stretch at work and remained stuck in draft format.  But I was back for lunch yesterday and that reminded me to post this!  It's a nice spot for lunch as well as dinner, in fact.  For about $7, I had a bowl of Southwest Onion Soup and a sampling of 5 tapas, a good way to get a variety of tastes.
***
Our visit started with with the
Herbed Crepes Stuffed with Fire Roasted Chicken.
 This was a good introduction to the spicy and sweet taste contrasts featured prominently at Masa.  Well-spiced chicken was nestled in savory crepes, topped by a pineapple BBQ sauce.   An enjoyable start to the meal.
A basket of corn bread with three spreads to choose from arrived along with the appetizer.  The chipotle and white bean spread was definitely our favorite, with nice zest to flavor the bread.
Most of the entrees all looked pretty enticing to me, with beef, pork and fish dishes that mainstays of the menu.  I opted for the
Slow Cooked Beef Short Ribs
, which was served with an apricot mole and warm shitaki mushroom salsa, and savory side of sweet corn truffled mashed potatoes.  The beef was fork tender and quite tasty with the rich mole sauce.  I would perhaps like to have seen the beef cooked a bit longer, in more of the sauce, for even more flavor; but that is a mild critique of a pleasing entree.
Jodi ordered the
Southwestern Steak Frites
, a zesty take on the French classic.  The steak was cooked nicely medium rare and just enough of that Southwestern kick was there to say Southwestern rather than French cuisine was being sampled.
The tequila list was the same length as the wine list, but I gravitated toward the latter…at least initially.  My first inclination was to order a Malbec, as they had several choices on their South American leaning list.  But I wound up going with the 2006 Clos de los Siete ($55 restaurant price) blend, which is comprised of malbec (45%), merlot (35%), cabernet sauvignon 10% and syrah (10%).  As I suspected, it provided both a bit of spice, along with some soft fruitiness which picked up the spicy and sweet elements of the cuisine pretty well.  The cab and syrah did not noticeably influence the taste, as I picked up mostly the malbec and merlot influences.  Not necessarily an impressive wine, but quite pleasant.
We also had a wonderful dessert (sorry, no notes on that) paired with a well-aged tequila…we were steered in that direction when asking about dessert wine options.
I learned after our visit that they also offer a tapas menu in the bar area, which at $1/tapas plate seems like a great way to sample some of their food for a modest price.