Last Updated on
Just about time for the big football game! And yes, our New England team is in it once again, defending their championship. I like to enjoy local New England beer while cheering on the team, seems to bring them good luck while showing my loyalties. As a resource to fellow Pats fans and others interested, today I'm sharing along some of my favorite New England beer and food to go along with it.
New England Beer with Food Pairings
Hoponius Union with Easy Mexican Dip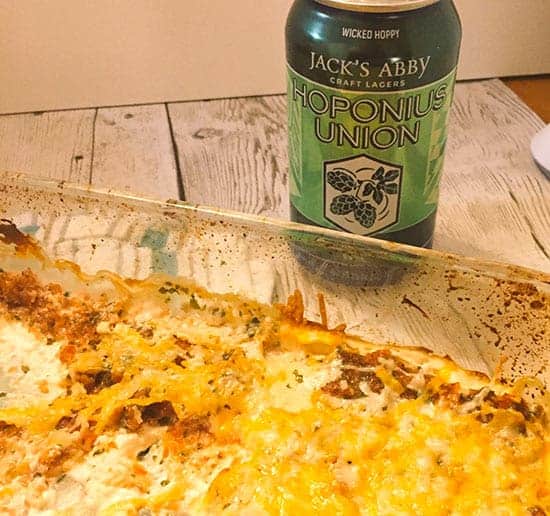 We'll kick this article off with two New England beer and food pairings we've done recently. We made this Easy Mexican Dip featuring some fresh salsa from the Boston based Nola's Fresh Foods. Dig into this delicious dip and I'm sure you won't be able to stop at one bite! We paired it Hoponius Union from Jack's Abby in Framingham, MA. The hoppy brew is very good with the spice!
Fresh Tracks Paired with Easy Black Bean Chili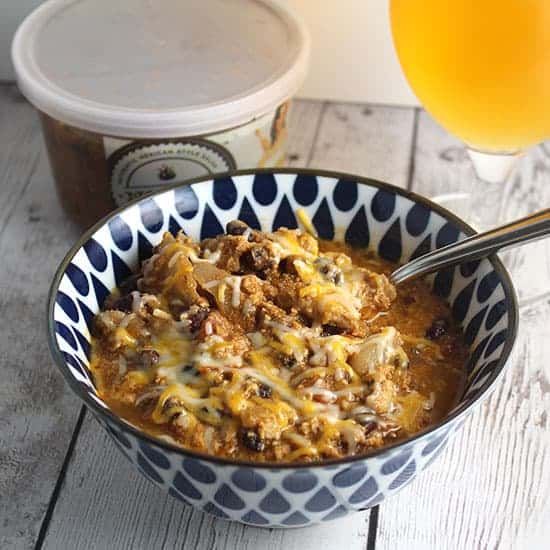 We just recently served up this Easy Black Bean Turkey Chili, and it is a great healthy and tasty option for game day. The first night I made this we had it with Fresh Tracks spring ale from Harpoon, an employee owned brewery in Boston.  Definitely a good pairing — IPA and chili are a good match.
Harpoon IPA with Spicy Green Onion Dip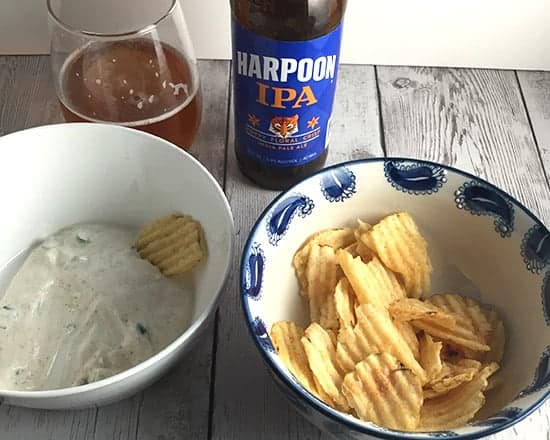 IPAs work well with spicy food, and our Spicy Green Onion Dip definitely has some kick! Harpoon IPA is a regular in our home, and we had it ready to pair with this dip recently with good results. This is probably a good time to give a mention to Lord Hobo Brewery, which is located right here in my hometown of Woburn, MA. They focus on IPAs, so any of their beers would probably work well with the Spicy Green Onion Dip. Lord Hobo's Boom Sauce is popular and available in some stores; we also like they citrusy Hobo Life session ale.
Sam Adams Hopscape with Roasted Asparagus Dip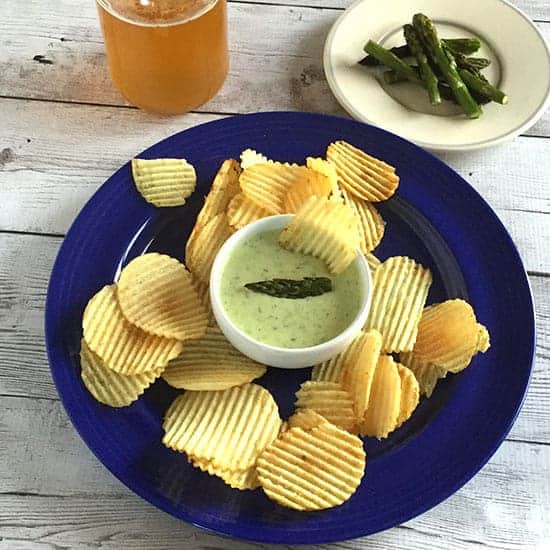 There's a citrus element in the Hopscape ale from Sam Adams that picks up the lemon in the Roasted Asparagus Dip nicely. Of course, Sam Adams has a wide range of beers you could enjoy while cheering for the defending champs. This time of year the Boston Lager is my favorite beer from Sam Adams, when it gets warm, their Summer Ale is a classic.
Other Favorite New England Beers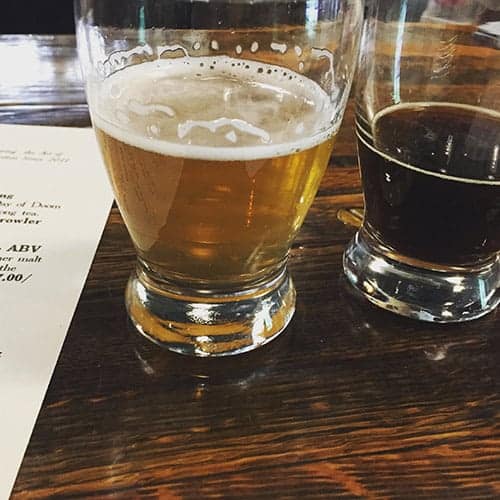 I had a chance to visit Mystic Brewery in Chelsea, MA a few times when we were doing a fundraising event there for Social Capital Inc. I learned some good beer pairing tips and enjoyed their Belgian inspired brews. Definitely needs a spot on my favorite New England beers list! Their stout paired with locally made Tazo chocolates was a memorable pairing.
Idle Hands Craft Ales My brother Pete turned me on to this Malden, MA, based brewer. He is definitely more of a beer aficionado than I am. I really like their Four Hands IPA, and they have a lot of other interesting beers to try. We visited them around the holidays and enjoyed sampling a lineup of their ales. With the reference to baseball pitches and a stout names "34" in honor of retired Red Sox slugger Big Papi, we know they are local sports fans at Idle Hands! They definitely deserve a spot on this favorite New England beer roundup!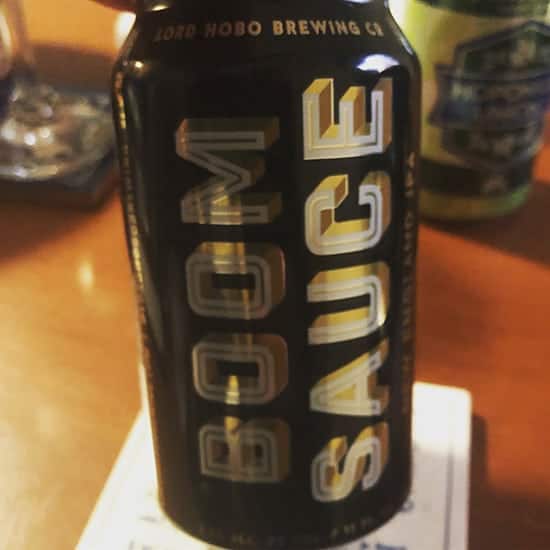 Lord Hobo Brewing CompanyI will definitely have some Boom Sauce from Lord Hobo while watching the Pats play for their 6th Super Bowl title. I opened one early during their first playoff win last month, and did so again for the AFC championship. I'm not one to mess with success! Plus Lord Hobo is located right here in our hometown of Woburn, with a great newly renovated taproom.
Let me give a quick shout to a few other New England beer breweries that I enjoy regularly. Wachusett Brewing Company has a fun mix of IPAs, including Green Monstah IPA which has pleasant associations with summer days at Fenway. If you're from New England you probably know a greenhead (fly) is generally something to avoid for their nasty bite. But don't shy away from Greenhead IPA from Newburyport Brewing Company!
Another good one up on the North Shore of Massachusetts is Cape Ann Brewing Company. I've enjoyed their Fisherman's IPA with some regularity, and sampled some other good ones. I need to visit as they have a good spot on the water in Gloucester where you can eat with a view and a local brew. On the south shore of MA, there is Mayflower Brewery, which puts out a good variety of quality brews. I like their Golden Ale.
There are a lot of other great New England breweries. If you have a favorite I haven't mentioned, mention in the comments!
More New England Food Favorites
New England food traditions tend to focus on seafood–most notably New England Clam Chowder— and recipes that go back to our colonial roots, such as Yankee Pot Roast and Boston Baked Beans. And New England is especially known for an abundance of fall produce we associate with Thanksgiving.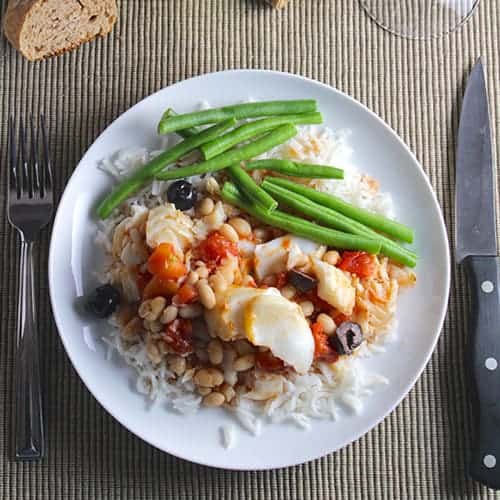 When we were asked to come up with a recipe from our region for a Sunday Supper event awhile back, I created the New England Beans and Cod recipe shown above that was takeoff on a few of the classics.
Today's New England food is inspired by the diversity of the immigrants that call the area home, ranging from my own Irish roots from a few generations back to growing populations today like our Indian and Brazilian communities. But that topic probably deserves it's own blog post.
Let me wrap our New England food section by giving a shoutout to a few more great local food products. If you are having sandwiches while watching the game, you might want to have some Grillo's Pickles on the side. Cape Cod Potato Chips are a great option for any of those dips you are serving. Cabot Cheese from Vermont has all kind of great options the obligatory gameday cheesiness. If you're looking for something sweet to finish it off, I've been loving Goodnow Chocolates lately. Each of their single origin chocolate bars features cacao beans sourced from a different farm in Mexico and Central America, and you can really taste the distinctiveness associated with each location.
New England Wine
OK, there is way more New England beer to talk about than wine, but a couple New England wineries are worth mentioning if that is your preferred beverage to enjoy while cheering on the favorites!
Westport Rivers Winery Want to celebrate a 6th championship with some locally made sparkling wine? Wesport Rivers produces top notch sparkling wine.
Greenvale Vineyards in Rhode Island makes a good Chardonnay and Cab Franc.
Shelburne Vineyards is located outside of Burlington, Vermont. We visited this fall and really enjoyed their wines made from cold climate grapes, an interesting change of pace.