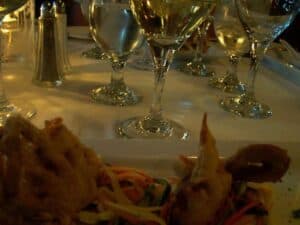 Cafe Escadrille
recently launched a new Tuesday Night Wine Club, and we couldn't pass up the chance to be at the first dinner.  The promise of a four course meal with excellent wine pairings for just $45 was an easy sell.
Cafe Escadrille is located in Burlington, MA, convenient to the highway and better yet, our home.  They position themselves as providing  options that allow those of us in the northern suburbs to experience fine dining without contending with Boston traffic or parking options.  Adding a regular wine meal like this to the mix–they are running these every other Tuesday night–buttresses their claim to be a premier dining spot in the area.
Shortly after greeting our friends in the bar area, we were warmly greeted by our host for the evening, Wine Director Stephane Colinet.  He proved to be a truly gracious and fun host sharing the passion for wine and food developed in his native France.  Stephane also peppered in colorful stories from his stint at one of LA's top eateries.  In other words, you can get some good stories about Brad Pitt and the like along with sampling some wonderful food. 
Stephane escorted our group of seven over to our table, by a sweeping window that afforded a nice view of a small flower garden.  He explained we'd be sampling wines from St. Supery, a well-regarded producer from the heart of Napa.
The '07 Sauvignon Blanc with the Ahi Tuna that we started with was perhaps my favorite pairing.  The wine had a good balance of New Zealandish grapefruit taste along with minerality more typical of Californian Sauv Blanc.  This combination worked well with the tuna's Asian flavors of sesame and wasabi creme fraiche, and that of the accompanying grilled shrimp.
The '07 Chardonnay did not appeal to me as much as the others we tasted.  It seemed to be made in the naked Chardonnay style, tasting of melon with a slightly bitter finish.  The accompanying soft shelled crab was pretty tasty, deep fried but not too heavy and balanced by the vegetable slaw.
The main course of roasted veal tenderloin was absolutely delicious.  Very tender, cooked just right and served with a red wine glaze that enhanced the meat flavor nicely.  The garlic mashed potatoes side was good too and a very generous portion.  The '02 Merlot paired with this course was a big, full bodied red with a bit of leatheriness along with the fruit.  Defintely not the fruit juice only merlot disparaged in Sideways!  I was surprised it was an '02 as it seemed like it could benefit from more cellaring or decanting, though is certainly enjoyable at this point.
We finished with a cheese course, very savory local Vermont cheeses that paired nicely with the star of the wine lineup, the '02 St. Supery Elu.  This one was primarily cab but also had a bit of merlot and petit verdot in the blend.  Nice structure, balanced fruit and a big long finish.
Well, that finished the official dinner lineup.  But then we decided to share a tasty fallen chocolate souffle along with a bonus glass of St. Supery Moscato that Stephane generously through in.  One more treat in night full of them!  Hmm, Tuesday Night Wine Club, how do we become card carrying members?