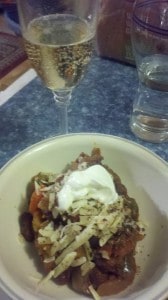 chili with sparkling wine
You know you're serious about your wine when you seek to find the right pairing for chili. Most folks would say beer, or perhaps milk; but once again after making a pot of chili I wanted to have some wine with it. Previously I'd paired zin and shiraz with chili, and it worked pretty well. I did a bit of research this time, and those options seemed to common choices, as discussed in this Serious Eats post.
Alas, there was no zin or shiraz on hand Sunday. I had a couple of Italian reds on hand that I considered–generally food-friendly, and they go with tomatoes in pasta sauce…why not the tomatoes in the chili? But I decided to save those for a proper Italian meal. Then I thought about the cheese and chocolate shavings I'd finish the chili with, and the 2008 Shinn Estate Merlot came to mind…
Now, I wouldn't pair a basic, fruit-centered merlot (the kind you might be served at a function) with chili. But I'd already had one of these bottles from Shinn, following our visit to their Long Island vineyard, and recalled its depth of nuanced flavor. And sure enough, the layers of chocolate and berry flavor touch of spice were a good accompaniment to the chili. Enough flavor and structure to stand up to the hearty dish, and it picked up the cheese and chocolate topping. A winning combination!
As that Serious Eats post points out, wine isn't going to work too well with a five alarm chili. But my chili, based more or less on this recipe, is more flavorful than super hot. If that's your chili style, wine can do quite well with it…and if you find yourself on Long Island, consider picking up a bottle of the Shinn Estate Merlot for your next batch!
OK, now to explain the photo. I'd written this up, then went looking for a photo to add. Realized I hadn't taken one showing my suggested pairing, but did have this one from the following night. We had an impromptu gathering to which my sister brought a nice bottle of sparkling wine. Very tasty, and bubbly is often a good food match. But in this case, it just didn't have the heft to stand up to the dish. So while enjoyable on it's own, I'm going to stick with my Shinn Merlot recommendation for the chili!