Last Updated on
Learn more about pairing French Wine and Cheese during a Facebook live tasting event on the Whole Foods Facebook page coming up on Thursday, October 5, 5:30 p.m. Eastern.  I am one of the French Winophiles bloggers teaming up to share information about the event and pairings.  Today we provide a preview of the tasting. Full disclosure: the wines and cheeses were provided as complimentary samples by the event organizers.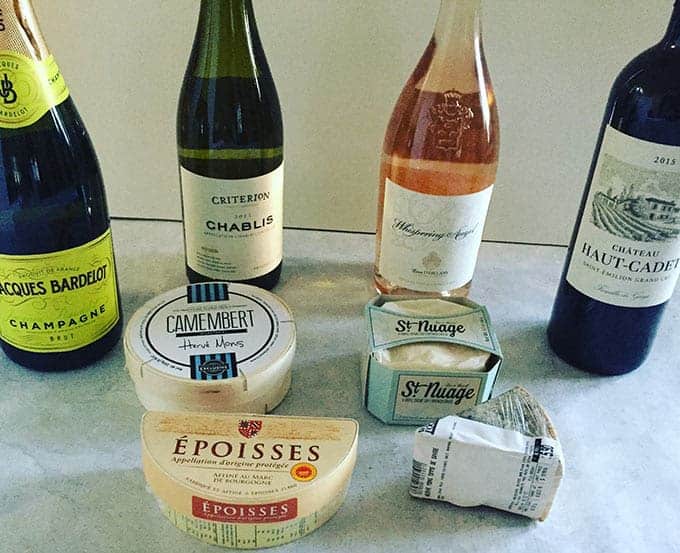 If you've visited Cooking Chat before, you probably know I am very interested in finding good food and wine pairings. However, I do not know much about the nuances of pairing wine and cheeses; my wine pairings tend to focus on the main course. So I look forward to the pairing French wine and cheese event coming up, where we will taste along with Whole Foods Market Global Buyers Devon Broglie MS and Cathy Strange on October 5.
Devon and Cathy will be sampling the following pairings during the live tasting:
Jaques Bardelot Champagne (Wine) / Mons St. Nuage (Cheese)

Domaine de la Fruitiere Muscadet (Wine) / P'tit Basque (Cheese)
Alan Treille Chinon (Wine) / Mimolette (Cheese)
Biographie Cotes du Rhone (Wine) / Saint Angel (Cheese)
Whole Foods has a wide range of cheese selections from France. With this tasting event coming up, I visited my local Whole Foods Market in Woburn, MA, to get a variety of French cheeses. Here's what I took home:
Époisses: a soft cows milk cheese made in Burgundy, wash ripened in marc de Bourgogne, a local brandy. The Wikepedia entry for this type of cheese notes it is often paired with a Trappist beer or Sauternes, so will be interesting to see what we pair with it!
Camembert: Gooey, creamy Camembert is made in Normandy, with a distinctive strong smell…nothing like a good stinky cheese! From this Whole Foods post on 5 Things Everyone Should Know About Camembert, I'm guessing we might try this with some Champagne. I'm up for that!
St. Nuage: is a triple crème soft ripened cheese, also from Burgundy. This label on this one suggests serving with Champagne, along with dried fruit, honey and sour cherry spread.
Tomme de Savoie: A variety of Tomme cheese made in the mountainous Savoie region of France. This cheese is made from raw, skimmed cow's milk after the cream has been drained off to make butter, according to Cheese.com. The site suggests a pairing with a medium bodied red from the nearby Rhone.
Check out my latest post to hear about the various pairings we tried with these cheeses, including some of our favorites that you will probably want to try, too!
As much as I enjoy trying wines from a wide variety of regions, I certainly have a great appreciation for the high quality of wines from France. Whether it is from famous regions like Burgundy and Bordeaux, or finds from smaller regions, France has a tremendous variety of wine to offer. As part of this #MadeInFrance promotion, we will be sampling the following lineup of French wines available at Whole Foods that carry wine: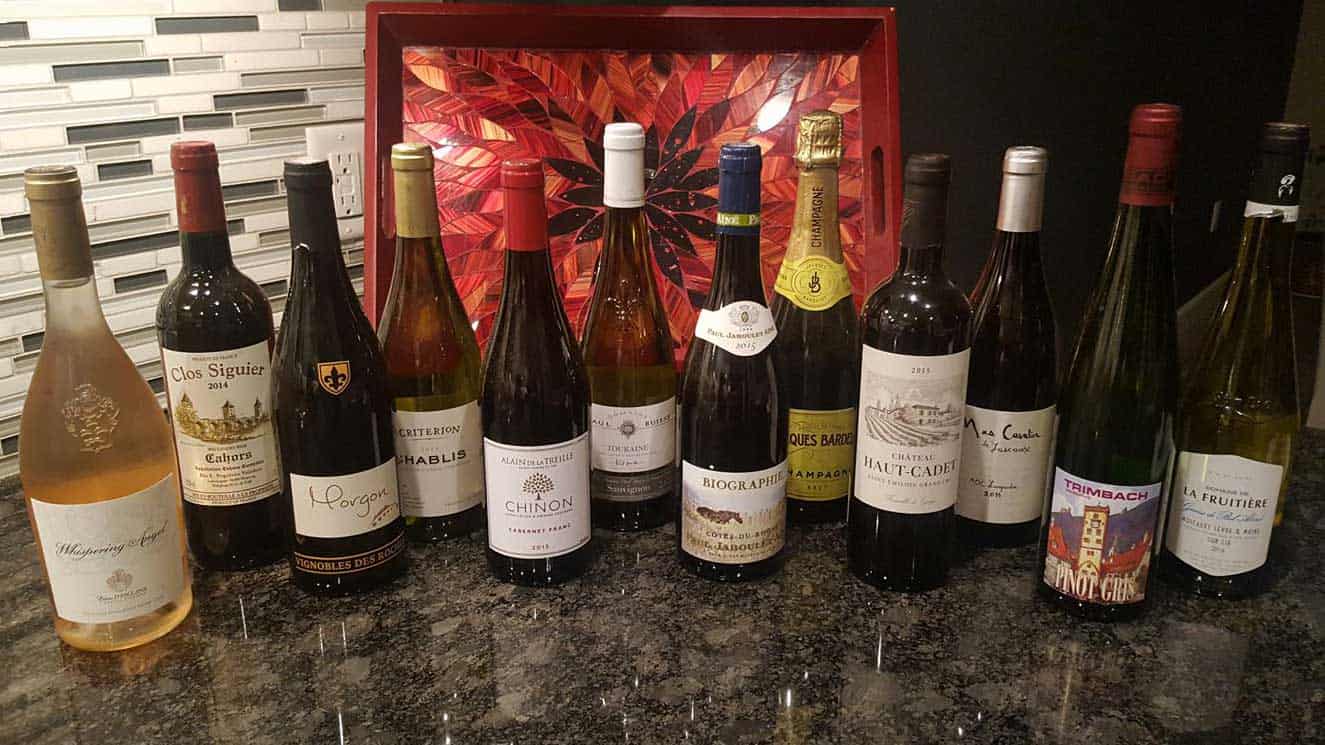 Jacques Bardelot, Champagne Brut: $29.99
Criterion, Chablis: $19.99
Domaine de la Fruitiere, Muscadet Gneiss de Bel Abord Sur Lie: $13.99
Domaine Paul Buisse, Touraine Sauvignon : $12.99
Trimbach, Pinot Gris Reserve: $22.99
Château D'Esclans, Whispering Angel Rosé: $21.99
Vignobles des Roches, Morgon: $16.99
Alain de la Treille (Famille Bougrier), Chinon: $19.99
Paul Jaboulet Ainé, Cotes du Rhône: $14.99
 Château de Lascaux, Coteaux de Languedoc Rouge: $17.99
Château Haut-Cadet, Saint-Émilion Grand Cru 2015 : $24.99
Clos Siguier, Cahors: $14.99
This listing shows that Whole Foods has a wide range of French wines available at reasonable prices. My local Whole Foods in Woburn, MA, doesn't sell wine. However, several Whole Foods in Massachusetts do sell wine if you are local and want to try some of these bottles for yourself.
Stay tuned for more details after the live tasting! Check out the live event on Whole Foods Facebook page, with comments from me and other bloggers on social media at the hashtag #MadeInFrance.