Last Updated on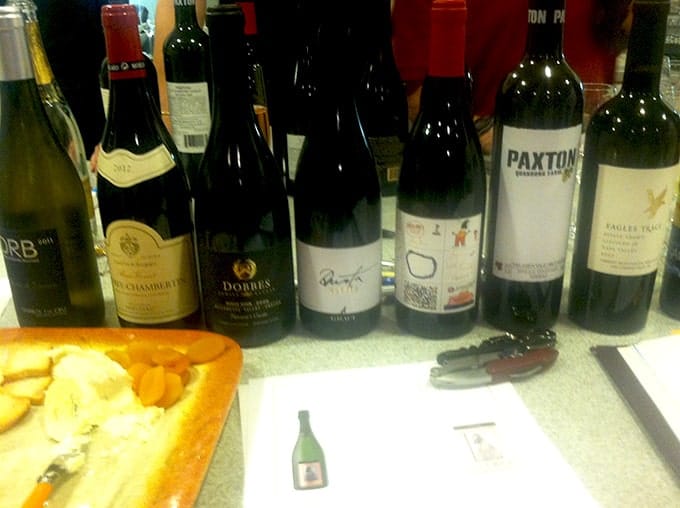 It's almost time for the tenth Wine Pairing Weekend (#winePW)! As always, #winePW takes place on on the second Saturday of the month, so March 14, 2015 is our next one. This #winePW is really a two part event. On February 28, we observed Open That Bottle Night (#OTBN), opening up a special bottle of wine that had languished too long on the shelf. For the upcoming event, we asked participants to share about the bottle they chose to open for #OTBN, and the food that they paired with it. This gave us a fun chance to come up with pairings for special wine. Here's a preview of the pairings:
Culinary Adventures with Camilla paired Roasted Flank Steak with Goat Cheese and Caperberries + La Marea 2012 Mourvèdre
Tasting Pour is sharing Chenin to Sheepie?  Brava Cava! #Winewpw #OTBN
Pull That Cork served Crozes Hermitage and Braised Lamb with Puréed Root Vegetables for #winePW 10
Curious Cuisiniere paired Entrecote Bordelaise (Steak: Bordeaux Style) with Red Oak Vineyard Meritage
A Day in the Life on the Farm served up Michigan Red with City Chicken
Girls Gotta Drink is sharing A Priorat Wine Masterpiece: 1974 Scala Dei
Vino Travels paired Fattoria dei Barbi Brunello and Pappardelle with Bolognese
Grape Experiences is sharing Wine and Dine: 2012 Van Duzer Willamette Valley Pinot Noir and Chicken Breasts and Zucchini with Marjoram
Wild 4 Washington Wine paired A Special Oregon Pinot Noir with Eastern North Carolina Inspired Ribs #OTBN #winePW 10
Rockin Red Blog is sharing Celebrating #OTBN on #WinePW
Cooking Chat paired Avocado Chimichurri Beef Tenderloin with a Reininger Carmenere
ENOFYLZ Wine Blog is sharing Friends, Food and Wine; An #OTBN To Remember #winePW.
Thanks to the early responders to this tenth #winePW! If you're reading this before March 14, you can still jump in with a blog post of your own. Just check out the March intro post for more of the blogger details and email me at winepairingweekend AT gmail.com. You can also join our live Twitter Chat on Saturday, March 14, at 11 a.m. ET, via the Twitter hashtag #winePW. If you've come to us after March 14, consider joining us for #winePW 11 focused on wine pairings for early spring vegetables hosted by A Day in the Life on the Farm on Saturday, April 11.