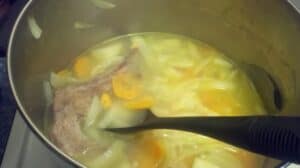 This one is really more about mindset and approach than a recipe. I came home the other night, feeling chilled and wanting something warming that might help fend off the cold that others around me have picked up. I tweeted: "Soup would really hit the spot tonight but don't really have ingredients or energy to make it."
Then @SuperAthens jumped in, reminding me how easy it is to make soup, especially with an immersion blender. I remembered all the potatoes we still had left from the CSA, plus we had some carrots and an onion….I was off on a soup making mission! I didn't get all the ingredients from the pantry (don't actually have one), but the name conveys that I made use of basic items I had on hand to make it.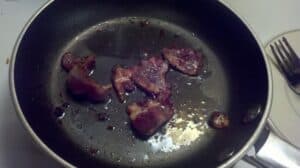 The potatoes, carrots and onions are the foundation of this. You could vary other ingredients quite a bit after this base. You could also substitute 2 leeks for the onion. I definitely don't claim perfection here. I added a broccoli stalk I'd saved for stock, and thought I'd puree some of it along with everything else. The stringiness of it was a bit unpleasant–skip that!
4 medium potatoes, peeled + chopped
2 carrots, chopped
1 onion, chopped
1 head roasted garlic, garlic squeezed out and reserved
1 cup frozen green, or 2-3 cups fresh (I used frozen kale)
6 cups water, or stalk if you have it (vegetable or chicken)
2+ tbsp olive oil
a bit of fresh or dried herbs ( used fresh parsley and dried sage)
1 bay leaf
salt and pepper to taste
Optional:
steak bone w a bit of meat/fat
bit of bacon, cooked nice and crispy, crumbled and set aside (I had about 1/2 a piece or 1 tbsp crumbled)
(I used a broccoli stalk too but don't recommend it!)
Heat a tbsp of the olive oil over medium in a large pot. Add the onion, saute for a few minutes then add the carrots, followed by the potatoes. After it's all sauteed for about 5 minutes, add the water and bay leaf. Bring to a boil, then reduce to a simmer. If you have a meat bone, add that know. Simmer until the potatoes are quite soft, approximately 25-30 minutes.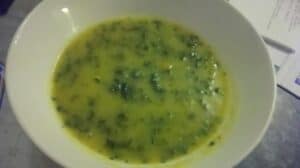 When the potato is soft, remove the bay leaf and puree the soup, with a handheld immersion blender if you have one! Gently reheat, add the greens and herbs, cook for about 5 minutes (until the greens are soft). Add in the bacon if using and salt and pepper. Should be ready to serve!
Wine Pairing: I've found pinot noir to work well with soups, and had the Bouchard Aine & Fils with this one. A nice match–and the wine is abut $10/bottle so is in keeping with the frugal side of the meal!