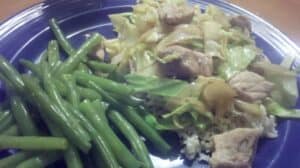 This Skillet Pork & Cabbage dish has become a mainstay in our house. Our 6 year old loves it, and it has enough flavor to appeal to us grownups as well. I first came across it seeking recipes to use the two heads of cabbage we got from the CSA one week. So it serves as a good example of how the CSA encourages one to try new recipes…which leads to some real keepers.
A go-to dish needs a wine to go with it. I've served various medium-bodied whites with this in the past, and an occasional pinot noir. But tonight's pairing really got it right. We had the 2009 S.A. Prum Riesling from Germany's Mosel region. This had a nice, crisp taste, kind of like biting into a Gala apple–without the crunch! Fruit-forward with a touch of minerality, and very little sweetness. A touch more sweetness in a riesling can be good with spicy dishes; but this dish just has a bit of saltiness from the soy sauce. Mostly the dish needed something with some substance and a nice crisp taste and clean finish, and this riesling fit the bill nicely!
p.s. I knew the Prum sounded and tasted familier…realized it's because I participated in this live tasting event 2 years ago!