Last Updated on
We are always appreciative of allergy safe dining options when visiting other towns. We haven't been back to The River House, but when updating this "Portsmouth Allergy Safe Dining with a View," did check their website to confirm that they are are still open and offer a similar menu to what we enjoyed. 
Last weekend we headed to Portsmouth, NH, to celebrate my sister's 40th birthday. Wonderful spot, especially on a nice summer weekend. On the water, lively arts scene (the parking garage even had a Robert Frost poem on the wall!), and some good food options.
We were looking for a place for a nice family lunch on Sunday, and were happy to find the
River House.
They have quite a bit of outside deck seating overlooking the harbor, but the shady spots were taken so we took a window seat inside. After a lot of pizza the night before, I was looking for something lighter, and this Thai Tuna Salad with sushi grade tuna and zesty dressing was just the thing. The edible orchid was a nice touch!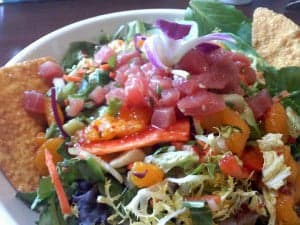 I had a glass of the Bogle Riesling to go with it. OK wine, but the pairing left a bit to be desired. I think perhaps something like a sparkling rose might have been better with the lively sweet and spicy flavors of the dish.
Actually one of the main reasons we chose this spot was there note on the menu about accommodating food allergies. Though they focused a bit more on gluten, the reference made us more comfortable that they'd be able to deal with our son's nut, dairy and egg allergies. We typically get him plain chicken or a burger, but they were confident their chicken fingers were prepared safe. So he got to have the same "boat" filled fries and chicken that non-allergy kids get…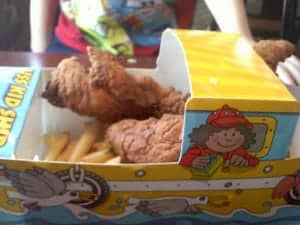 He was pleased! We parents were also happy to wrap-up a good weekend with a tasty, healthy lunch in such a great spot. Worth a try if you are in Portsmouth (and if you are looking for places to go in New England, add this town to your list!).
Please note that while we had a positive experience with The River House managing our son's food allergies and providing good options, you should be sure to carefully discuss any of your own food allergy concerns with the server to identify options that are safe for your situation.