Last Updated on
The photo below was taken during a more recent time we made a salmon and mushroom dish. For an updated version of the recipe, visit the new Salmon with Mushrooms post. For details of how we prepared the Salmon with Mixed Mushroom Sauce to serve at our wine club dinner focused on Burgundy, keeping on reading here!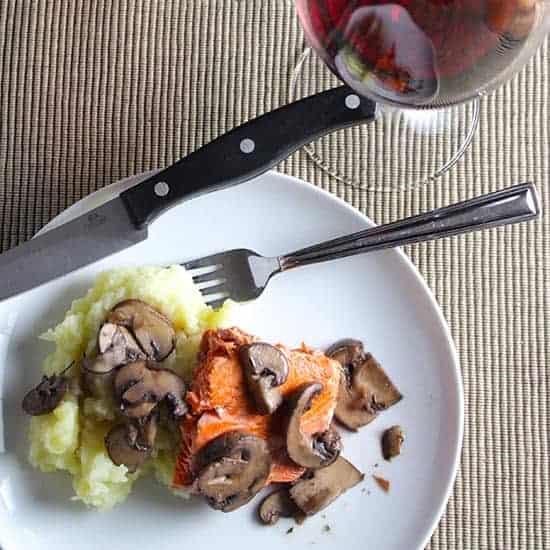 I love salmon with Pinot Noir. The elegance of this wine is a good match for the lean, meaty fish. The pairing gets even better when the salmon is topped with a mushrooms sauce, picking up the earthiness of a good pinot. Boeuf Bourguignon may have been a classic choice to serve at a Wine Club dinner focusing on Burgundy, but we already did that last year. Last time I cooked the club, I did a lot of research before coming up with this Tuscan Beef Stew. When asked to cook for Burgundy night recently, I quickly decided I would serve my Salmon with Mixed Mushroom Sauce.

Our wine club is hosted by the owners of Pairings Wine and Food. We get together at Ray and Lori's home about once a quarter to explore a particular wine type and/or region in depth, often with an expert presenting the wines. These gatherings are always a great combination of conversation, food and wine tasting. The annual Burgundy seminar, presented by Steven Chevalier of Ideal Wines is always a particular tasty treat. I will provide more detail on the wines we sampled following the recipe.
This mixed mushroom sauce combines humble everyday mushrooms with another type that is typically more expense, stretching one's dollar while providing great flavor. I often use shiitake as my other mushroom, but Whole Foods had some nice, big portobellos on sale, so that's what I used this time. Swap in the mushroom of your choice if you like.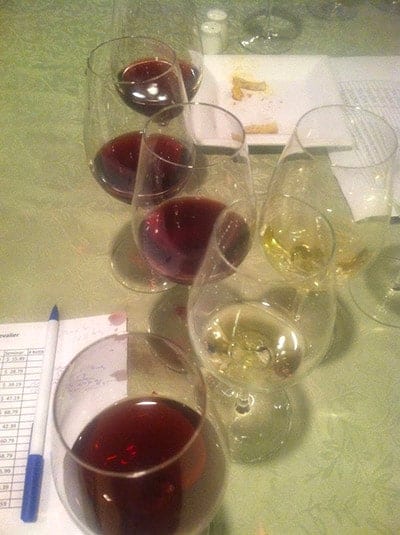 I was actually making this for a dozen people, so added a bit more of the button mushrooms to cover the 3 pounds of salmon I was cooking. You will likely have extra sauce if you are cooking for a smaller crowd. It's great on beef, too, so I'm sure you won't mind leftovers. This recipe is nice for company, because you can get the sauce cooked ahead of time and cook the salmon in about 10 minutes.
2 tsbp butter
1 medium shallot, finely chopped
1 tbsp olive oil, optional
1 clove garlic, minced
10 oz button mushrooms, sliced
1 large portobello mushroom, stem removed
1/4 cup red wine
1/2 tsp dried thyme or herbes de provence
salt and pepper to taste
12 ozs or more wild salmon fillet (the sauce easily makes enough for 18 ozs plus some side potatoes)
1 1/2 tbsp canola oil
The salmon cooks so quickly I like to get the mushroom sauce pretty much done before cooking the salmon. To prepare the portobello mushroom, cut thin slices of 1/2 inch thick. Chop those slices to create bite sized pieces.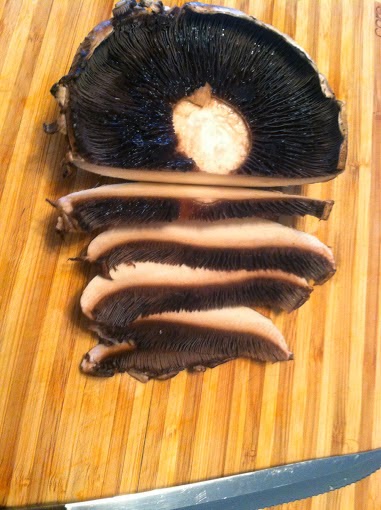 Heat 1 tbsp butter plus 1 tbsp olive oil in a sauce pan or skillet over medium heat. When melted, add the shallot, cook until it begins to soften, about 3-4 minutes. Add the garlic and cook for a another minute. Now it's time to stir in the  mushrooms, salt and pepper to taste. Cook for about 5 minutes, until the mushrooms begin to soften. Add the red wine and the thyme, cook for about 5 more minutes, until the wine has been reduced by about 1/2 and the mushrooms are fully cooked. Finish the sauce by melting in another tbsp of butter, and stirring to incorporate it into the sauce. Turn the heat down to very low and cover to keep warm as you cook the salmon.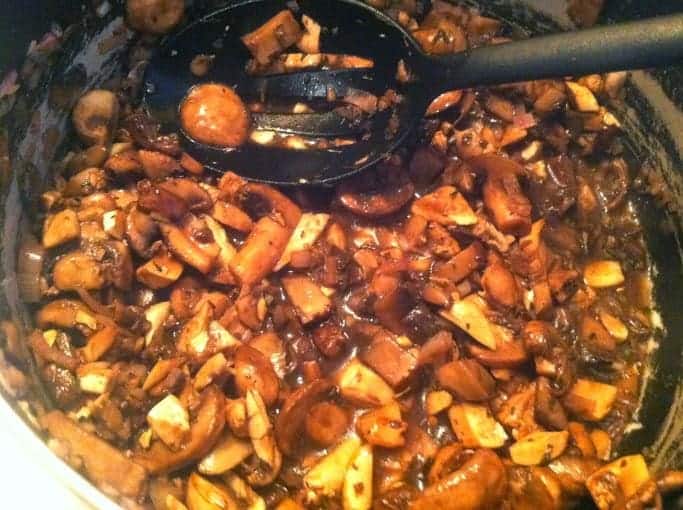 My method for searing salmon is based largely on that described in Barbara Lynch's Stir: Mixing It Up In The Italian Tradition. I usually get a fairly thin fillet from near the tail section, so it cooks quickly. Heat the oil in a skillet on medium-high, then add the salmon, skin side down. Sprinkle a little extra oil on top along w a touch of salt. Don't touch it for about 4 minutes, then flip the fish with a spatula. When cooked enough, you shouldn't have a problem with the skin sticking to the pan. Cook on the flesh side for another 3 minutes. Remove from heat and let it rest covered loosely with foil. The fish should still be very moist and have a dark orange color inside. Overcooking salmon ruins the flavor, so be careful!
Plate individual portions of the salmon topped with the mushroom sauce. Garlic mashed potatoes make a great side for this dish. Pass extra mushroom sauce at the table for people who want more for their salmon or to put some on their potatoes.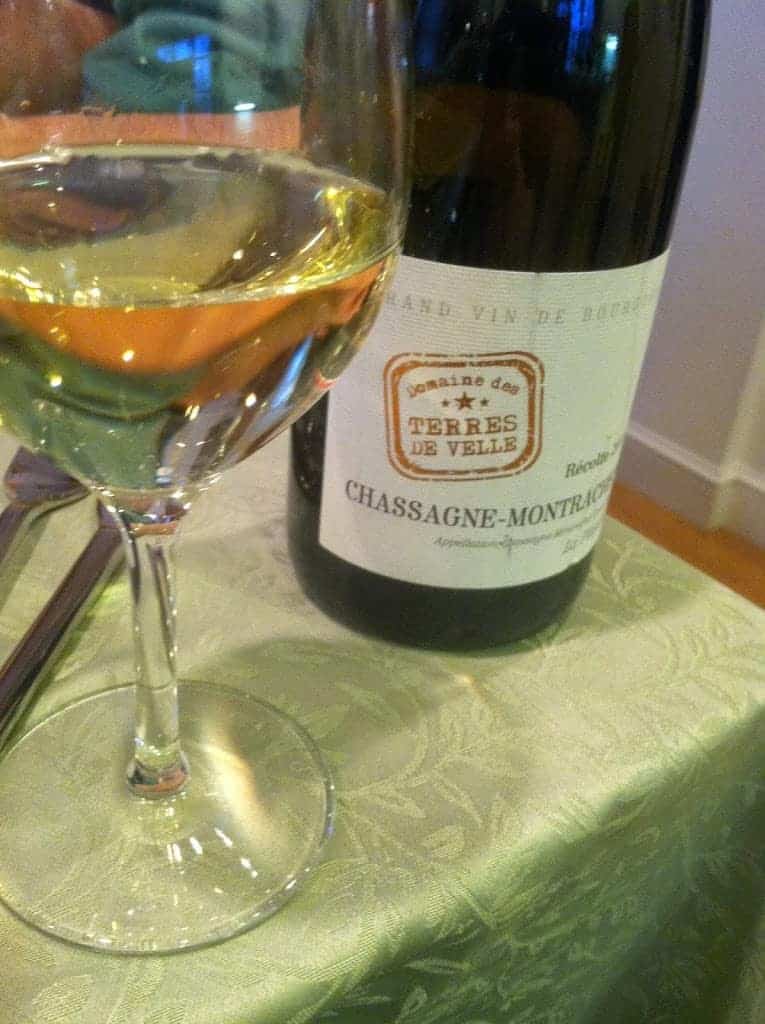 Wine notes: We started the tasting with 4 white Burgundies, with a tasty assortment of cheeses. We led off. with the 2011 Domaine Chenevieres "Fourchaume" Premiere Cru Chablis. This was softer than some Chablis I've had, with its fruit showing nicely. I especially liked the 2012 Domaine Guffens-Heynen Macon-Pierresclos "Le Chavigne", which had an incredible floral nose and a gentle touch of oak along with some good fruit. A good value, especially at the $39 club price. I was cooking the salmon while sampling the 2011 Domaine des Terres de Velle Chassagne-Montrachet "La Platiere" and the 2011 Domaine des Terres de Velle Meurseult Premiere Cru "Les Charmes" so will simply say, "Yum!".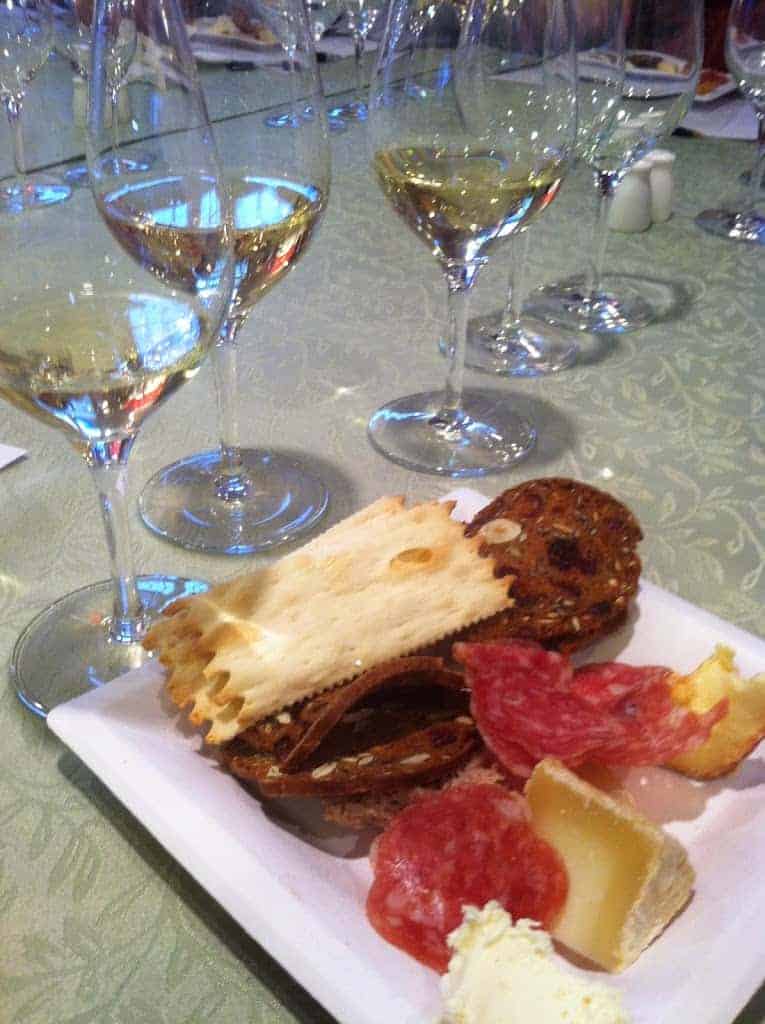 tasty nibbles to go with our white Burgundy
As we switched to the red Burgundies, my favorite was the 2011 La Pousse d'Or Chambolle-Musigny, and I also liked the 2011 Santenay "Clos Tavannes" Premieres Cru from La Pousse d'Dor. Both display the refined elegance I appreciate in a great Burgundy. I noted a bit more oak and tannins in the other two we tasted, the Savigny-les-Beaune Premiere Cru "Les Lavieres" and the 2010 Domaine Alain Michelot Nuits-Saint-Georges  Premiere Cru. This last one in particular is clearly a very good wine, I suspect it will soften and improve with a few years of aging.