Last Updated on
This Pasta with Chicken, Goat Cheese and Peppers paired well with a Sauvignon Blanc back when we first made it. We recently made the dish again and updated the recipe along with a new wine pairing; check out that new recipe and wine pairing post here.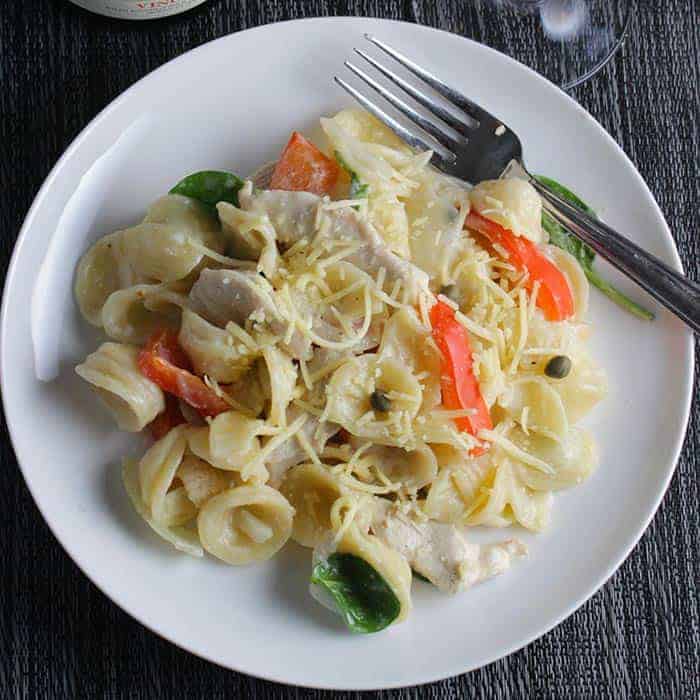 I eagerly broke open the package from SIP Certified on Monday, and found my pairing challenge awaiting me. I'd received a bottle of 2011 Castoro Cellars Sauvignon Blanc, and my goal was to come up with a good dish to serve with it…and to be ready to tweet about it for this past Wednesday's #WineChat. Pesto is the food I enjoy most often with Sauv Blanc, but we'd just finished a batch of that favorite. So I did a little research to get ideas for good pairings, and found this helpful article. White meat or fish, and leafy green herbs were highlighted as good matches for the crisp edge of this grape. I would up combining many of the suggested ingredients for this tasty  Pasta with Chicken, Goat Cheese and Peppers. We were pleased with the results!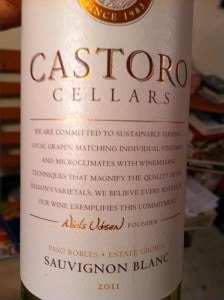 Now, before the recipe details, a bit of context on SIP Certified. This week's #WineChat gave us a chance to learn about the comprehensive standards for sustainability that SIP, (short for "Sustainability in Practice") promotes. We chatted about how the healthy vineyards produced through these practices leads to great fruit…and of course, that is much of what makes great wine. Dozens of California wineries are SIP Certified, and the folks tweeting their tasting notes during WineChat were clearly pleased with the wines coming out of these vineyards. So, if you're looking for a quality wine you can feel good about enjoying, give one with the SIP certification a try! Now, on to that Pasta with Chicken, Goat Cheese and Peppers recipe…
1 spring onion, white and light green portion w a bit of the darker green, chopped *see note
1 red bell pepper
1 or 2 garlic cloves, minced
2 tbsp. fresh basil, julienned
2 tbsp fresh squeezed lemon juice
1 heaping tsp capers
2 tbsp white wine
3 ozs goat cheese
2 chicken breast fillets,  (a bit under a pound) sliced crosswise to create strips of 1/2 inch thick
3 tbsp olive oil
12 ozs orechiette or other short pasta shape
Heat 1 tbsp olive oil in a large skillet on medium heat. Add the onions, saute until it begins to soften, then add the red bell pepper. Cook another 5 minutes so the pepper begins to soften.  Add the garlic, cook for another minute. Push the vegetables to the edge of the pan, then add another tbsp olive oil to the center of the pan. Add the chicken to the center, cook until the outside is mostly white. Add the wine and 1 tbsp basil, stir to combine the chicken with the veggies, and cover the pan. Cook until the chicken is cooked through, about 5 minutes, stir occasionally.
Meanwhile, start a pot of water to boil for the pasta as you begin cooking the veggies. Add the pasta around the same time you add the chicken to the pan. Cook al dente according to package instructions. Reserve 1/4 cup of the cooking water. Drain the pasta, and stir in the chicken and veggie mixture, along with the cheese, lemon juice, capers and remaining basil and 1 tbsp olive oil. Add a bit of the cooking water to help the cheese and veggies meld together, if needed.
Wine Pairing: The 2011 Castoro Cellars Sauvignon Blanc has a light straw color. I got a bit of hibiscus on the nose, and the taste is fresh and lively. I detected kiwi, lemon and a touch of pepper. This picked up the lemon, herbs and onion in the Pasta with Chicken, Goat Cheese and Peppers dish nicely. I'd say we got this pairing done right, if I do say so myself! According to the Castoro website, this is their first year producing Sauv Blanc, and I'd say they did quite well.   There's a bit of Gewurztraminer blended in, which gave I'd say gave it just a touch of spice. A good value at around $15.
Note: Spring onions are young sweet onions available toward the latter part of winter and into the spring. I like to use them during the season as a reminder that winter is on the wane. You can use the small bulb as well as the green that grows out of it. But if those aren't available, substitute Vidalia or other sweet onion in this Pasta with Chicken, Goat Cheese and Peppers recipe.
Full disclosure: I received a complimentary bottle of the wine from SIP to sample. The opinions and recipes here are entirely my own!