Sweet Strawberry Cream with Chocolate and a sweet Birbet sparkling wine makes a delicious pairing to enjoy with you Valentine. This is my featured post for the February Wine Pairing Weekend event. We received the wine as complimentary sample from the winery. As always, the opinions expressed here are entirely my own.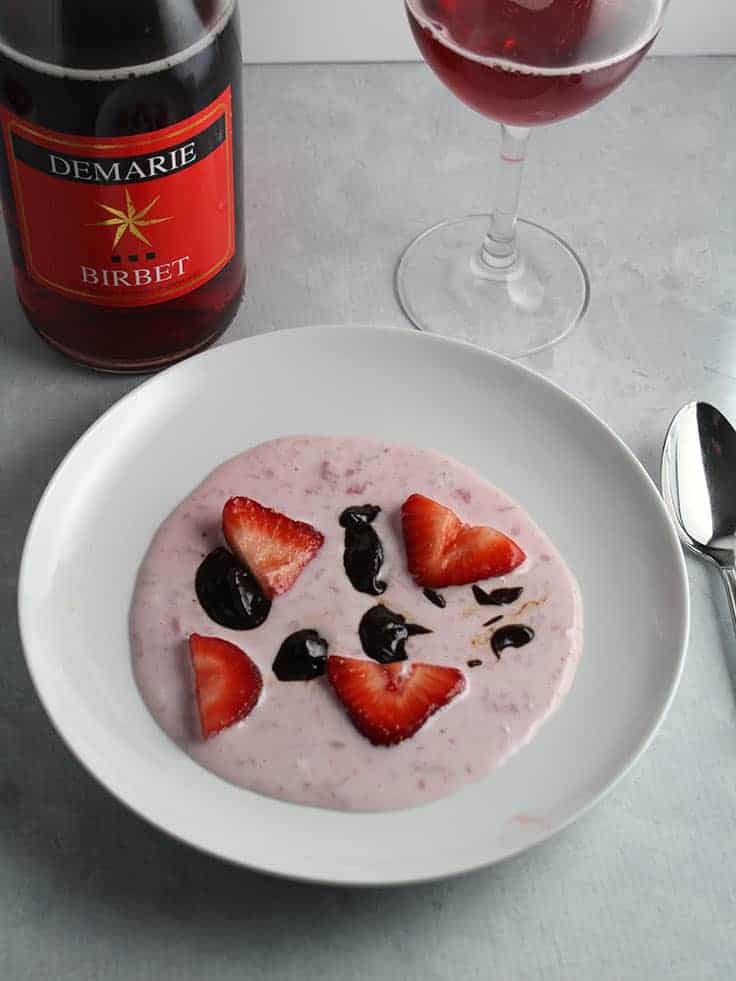 I don't make desserts very often, but I do rise to the occasion from time to time. Valentine's Day would certainly seem like an occasion to make a dessert! Plus, I had a bottle of Birbet that fellow #winePW blogger Val Quintanilla suggested would make for a good Valentine's Day pairing.
We have been enjoying Florida strawberry season lately, which brings a bit of warm flavors north to our (finally) cold New England winter. I've been serving up some creative strawberry themed meals such as Quinoa with Salmon and Strawberries. But of course, strawberries are excellent for making desserts, too, so I came up with today's Sweet Strawberry Cream with Chocolate recipe.
I love fresh strawberries served with melted chocolate. I was almost going to just do that for this dessert, but then figured I would try to do something a bit more creative. But I didn't want to veer too far from that successful flavor combo.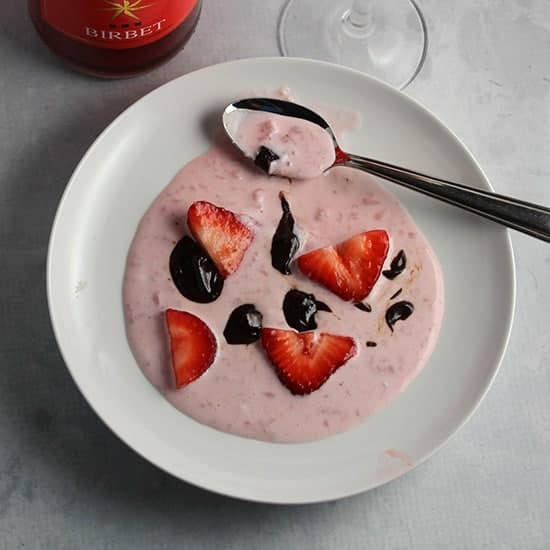 My approach here was to puree some fresh strawberries, then reduced them with some sugar. Then the sweet strawberry mixture gets added to some cream. I plated the strawberry cream mixture, then added a few dollops of melted chocolate, and slices of fresh strawberries. Voila, Sweet Strawberry Cream with Chocolate! We definitely enjoyed the creation for a pre-Valentine's Day family treat.
I used fromage blanc for the creamy aspect of the dish, as it happened to be on sale when I was coming up with the recipe. I hadn't used it before, but from the label gathered it doesn't have a lot of flavor on its own. I figured it would be a nice background to showcase the sweet strawberry flavor, adding some weight to the dish. You can use crème fraîche here if you like, instead of the fromage blanc. It may be easier to find. Now, let's talk about that wine for Sweet Strawberry Cream with Chocolate…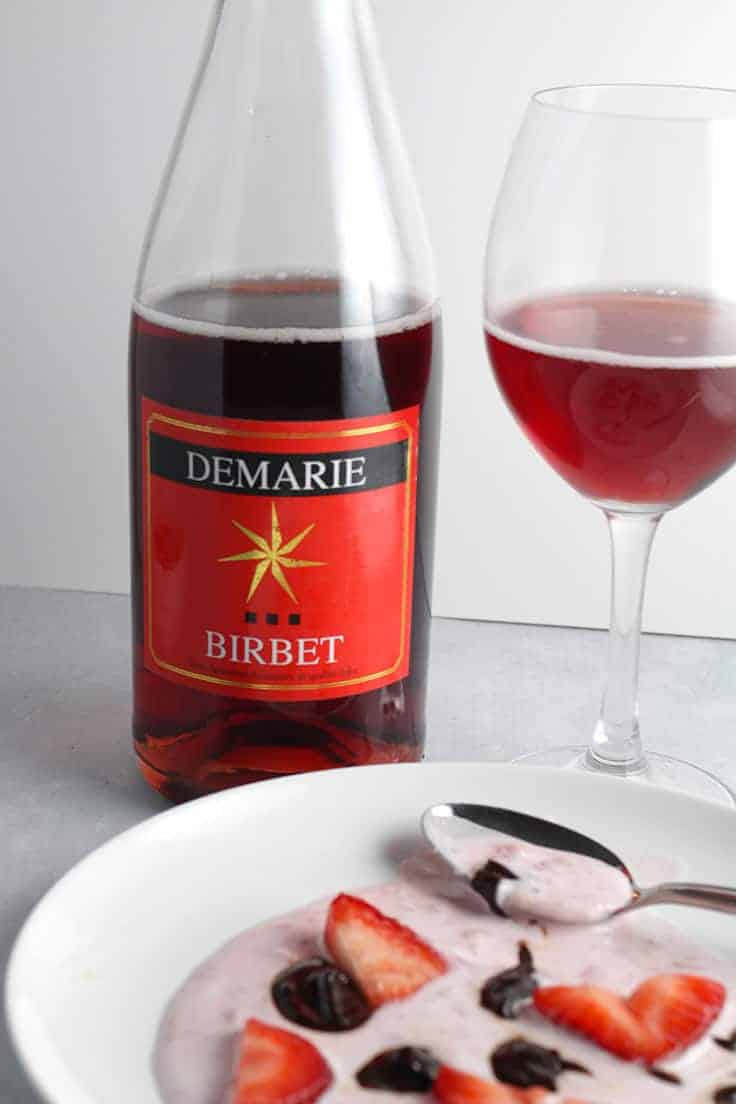 Wine Pairing for Sweet Strawberry Cream with Chocolate: I had the bottle of Demarie Birbet (non-vintage, 6.5% ABV, appx. $20) when I came up with this dessert recipe. What is Birbet, you might ask? I wondered the same thing. I had received several different bottles of Piedmont wine from Demarie to sample this past fall.  Wines like the Barolo, I knew all about and what to make–Wild Mushroom Risotto! But I needed to do some research about Birbet. I learned that Birbet is a sweet sparkling wine made from Brachetto grapes. To be called a "Brachetto" on the label, the wine must be produced in designated areas of the Piedmont. Some producers outside those designated regions that produces sweet wine from Brachetto took to calling the wine Birbet, which means "little rogue".
The Demarie Birbet comes from the Roero region. Roero is in the heart of the Piedmont, halfway between Asti and Cuneo. The sandy soils of the region are conducive to growing Brachetto. The winery's technical notes on the their Birbet can be found on this page.
Light red in the glass, the Demarie Birbet is perfect aesthetically for Valentine's Day! I got the sweet smell of an early spring day on the nose of the wine. Taste of honey, with the bubbles creating a pleasant sweet effervescence on the tongue. Though I describe the wine as sweet, I would say it is a subdued sweetness, which is more to my liking than a rich syrupy sweet you can get in some dessert wines. The restrained sweetness also goes along well with the Sweet Strawberry Cream with Chocolate, which is moderately sweet with a bit of savory element from the cream. The low alchohol content makes for light, easy sipping after a good meal. A very good pairing to enjoy with your Valentine!
Print
Sweet Strawberry Cream with Chocolate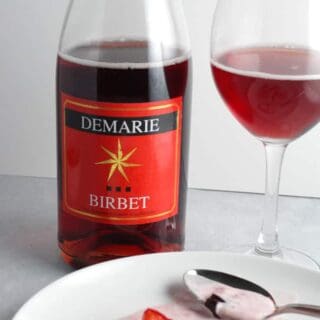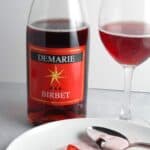 Sweet strawberry cream with melted chocolate is a delicious dessert for Valentine's Day or any time you are looking for an easy, homemade treat.
Author: Cooking Chat
Prep Time:

10 mins

Cook Time:

15 mins

Total Time:

25 mins

Yield:

2

servings

1

x
Category:

Dessert

Cuisine:

American
Ingredients
1 cup

strawberries,

¼ cup

water

¼ cup

sugar

6

ozs fromage blanc (or crème fraîche)

1/4 cup

heavy cream

1.5

ozs dark chocolate, broken or chopped into small pieces

3

additional strawberries, sliced for finishing the dessert
Instructions
Puree the strawberries in a food processor. Set aside.
Add the water and sugar to a sauce pan. Bring to a boil. Heat while stirring, a couple of minutes until the sugar is dissolved.
Transfer the pureed strawberries to the sauce pan. Simmer for 10 minutes, reducing the strawberry mixture.
Meanwhile, pour the cream into another saucepan, bring to a boil. Stir in the chocolate, stirring regularly. The chocolate will melt after a few minutes, keep warm on very low heat.
Add the fromage blanc or crème fraîche to a mixing bowl. Stir in the strawberry mixture after it has done its 10 minutes of cooking.
Plate a portion of the strawberry cream mixture, the add dollops of the melted chocolate around the top of the strawberry cream. Add a few slices of strawberries, and serve.
Note: You can get the strawberry cream mixture and the chocolate ready in advance, and refrigerate. Gently reheat the chocolate immediately prior to plating.
Recipe Card powered by
Be sure to check out all the wonderful Valentine's Week #winePW Pairings!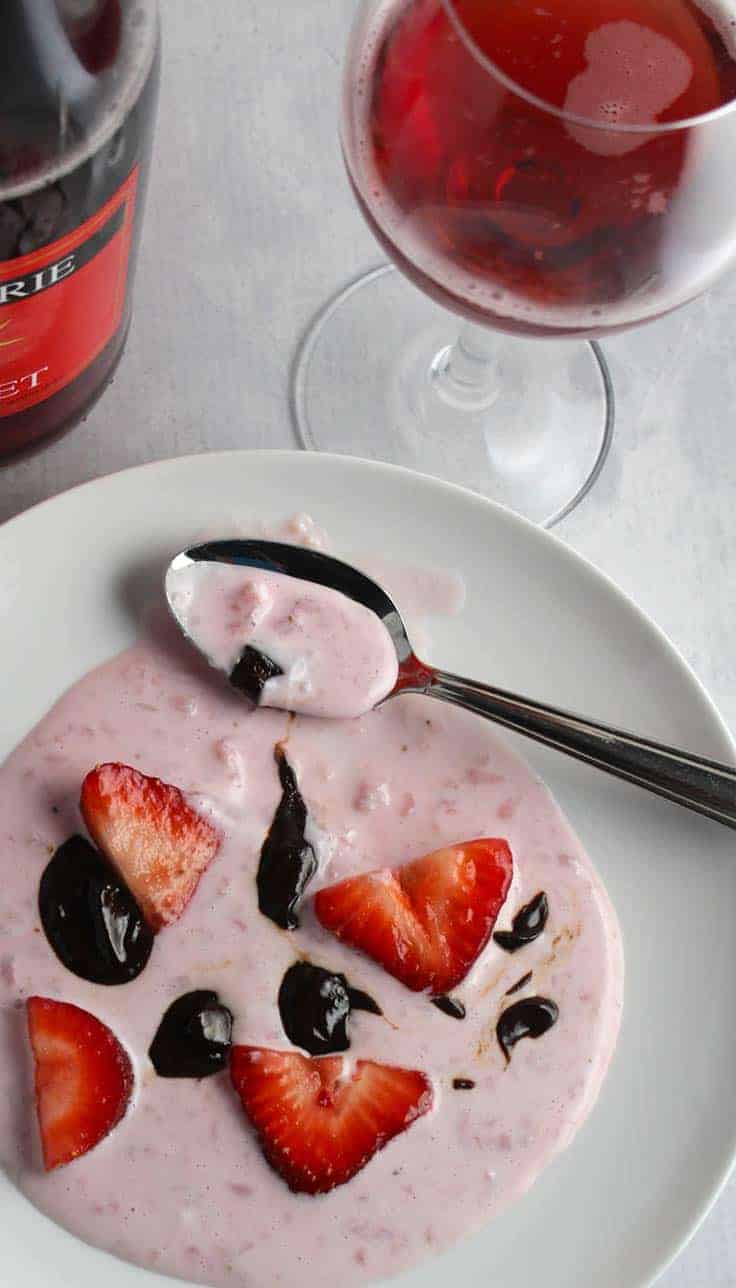 Jade from Tasting Pour:
– Love Letter Pastries and Brandborg Winery Pinot Noir
Jeff from Food Wine Click – Perfect Wine for a Sparkling Valentine's Day Celebration
Martin of Enofylz Wine Blog – Valentine's Surf and Turf with a Twist and Champagne Pairing
Nancy from Pull That Cork – Shepherd's Pie and Burgundy: A Cozy Valentine's Day Pairing
Kirsten of The Armchair Sommelier – My Squashy Valentine
Jennifer from Vino Travels – Sparkle Your Valentine's Day with Brachetto from the Roero with Demarie
David of Cooking Chat –
–Cauliflower Kale Soup paired with Pinot
–Sweet Strawberry Cream with Chocolate and Wine Pairing (You are here!)
Michelle from Rockin Red Blog – Valentine's Day in the South of France with #WinePW
Sarah from Curious Cuisiniere – Gougeres (French Cheese Puffs) and Blanquette de Limoux
Cindy from Grape Experiences:
– A Valentine's Gift: Elegant Anaba Wines
–Cava and Crave Worthy Chocolate Cookies for Valentine's Day
Lori from Draceana Wines – Need a Valentine's Wine? As You Wish.
Diana from Wine Pass shares – Valentine Risotto and Rich Chocolate Beet Cake with Brachetto d'Acqui
Valerie of Girls Gotta Drink – A Moscato Food Pairing: Moscato for Breakfast Anyone?
Wendy from A Day in the Life on A Farm – Asian Tuna and Noodles with Rodney Strong Pinot Noir
Camilla of Culinary Adventures with Camilla :
-Cherry-Glazed Chicken with Hahn's Santa Lucia Highlands Pinot Noir
-Barley Stuffed Acorn Squash & Zesty Crayfish with Landmark Vineyards' Overlook Chardonnay
-Wild Boar Mushroom Pot Pies with Landmark Vineyards' Overlook Pinot Noir
-Seared Venison Medallions with Justin's Cabernet Sauvignon
-Rosé-Cured Salmon with Balletto Vineyards' Brut Rosé
-Epoisses, Crackers, & Cremant de Limoux
Christy from Confessions of a Culinary Diva:
-Valentine's Day Steakhouse Dinner at Home
-50 Oysters a Day & Other Tales of Seduction
-Pick a Picpoul de Pinet for Your Valentine
-Apple of My Eye Pork Chops & Pinot
-Lobster, Corn Fritters & Balletto
Join us for a live Valentine's Wine Pairing Twitter chat at 11 a.m. ET on Saturday, February 13, using the hashtag #winePW. And get ready for the March #winePW, where we will share our Open That Bottle Night experiences. Check out the upcoming and past Wine Pairing Weekend events on this page.