Last Updated on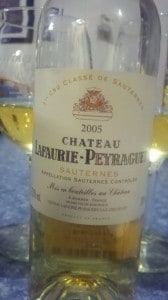 I had enough of the 2005 Chateau Lafaurie-Peyraguey Sauternes with crème brûlée at a wine club gathering to entice me into buying a bottle for us to enjoy at home. Surprisingly, it sat for a few months in our cellar before deciding to pop it open last night. What a treat! Tasty layers of honey, almond and caramel, and an incredibly long finish.
If I were more motivated, I would have tried to duplicate the crème brûlée that I had it with the first time. But we were getting ready to head out of town, and I needed to keep it simple! I picked up two mini cheese cakes from Whole Foods, and they were a pretty tasty accompaniment to the Sauternes. I'm also intrigued about trying a Sauternes with foie gras, a recommended pairing that interests me given that I tend to prefer savory treats over sweet.
I'm a newcomer to Sauternes, and it's not in my budget for it to make regular appearances in our home. But I suspect it will be featured from time to time as a special treat! If you are not familiar with it, first of all, find a chance to try it. It's also interesting to learn about how it is produced when grapes are affected by the "noble rot". This wikepedia article gives an introduction to the wine.